As far as I'm concerned, the New Year starts today.  The last of my Christmas decorations were finally tucked away yesterday.  My kiddo is back in school today, and my healthy eating and yearly fitness challenge begins today too.  It's time to get serious about getting serious and feed the body some nice and clean things to kick off another year of good health, prosperity and happiness.  I don't know about you, but when I'm feeling fit and trim and good-about-myself in general… I'm a whole lot nicer to be around.  Feed me stuff like this, and I'm good to go:  Butternut Squash and Kale Soup with Fresh Herbs and White Beans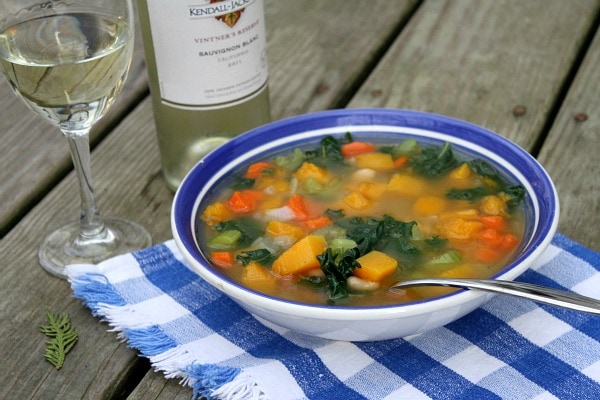 Soup is kind of one of those wonderful secrets to losing weight.  You can make a giant pot of it, load it with vegetables and flavor, eat bunches of it, and you're pleasantly (not plumply) stuffed.  It's cool like that.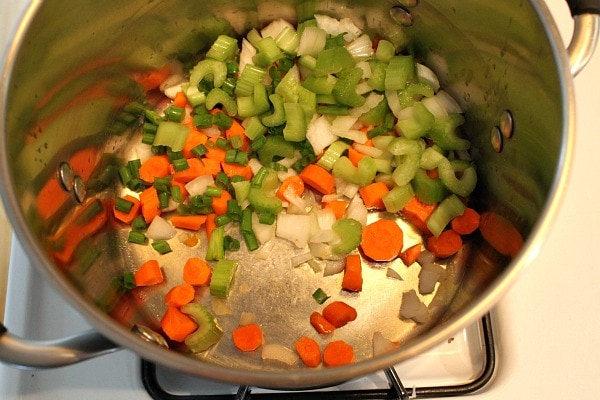 This one is so super simple to make.  Just heat a little olive oil in a soup pot, add the veggies and cook them until slightly tender.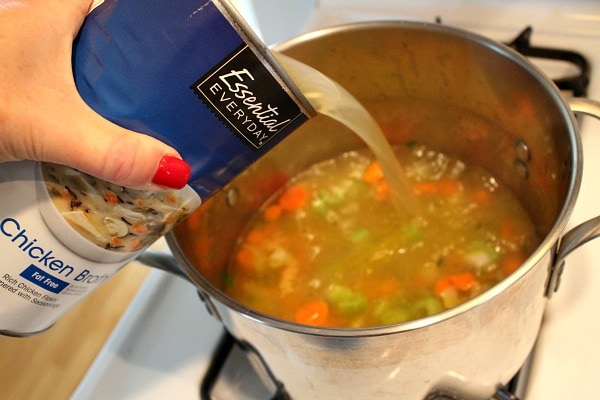 Then add broth (vegetable or chicken) plus water, and bring to a boil.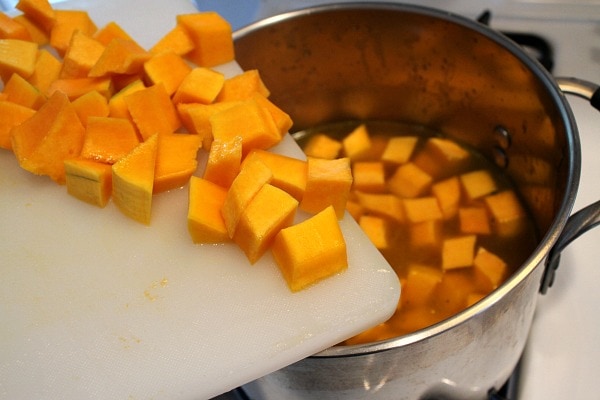 Add chunks of butternut squash and let it simmer in the boiling water until slightly soft.  Make it even easier on yourself and buy a frozen bag of butternut squash chunks!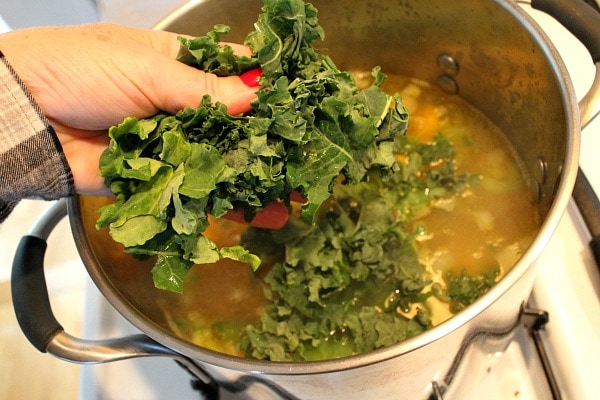 Definitely add some greenery to your soup.  I'm in love with KALE, so I added that.  Don't be afraid of it- it's really great in soup.  You could also add swiss chard if you're a fan of that.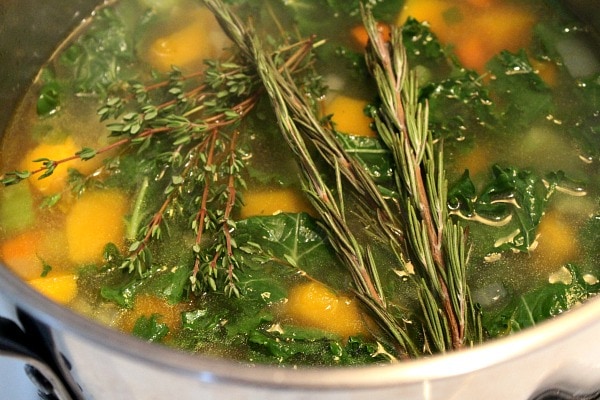 Fresh herbs lend some flavor to the soup.  I opted for fresh rosemary and fresh thyme.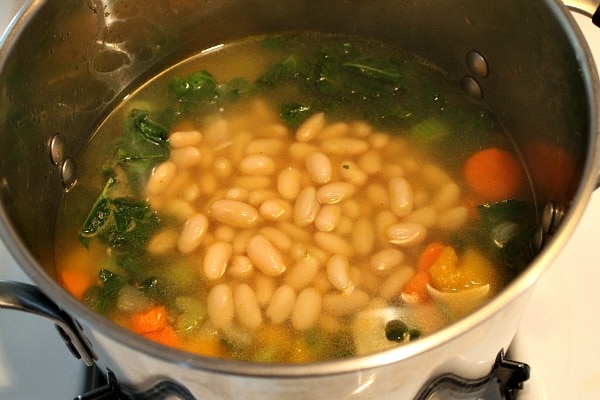 White beans are added in last.  If you didn't really want beans in your soup, then just leave them out.  You could also add in chunks of ham or chicken here!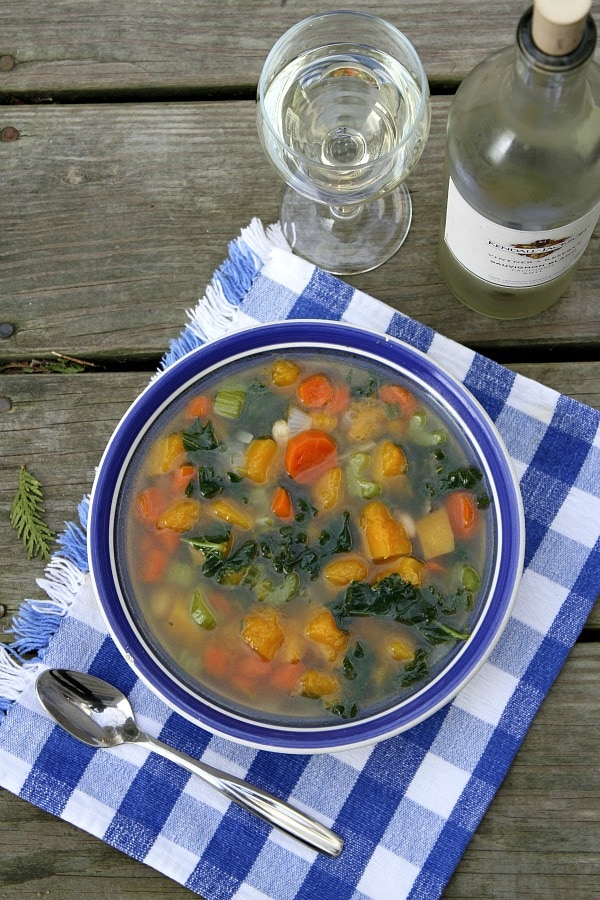 And there's your beautiful, healthy, vibrant and filling soup.  Enjoy it with a little shredded Parmesan cheese sprinkled on top (or not), and a glass of chilled white wine too (or not).  It's totally your call.  My secret to staying full during the day when I'm starving and scouring the pantry for Hershey's bars to dip in peanut butter is to have a big pot of soup like this in my fridge.  It's so easy to heat a cup of it in the microwave, and it's seriously filling enough to deter you from any major binging on the bad stuff lurking in your pantry.  Consider it an easy lunch recipe.  You're welcome.  And HEY… if you're embarking on a 2013 Healthy Journey of sorts, please bond with me in the comments below and share your story.  As per usual with a New Year, I'm on a journey too.  That's not to say I'm not going to be baking cookies any time soon… I'm just not going to eat them. (Wait… did I really just swear off cookies?!  Ugh.)
Butternut Squash and Kale Soup with Fresh Herbs and White Beans

Yield: 8 servings

Prep Time: 25 min

Cook Time: 35 min

Ingredients:

1 tablespoon olive oil
1/2 medium onion, chopped
3/4 cup peeled and chopped carrot (about 2 large)
3/4 cup chopped celery (about 3 large)
2 tablespoons chopped scallions
1/4 to 1/2 teaspoon garlic salt
6 cups 99% fat-free chicken or vegetable broth
2 cups water
3 to 4 cups 1-inch chopped butternut squash
2 cups torn/chopped kale leaves
2 to 3 sprigs fresh rosemary and thyme
One (15.5-ounce) can white beans, rinsed and drained
Kosher salt and freshly ground black pepper, to taste
optional: grated Parmesan cheese, for serving

Directions:

1. Heat the olive oil in a large soup pot, then add the onion, carrot, celery, scallions and garlic salt. Cook and stir 5 to 6 minutes, or until vegetables begin to soften.

2. Add the broth, water and butternut squash. Bring to a boil, then reduce the heat to low and simmer for 15 minutes. Add the kale and herbs and simmer an additional 10 minutes. Stir in the beans and heat through. Remove the fresh herb sprigs and discard. Season to taste with salt and pepper, and serve. Sprinkle individual servings with Parmesan cheese, if desired.

Tips:

*If you are preparing this recipe as gluten-free, just be sure to use brands of broth and beans that are known to be GF.

Nutritional Information per serving:

Serving size:

1 1/2 cups

Calories per serving:

126.5

Fat per serving:

.4g

Saturated Fat per serving:

.1g

Sugar per serving:

1.1g

Sodium per serving: ,span class="sodium">782.7g

Fiber per serving:

6.6g

Protein per serving:

6.5g

Cholesterol per serving:

3.8mg

Carbohydrates per serving:

26.3g

WW POINTS per serving:
Points Plus Program: 3 Old Points Program: 2

Source:  RecipeGirl.com (inspired by this soup)
Other good lookin' soup recipes to visit on these delicious food blogs:
Spicy Tomato- Lentil Soup by Heather Christo Cooks
Winter Mexican- Corn Soup by Verses From My Kitchen
Pot Likker Soup by Add a Pinch
Fisherman's Soup Recipe by Cookin Canuck
Tomato, Chickpea and Vegetable Soup with Basil by Culinary Covers