Overnight Blueberry French Toast
Here's a delicious recipe for a spring or summer brunch:  Overnight Blueberry French Toast.  And here is a short video showing you how to make it.  Scroll all the way to the bottom for the printable recipe.
I have had this recipe sitting in my email for years… 4 years to be exact!  I don't remember how I came to ask for it.  I must have been on Twitter (the big thing back then) tweeting to my friends to send me recommendations for a good brunch casserole for Easter or Mother's Day.
One of my friends really came through for me because this overnight french toast casserole is a big time winner.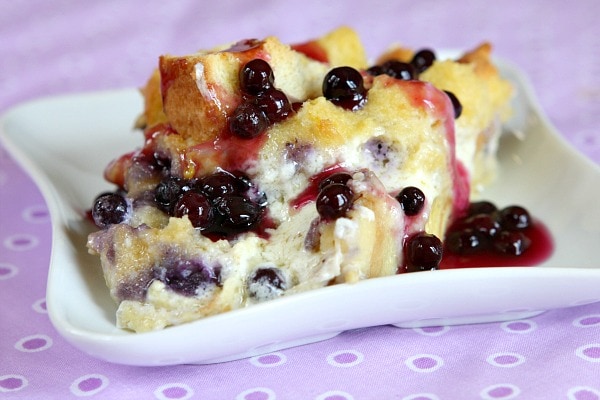 The recipe comes from my friend Janet (an internet friend for many years, but I've never actually met her in person!!)  Janet is a majorly talented birthday and wedding cake baker and designer – Luv and Buttah – in Phoenix, AZ.
She sent me this recipe in an email four years ago… and I'm finally sharing it with you today!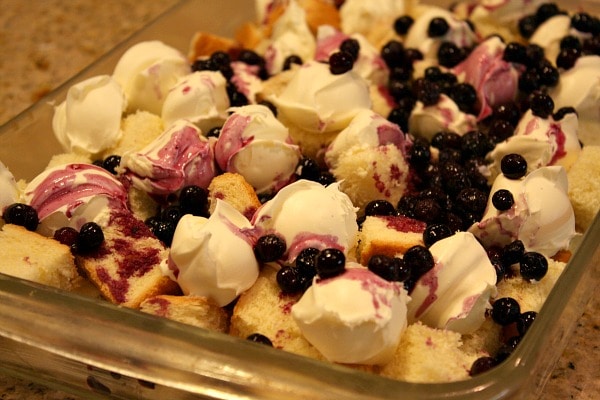 This blueberry overnight breakfast casserole recipe uses 3 key ingredients that make it awesome:  challah bread (my favorite), mascarpone cheese (you can sub cream cheese if you'd like) and blueberries.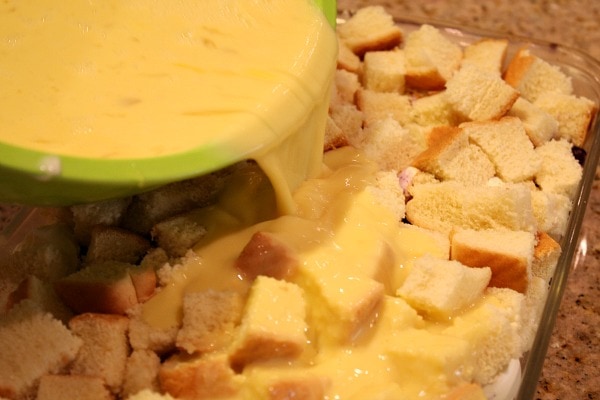 An egg/milk mixture is poured on top of all of that bread.  It's covered and refrigerated overnight to let the bread soak up all of that eggy mixture.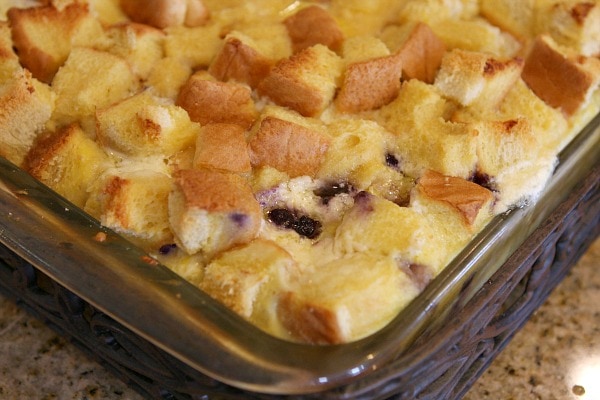 In the morning, you can just take the casserole out of the fridge and bake it.  While it's baking, you're going to make a quick and simple, warm blueberry sauce.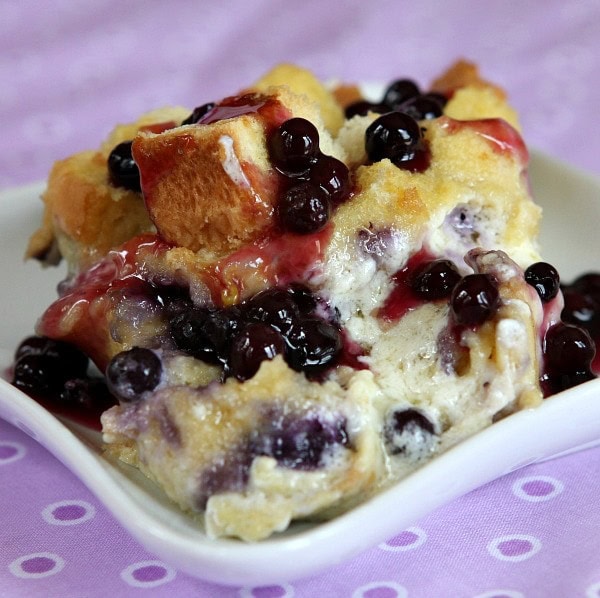 The blueberry sauce is drizzled on top of warm pieces.  And it's SO GOOD!  Thank you so much to Janet for sharing this recipe.  I'm glad I remembered it!  This would be the perfect breakfast treat to serve for a holiday brunch or family gathering.
Yield: 10 to 12 servings
Prep Time: 25 minutes
Cook Time: 1 hour
Overnight Blueberry French Toast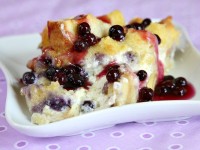 Ingredients:
French Toast:
12 slices thick stale Challah bread

Two 8-ounce packages cream cheese (or mascarpone )
1 cup fresh blueberries (maybe a little more)
12 large eggs
2 cups milk
1 teaspoon vanilla extract
1/3 cup maple syrup
Sauce:
1 cup granulated white sugar

2 tablespoons cornstarch
1 cup water
1 cup fresh blueberries
1 tablespoon butter
Directions:
Spray a 9x13-inch baking dish with nonstick spray and set aside.

Cut the bread into 1-inch pieces. Place half into prepared baking dish. Cut  cream cheese (or mascarpone) into cubes (or scoop with a small cookie scoop) and place on top of the bread. Top with the blueberries and then remaining bread cubes.
Whisk the eggs in a large bowl. Whisk in the milk, vanilla and syrup until well combined. Pour over the bread cubes. Cover with plastic wrap and refrigerate overnight (I like to place a book on top of the plastic wrap to sink the bread into the liquid).  The next morning remove the pan from the fridge 1/2 hour before baking.  Preheat oven to 350 degrees F.  Remove the plastic wrap, then cover with foil and bake for 30 minutes.  Remove the foil and bake another 25 to 30 minutes, or until the center is set and color is golden.
While the french toast is baking, prepare the sauce:  In a medium saucepan whisk together the sugar and cornstarch. Add the water and bring to a boil over medium heat. Stir constantly and boil for about 3 minutes. Stir in the blueberries and reduce heat to low. Simmer for about 10 minutes or until the blueberries begin to pop. Stir in the butter until melted.  Pour warm sauce over individual servings.
I like to use whole milk- it just makes the dish a little bit more decadent all around.
Mix in chopped fresh peaches for a peach and blueberry overnight french toast!
SOURCE:
 RecipeGirl.com (recipe shared with me from my friend Janet from
LuvAndButtah
)
More overnight french toast recipes you might enjoy:
55 Responses to "Overnight Blueberry French Toast"
Leave a Comment