A very popular breakfast recipe: Farmer's Casserole ~ here is a short video showing you how to make it. Scroll to the end of this post for a printable recipe.
I have made this recipe many times for Thanksgiving morning, Christmas morning, Easter brunch, kid sleepovers, family gatherings and more. It's the kind of recipe that everyone enjoys so much, and it's a very popular recipe here on the RecipeGirl site!
Since my Mom has to eat gluten-free these days, I was super happy to find that I could make this breakfast casserole completely gluten free. I use Ore-Ida shredded hash browns for this recipe if I need to make it gluten-free. If you don't need to worry about that, just use whatever hash browns you can find!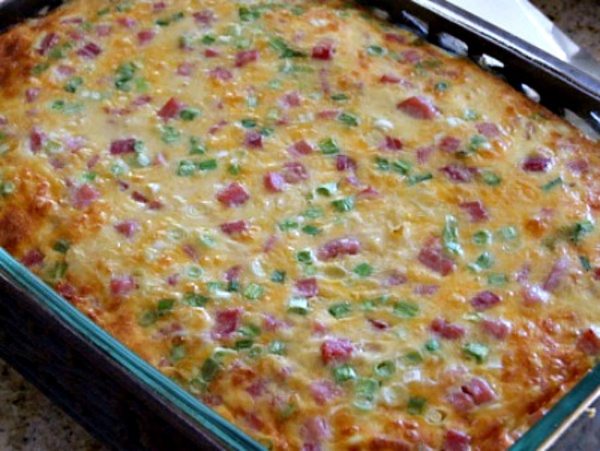 The recipe calls for Monterey Jack cheese with jalapeno or cheddar… choose whatever you prefer, but you can also sub in Swiss if you enjoy that with eggs too!
Tip: Please use evaporated milk for this recipe, not regular milk.
Yield: 12 servings
Prep Time: 20 minutes
Cook Time: 50 minutes
Farmer's Casserole
Ingredients:
6 cups frozen shredded hash brown potatoes
1 1/2 cups shredded Monterey Jack cheese with jalapeño peppers (or shredded Cheddar cheese)
2 cups diced cooked ham or Canadian bacon
1/2 cup sliced green onions
8 large beaten eggs (or 2 cups egg substitute)
Two 12-ounce cans (3 cups total) evaporated milk or evaporated skim milk
1/4 teaspoon salt
1/4 teaspoon pepper
Directions:
Grease a 3-quart rectangular baking dish. Arrange potatoes evenly in the bottom of the dish. Sprinkle with cheese, ham, and green onion. In a large mixing bowl, combine eggs, milk, salt and pepper. Pour egg mixture over potato mixture in dish.
At this point, you can cover and refrigerate until ready to bake (several hours or overnight). When ready to bake, preheat oven to 350°F. Bake, uncovered, for 45 to 55 minutes or until center appears set. Let stand for 5 minutes before serving. If baking after casserole has been chilled, you will need to increase baking time to 55 to 60 minutes.
Tips:
Add tabasco for a bit of a kick.
Serve with a good dollop of sour cream.
SOURCE: RecipeGirl.com (via Southern Living Forum "Squeaker")
57 Responses to "Farmer's Casserole"
Leave a Comment