Yield: 4 to 6 servings
Prep Time: 15 min + chill time
Cook Time: 5 min
Strawberry Lemonade
Wonderfully, refreshing drink on a warm day. It's sweet and fresh...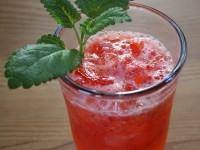 Ingredients:
2 cups water
1 cup granulated white sugar
1 Tablespoon grated lemon zest
1 cup freshly squeezed lemon juice
1 pint fresh strawberries, trimmed & halved
2 cups sparkling water
ice
mint sprigs for garnish, optional
strawberry halves for garnish, optional
Directions:
1. In a medium saucepan, bring water and sugar to boil. Reduce heat and simmer, stirring occasionally, until the sugar dissolves. Add the lemon zest and juice, stir and remove from heat. Let cool completely.
2. In a blender, puree the strawberries with about 1/2 cup of the lemon syrup. Add the pureed strawberries to the remaining lemon syrup. Stir; pour through a strainer into a pitcher. Refrigerate until well-chilled.
3. When ready to serve, add sparkling water to the pitcher and stir well. Pour over glasses filled with ice, and serve garnished with mint and/or strawberry halves.
Source: RecipeGirl.com (Adapted from Food Network (Emeril Lagasse))
Leave a Comment