Chicken Thighs with Thyme and Lemon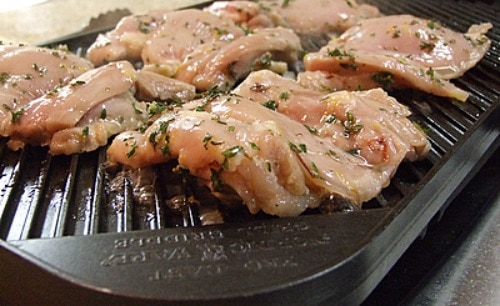 Yield: 8 servings (2 thighs per person)
Prep Time: 15 minutes + marinating time
Cook Time: 10 minutes
Chicken Thighs w/ Thyme & Lemon
Really simple marinade and a great flavor. Very lemony.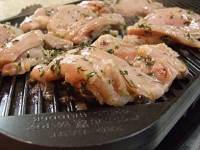 Ingredients:
1/2 teaspoon grated lemon rind
1 1/2 cups fresh lemon juice (about 6 lemons)
1/4 cup chopped fresh or 1 Tablespoon dried thyme
1 Tablespoon olive oil
2 1/2 Tablespoons honey
16 skinless boneless chicken thighs (about 3 pounds)
1/2 teaspoon salt
1/4 teaspoon black pepper
Directions:
1. Place first 5 ingredients in a large zip- top plastic bag. Add chicken; seal bag. Chill 2 hours, turning occasionally.
2. Prepare grill or broiler.
3. Remove chicken from bag; discard marinade. Sprinkle chicken with salt and pepper. Place chicken on grill rack or broiler pan coated with cooking spray; cook 5 minutes on each side or until chicken is done.
Tips:
*When I make recipes using chicken thighs, I like to spend a little more money and get some nicer quality, organic chicken at Whole Foods or a similar place. Regular thighs tend to have SO much fat on them. The organic will have a more meaty portion. Cut off any extra fat.
Nutrition Facts Amount Per Serving (2 thighs per serving):
Calories 212, Calories From Fat (31%) 65.86, Total Fat 7g, Sat Fat 1.61g, Cholesterol 114.54mg, Sodium 264.94mg, Potassium 387.31mg, Carbohydrates 10g, Dietary Fiber 0.39g, Sugar 6.49g, Net Carbs 9.32g, Protein 27.5g
WW POINTS per serving:
Points Plus Program: 5 Old Points Program: 5
One Response to "Chicken Thighs with Thyme and Lemon"
Leave a Comment