Caramelized Apple- Brown Butter Custard Tart
This recipe has been featured in a post on The Recipe Girl blog: Caramelized Apple Tart in Browned Butter Custard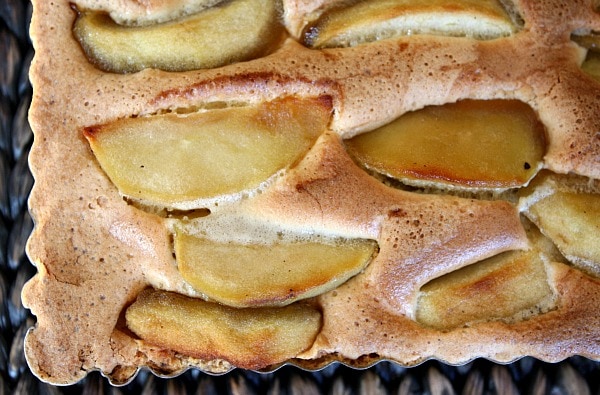 Yield: 8 to 10 servings
Prep Time: 1 hr + chill time
Cook Time: 1 hr, 25 min
Caramelized Apple- Brown Butter Custard Tart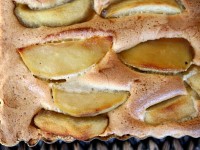 Ingredients:
TART SHELL:
1 1/3 cups all-purpose flour
1/2 cup granulated white sugar
1/2 teaspoon baking powder
1/4 teaspoon salt
8 tablespoons (1 stick) unsalted butter, at room temperature
1 large egg yolk, mixed with 1 tablespoon water
FILLING:
10 tablespoons (1 stick + 2 tablespoons) unsalted butter, divided
1 cup granulated white sugar, divided
5 large Granny Smith apples- peeled, cored and cut into wedges
salt and freshly ground black pepper
2 large eggs
1/4 cup all-purpose flour
Directions:
1. Prepare the tart shell: Preheat oven to 350°F. Spray 11-inch fluted tart pan wiht a removeable bottom with cooking spray (can also use 8x11-inch tart pan). In a food processor, pulse flour with sugar, baking powder and salt. Add butter and egg yolk mixture and process just until pastry comes together. Remove pastry dough to a lightly floured work surface and knead 2 or 3 times. Press the dough evenly into the pan and refrigerate until chilled, at least 30 minutes.
2. Line the tart shell with parchment paper and fill loosely with pie weights (or beans). Bake for about 20 minutes, until the edge is set. Remove parchment and weights and bake for 10 to 20 minutes longer, until the tart shell is lightly browned all over.
3. While shell is baking, prepare the filling. In a large skillet, melt 2 tablespoons of the butter. Add 1/2 cup of the sugar; cook over high heat until lightly browned. Add apples, season lightly with salt and pepper and cook over moderate heat, turning once or twice, until caramelized, 10 to 12 minutes.
4. In a small saucepan, cook the remaining stick of butter over moderate heat until milk solids brown and butter is fragrant, about 7 minutes (stirring often). In a medium bowl, use electric mixer to beat eggs with 1/2 cup sugar- until thick and fluffy (about 3 minutes). Beat in flour and 1/4 teaspoon salt, then beat in browned butter, scraping the milk solids into the custard mixture.
5. Pour custard into the shell; arrange apples in a single layer, slightly overlapping in a decorative pattern. Bake in center of oven for 35 to 45 minutes, or until custard is puffed and richly browned. Transfer to a rack to cool before serving. Serve with a dollop of whipped cream or a scoop of vanilla ice cream, if desired.
Tips:
*I found that many of my apples sank into the custard and disappeared from sight, so I saved a few apple slices, then baked the tart for about 15 minutes, then opened the oven and added a few more apple slices along the top (when the custard was beginning to set but still soft)- it worked perfectly.
*I made this tart the night before, covered it with plastic wrap and refrigerated it. The next day, it was easy to slice with a bread knife when cold and firm, and then it was served at room temperature
One Response to "Caramelized Apple- Brown Butter Custard Tart"
Leave a Comment