Thinking ahead… I wanted to bake a pie that would utilize leftover Halloween candy (or at least one that would involve snatching some candy bars from your kids' treat bags- shhhh!).
I chose Butterfinger Pie (and added some Chocolate Spiders to make it spooky).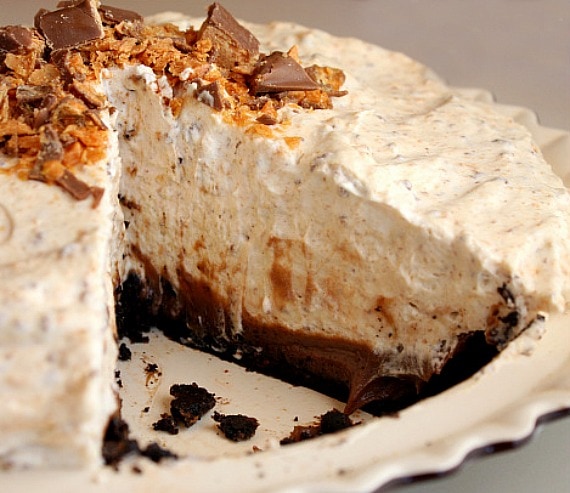 This is seriously the most creamy and delicious, decadent pie ever.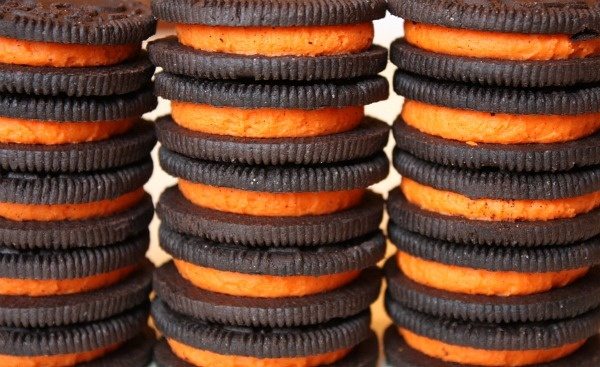 These Halloween-themed Oreos are a must-buy during the fall holiday season for their festive color and cute imprinted designs on the cookie. I used these for the crust.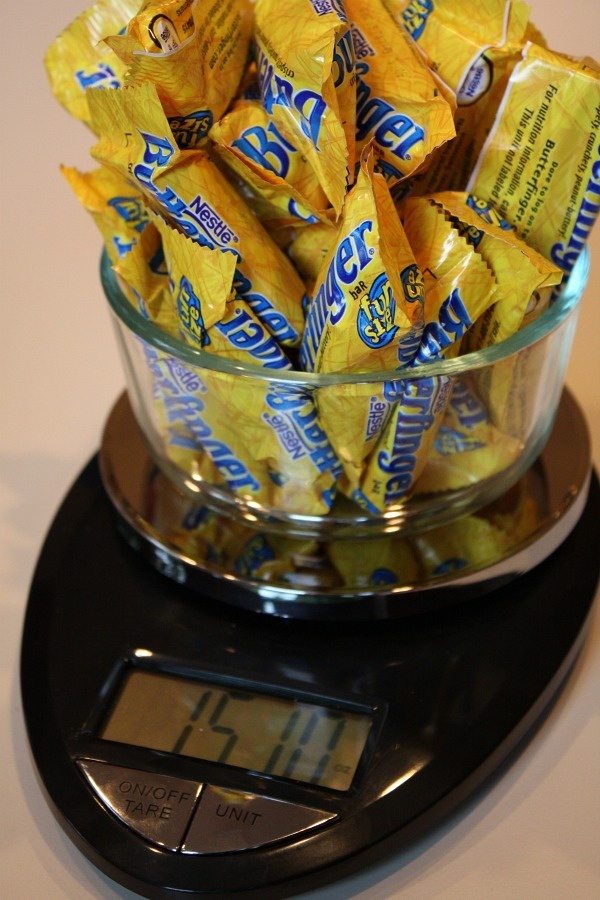 Fun-size Butterfinger bars are perfect for this recipe (you'll need to snag 23 of them from your kids' trick or treat bags), or just use 15 ounces of butterfingers.  Use a kitchen scale to measure yours out.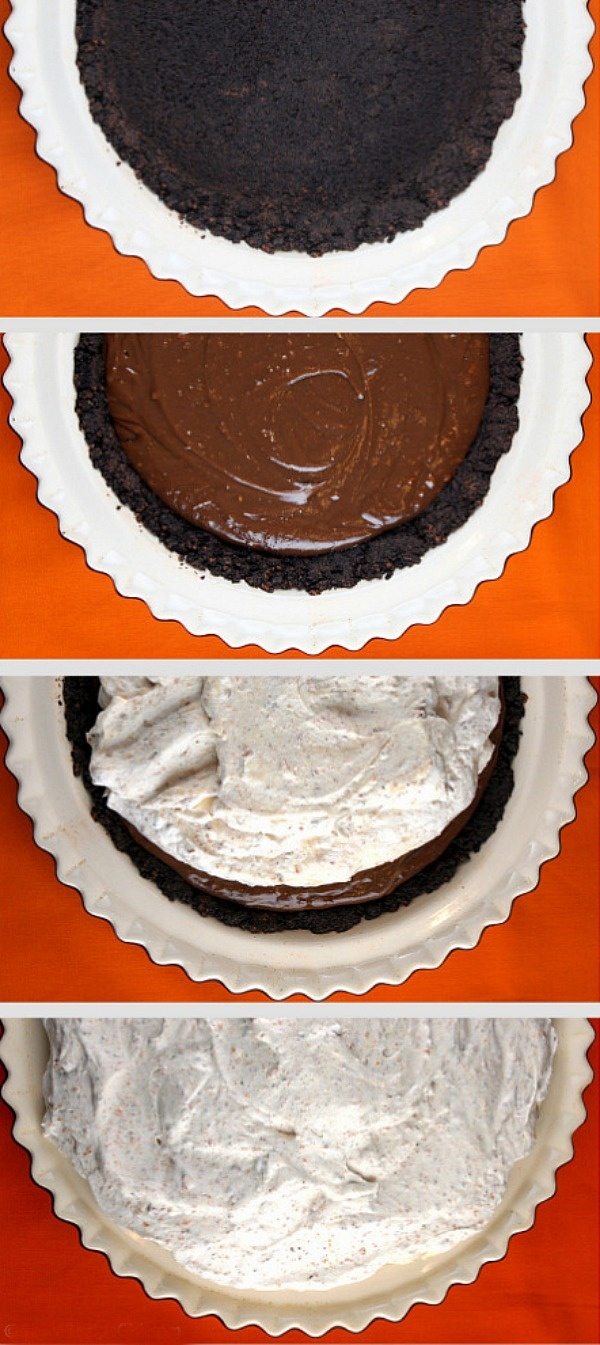 Here is the picture process:
Oreo Crust –
Chocolate Layer –
Peanut Butter Layer –
Whipped Cream/Butterfingers Layer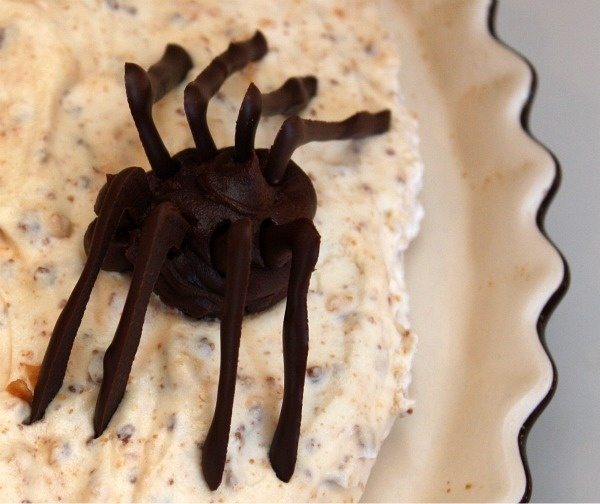 Time to make the spiders! I followed Zoe's tutorial here. The body is made from a piped-on cooled chocolate ganache, and the legs are made from melted chocolate "7's" that are popped in the freezer until firm.
The legs are stuck into the sides of the spider to make complete spider bodies.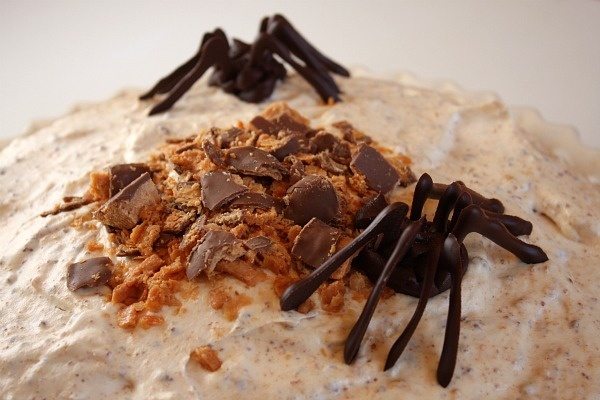 Spooky, right?!
The spiders are, of course, completely optional.  But they add a little bit of Halloween fun to this pie!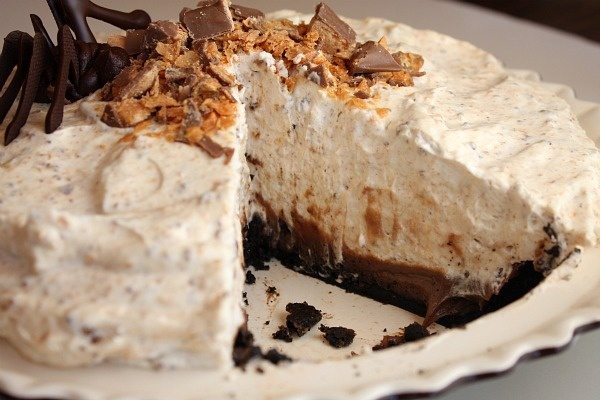 This pie is as decadent as it looks. Go to the gym, get a long workout in, have a small piece of pie and a big glass of milk, and then go back to the gym. No kidding!
It's worth the splurge though. Tell your kids to ask nicely for extra butterfingers at those houses that happen to be handing them out (and then tuck them away so you can make this pie).
Yield: 10 to 12 servings
Prep Time: 40 minutes
Cook Time: 12 minutes
Butterfinger Pie
This is a very rich and decadent pie, and it's quite a good way to use up butterfingers...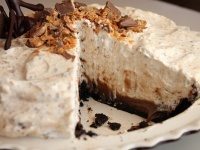 Ingredients:
CRUST:
14 cream-filled chocolate sandwich cookies (Oreos)
4 tablespoons butter, melted
FILLING:
23 fun-size butterfinger candy bars (or 15 ounces of butterfingers), divided
1/2 cup granulated white sugar
2 tablespoons cornstarch
2 cups whole milk
2 large egg yolks
1/2 cup creamy peanut butter
1/2 cup milk chocolate chips
1 1/2 cups whipping cream
TOPPING:
2 cups heavy whipping cream
Directions:
Prepare crust: Preheat oven to 375° F. In a food processor, process the cookies into fine crumbs. Add melted butter to crumbs and continue to process until well blended. Transfer mixture to a 9-inch pie pan and press evenly over the bottom and up the sides of the pan. Bake for 8 minutes. The crust will puff up and shrink slightly. Use the flat bottom of a drinking glass to gently press down on the crust. Cool completely.
Prepare filling: In a food processor, process 20 of the Butterfinger bars into fine crumbs. Divide the crumbs into two 1/2 cup portions and one 1 cup portion; set aside.
In a medium saucepan, combine sugar, cornstarch and milk. Slowly bring to a boil over medium-high heat, stirring constantly. Remove from heat. Beat egg yolks in a small bowl. Whisk in hot milk mixture 1 Tablespoon at a time until eggs are tempered (slowly warmed up). Then add eggs to remaining milk in the pan, bring to a boil, stirring constantly until mixture is thick. Remove from heat and whisk in peanut butter. Scoop out 1 cup of the peanut butter mixture and put it in a medium bowl; cover and set aside. Add chocolate chips and 1/2 cup of the Butterfinger crumbs to the remaining peanut butter mixture in the saucepan. Stir until chips are melted. Pour this mixture into the cooled crust. Refrigerate while you're preparing the next layer.
Prepare peanut butter layer: Whip 1 1/2 cups of whipping cream until stiff peaks form. Scoop into the bowl with the reserved peanut butter filling and fold together with 1/2 cup of Butterfinger crumbs too. Remove pie from refrigerator and mound peanut butter mixture evenly over chocolate layer and spread to the edges.
Prepare the topping: Whip the 2 cups of heavy whipping cream until stiff peaks form. Fold in remaining 1 cup of Butterfinger crumbs. Spoon over the top of the pie, mounding slightly in the center. Chop the remaining 3 fun-sized candy bars and sprinkle over the top of the pie.
Cover loosely and refrigerate until ready to serve.
Tips:
If you don't have a food processor, throw cookies in a zip bag and smash it to smithereens. Candy bars too.
In step 3, if you add the eggs to the pan before they're warmed up properly, you'll end up with scrambled eggs. Warm them up slowly by adding the milk mixture a little at a time until they're quite warm.
To make this a Halloween-themed pie, add chocolate spiders. See this post for a how-to.
Here are a few more candy pie recipes you might enjoy:
Disclosure:  There is an Amazon affiliate link included in this post.
8 Responses to "Butterfinger Pie"
Leave a Comment