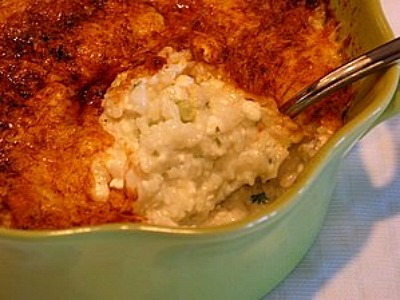 Yield: 8 servings
Prep Time: 15 min
Cook Time: 25 min
Baked Parmesan Rice
Incredibly easy side dish to prepare- so delicious too.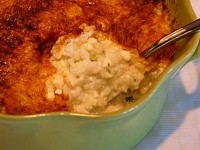 Ingredients:
3 cups cooked rice
1/4 cup chopped green onions
1 1/2 cups large curd cottage cheese
1/4 teaspoon garlic salt
1 cup sour cream
1/4 cup milk
1/2 teaspoon salt
1 tablespoon chopped parsley
3/4 cup grated Parmesan cheese
paprika
Directions:
1. Preheat oven to 350 degrees F. Spray a 1.5-quart casserole dish with nonstick spray.
2. In a large bowl, combine all ingredients but Parmesan and paprika. Mix well and pour into the prepared dish. Top with Parmesan cheese and sprinkle with paprika.
3. Bake 25 minutes.
Tips:
*This recipe is gluten-free adaptable- just be sure to use a brand of rice that is known to be GF.
One Response to "Baked Parmesan Rice"
Leave a Comment