Terrific homemade Spanish Rice recipe. My family loves the slightly sweet flavor and added bacon!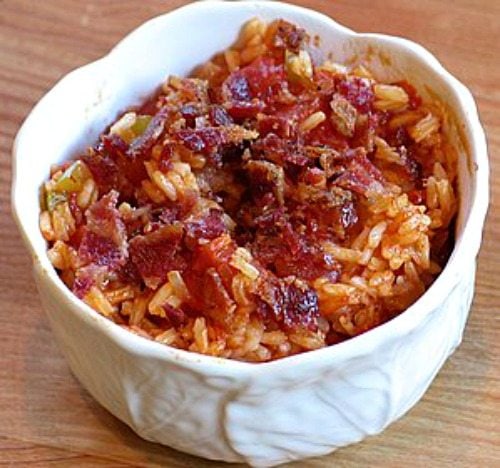 Yield: 6 servings
Prep Time: 20 min
Cook Time: 45 min
Spanish Rice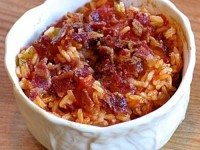 Ingredients:
8 slices bacon
1 cup finely chopped onion
1/4 cup chopped green bell pepper
One 16-ounce can chopped tomatoes with juice
1 1/2 cups water
3/4 cup uncooked long-grain rice
1/2 cup chili sauce
1 teaspoon salt
1 teaspoon brown sugar
1/2 teaspoon Worcestershire sauce
pepper to taste
Directions:
1. In a 10-inch skillet, cook bacon until crisp. Remove bacon from pan. Pour off half of the bacon fat. In remaining fat, cook onion and green pepper until tender, but not brown. Add remaining ingredients and stir well.
2. Cover pan and simmer 35 to 40 minutes, until rice has absorbed liquid.
3. Crumble bacon on top.
Tips:
*If you are preparing this recipe as GLUTEN-FREE, just be sure to use brands of bacon, tomato, chili sauce and worcestershire sauce that are known to be GF.
Leave a Comment