Here's a delicious side dish recipe to accompany a Mexican meal or for an outdoor BBQ: Spicy Black Beans with Onion and Bacon. These beans also make a terrific side dish served over rice with sour cream and guacamole garnishes (and it makes a great burrito filling!)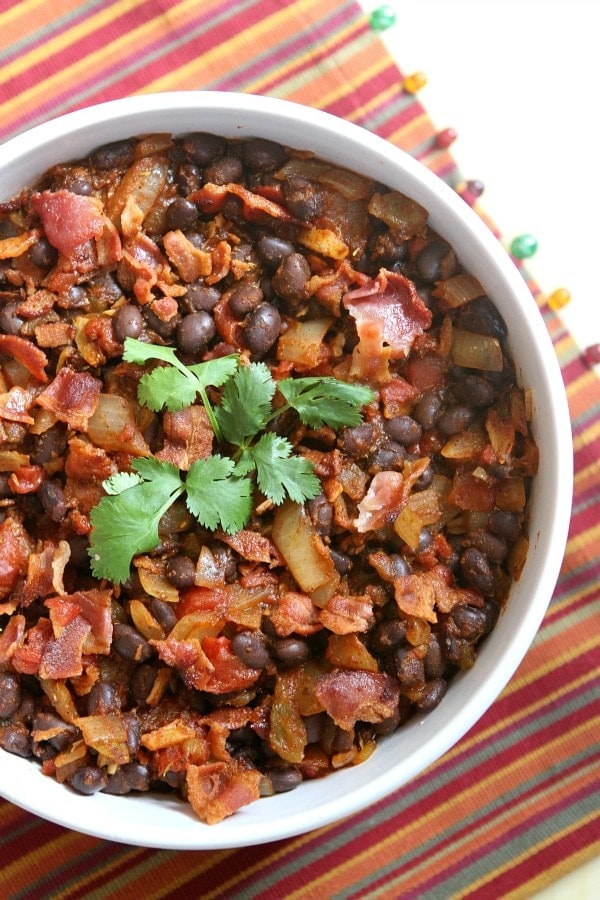 Spicy Black Beans with Onion and Bacon
Yield:
About 4 cups
Prep Time: 30 minutes
Cook Time: 22 minutes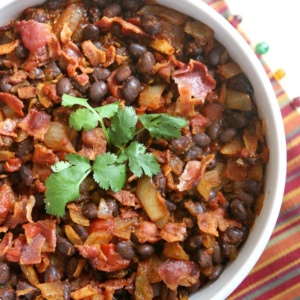 Ingredients:

6 slices of bacon, chopped
1 large onion, chopped
2 large garlic cloves, chopped
Two 15-ounce cans black beans, rinsed & drained
One 16-ounce can diced peeled tomatoes
One 4-ounce can diced green chiles
2 1/2 tablespoons chili powder
2 teaspoons dried oregano
1/4 teaspoon cayenne pepper
salt and freshly ground black pepper

Instructions:

Cook the bacon in heavy, large saucepan over medium heat until done, about 10 minutes.   Remove the bacon from the pan onto some paper towels to drain and cool.  Spoon out all but 2 tablespoons bacon fat from the pan.  Add the onion and garlic and sauté until the onion is translucent, about 5 minutes. Add all remaining ingredients.
Simmer until the bean mixture is thick, stirring frequently, about 12 minutes. Season to taste with salt and pepper.  Crumble the bacon and stir into the beans (or sprinkle on top of individual servings).

Nutrition:
*Turn this into a vegetarian main dish by omitting bacon and serving the mixture over rice. Garnish with sour cream, salsa & cilantro. It also makes a good filling for burritos.
SOURCE:  RecipeGirl.com (adapted from Bon Appetit)
Here are a few more recipes using black beans you might enjoy: