Pesto Tomato Stuffed Mushrooms
These Pesto Tomato Stuffed Mushrooms are a delicious little finger food appetizer. This post has been featured in a menu on the site- Italian Dinner Party.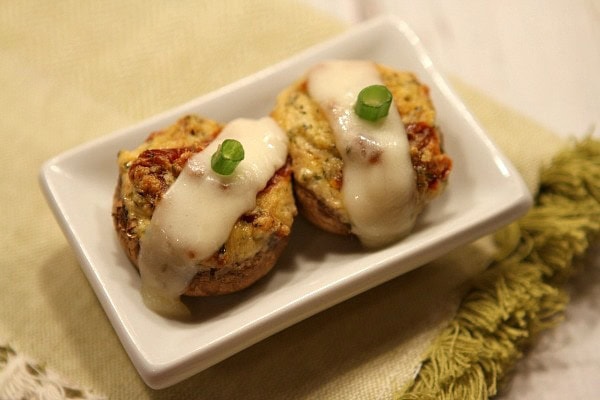 Yield: 12 stuffed mushrooms
Prep Time: 15 minutes
Cook Time: 5 minutes
Pesto Tomato Stuffed Mushrooms
A decadent, melt in your mouth stuffed mushroom. Double the recipe as it doesn't make enough!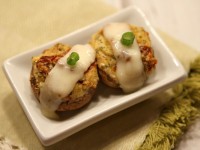 Ingredients:
1/4 cup prepared pesto
1/4 cup sun-dried tomatoes, soaked in oil, drained and chopped finely
1/4 cup herbed cream cheese (or Boursin)
12 whole mushroom caps, cleaned & stemmed
Provolone cheese, thinly sliced
chopped green onion (green part), for garnish
Directions:
Preheat oven to 350 degrees F.
In a small bowl, mix the pesto, sun-dried tomatoes and herbed cream cheese. Fill mushroom caps with a large spoonful of the cheese mixture. Top with small slices of provolone cheese and a green onion garnish. Place mushrooms on a baking sheet.
When ready to serve, bake for 15 to 20 minutes, or until mushrooms are slightly tender and the cheese is nice and melted. Serve warm!
SOURCE:  RecipeGirl.com
More stuffed mushroom recipes you might enjoy:
5 Responses to "Pesto Tomato Stuffed Mushrooms"
Leave a Comment