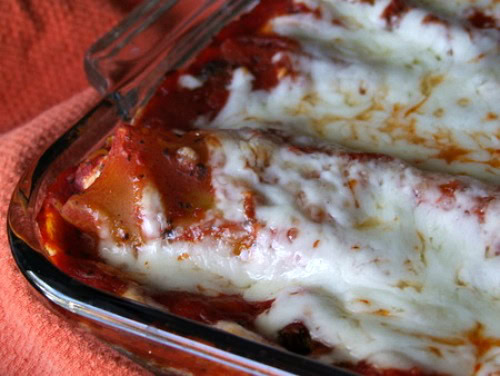 Super- Fast Spinach, Pesto and Cheese Lasagna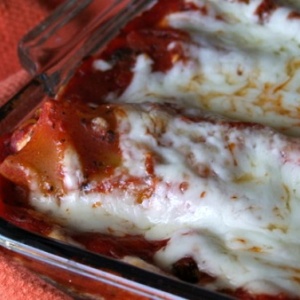 Yield:
8 servings
Prep Time: 25 min
Cook Time: 50 min
Ingredients:
3 cups ricotta cheese (skim or lowfat are fine)
1 cup shredded Parmesan cheese
salt and pepper
1 large egg
Two 10-ounce packages frozen chopped spinach, thawed, squeezed dry
One 7-ounce package prepared pesto
4 cups bottled chunky pasta sauce
12 whole lasagna noodles (cooked)
2 cups grated fontina cheese
Directions:
1. Blend ricotta and Parmesan in medium bowl. Season cheeses with salt and pepper; stir in egg. Blend spinach and pesto in another medium bowl.
2. Brush 13x9x2-inch glass baking dish with oil. Spread 1 cup of pasta sauce in the prepared dish. Arrange 3 noodles side-by-side atop sauce. Spread 1 1/4 cups ricotta cheese mixture over in a thin layer. Drop 1/3 of the spinach mixture over by spoonfuls. Repeat layering with sauce, noodles, ricotta cheese mixture and spinach mixture 2 more times. Top with remaining 3 noodles and 1 cup sauce.
3. Preheat oven to 350°F. Cover lasagna with foil.
4. Bake 35 minutes. Uncover; sprinkle with the fontina cheese. Bake lasagna until heated through, sauce is bubbling and cheese on top is melted, about 15 minutes longer. Let stand for about 10 minutes before serving.
Tips:
*The original recipe called for no-boil lasagna noodles. This, of course, makes this recipe even quicker. I haven't had a whole lot of luck in the past with the no-boil noodles, but I encourage you to try them in this recipe.
Source: RecipeGirl.com (Adapted slightly from Bon Appetit)