Chocolate Kiss Peanut Butter Blossoms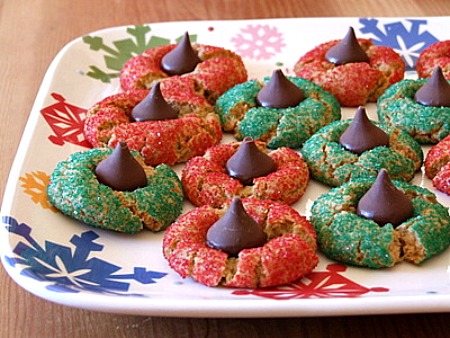 Yield: 3 dozen cookies
Prep Time: 25 min
Cook Time: 10 min
Chocolate Kiss Peanut Butter Blossoms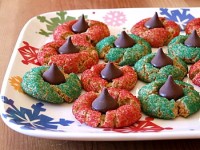 Ingredients:
1 3/4 cups all-purpose flour
1/2 teaspoon salt
1/2 cup packed brown sugar
1/2 cup smooth peanut butter
2 Tablespoons milk
1 teaspoon vanilla extract
1 teaspoon baking soda
1/2 cup granulated white sugar
1/2 cup shortening
1 large egg
sugar, for rolling
48 chocolate kisses, unwrapped
Directions:
1. Preheat oven to 375 degrees F.
2. In large mixing bowl, combine all ingredients except rolling sugar and kisses. Use an electric mixer to blend very well. Shape dough into balls using rounded teaspoonfuls. Roll balls in sugar; place on ungreased cookie sheet.
3. Bake 10-12 minutes. Remove from oven. Top each cookie immediately with a kiss, pressing down firmly as cookie cracks around the edges.
4. If possible, place the cookie sheet in the freezer until kisses harden again. Otherwise, let sit for several hours in a cool place until kisses firm up.
Tips:
*You can easily make this a Christmas cookie by rolling the PB balls in red and green sugar.
4 Responses to "Chocolate Kiss Peanut Butter Blossoms"
Leave a Comment