Chocolate Mint Filled Cookies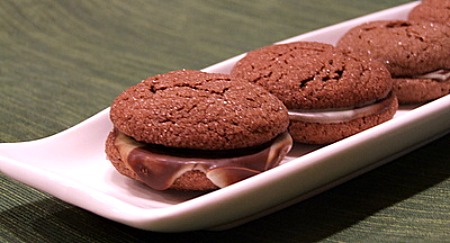 Yield: 2 dozen
Prep Time: 30 min + chill time
Cook Time: 12 min
Chocolate- Mint Filled Cookies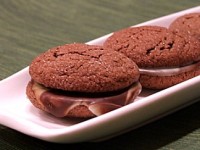 Ingredients:
6 ounces semisweet chocolate chips
2 cups all-purpose flour
2/3 cup salted butter, softened
1/4 cup light corn syrup
2 teaspoons baking soda
1/4 teaspoon salt
1 large egg
1/2 cup granulated white sugar
sugar for rolling
48 Andes Mints
Directions:
1. In saucepan, heat chips on low heat until melted and smooth.
2. In a large bowl with mixer, beat melted chocolate, flour, butter, corn syrup, baking soda, salt, egg and 1/2 cup sugar until blended. Increase speed to medium and beat until well-mixed, scraping bowl with rubber spatula. Wrap dough with plastic wrap and refrigerate until easy to handle (2 hours).
3. Preheat oven to 350 degrees. Place some sugar in a small bowl. Shape dough into balls. Roll balls in sugar and bake on cookie sheet 12 to 15 minutes.
4. Immediately remove 1/2 of cookies from cookie sheet onto work surface. Top each cookie with 2 mints and place the other half of the cookies on top. If your freezer is big enough, place in freezer until set, or leave at room temperature until set.
Tips:
*These taste divine while still warm, and they are a great frozen treat as well.
*Andes brand mints can be found in the candy section of most stores.
2 Responses to "Chocolate Mint Filled Cookies"
Leave a Comment