Mountain Christmas Cookies
These Mountain Christmas Cookies are pretty much just like chocolate chip cookies, but with m&m's. We made these when we were up in the snowy mountains of Colorado and they were eaten up quickly.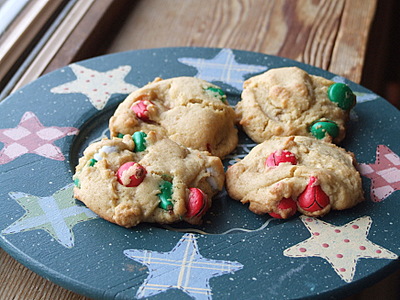 Yield: 2 dozen cookies
Prep Time: 20 minutes
Cook Time: 8 minutes
Mountain Christmas Cookies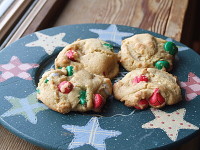 Ingredients:
1/2 cup (1 stick) butter, softened
1/2 cup shortening
1 1/4 cups packed brown sugar
3/4 teaspoon baking soda
3 large eggs
2 teaspoons vanilla extract
3 1/2 cups all-purpose flour
1 cup Christmas-colored M&M's
1 cup chopped pecans (optional)
Directions:
Preheat oven to 375°F. In a large bowl, beat butter and shortening with an electric mixer on medium speed for 30 seconds. Add brown sugar, baking soda and ¼ teaspoon of salt; beat until light and fluffy. Add eggs and vanilla; beat well.
Add flour, beating at low speed just until combined. Stir in M&M's and nuts (if desired).
Drop dough from rounded teaspoons 2 inches apart onto an ungreased cookie sheet. Bake 8-10 minutes or until golden. Cool cookies for 1 minute on cookie sheet. Using a wide spatula, transfer cookies to wire racks; cool.
To store, place in layers separated by waxed paper in an airtight container; cover. Store at room temperature for up to 3 days or freeze for up to 3 months.
SOURCE:  RecipeGirl.com
3 Responses to "Mountain Christmas Cookies"
Leave a Comment