This recipe has been featured in a post on The Recipe Girl blog: Banana & Toasted Walnut Chocolate Chip Cookies.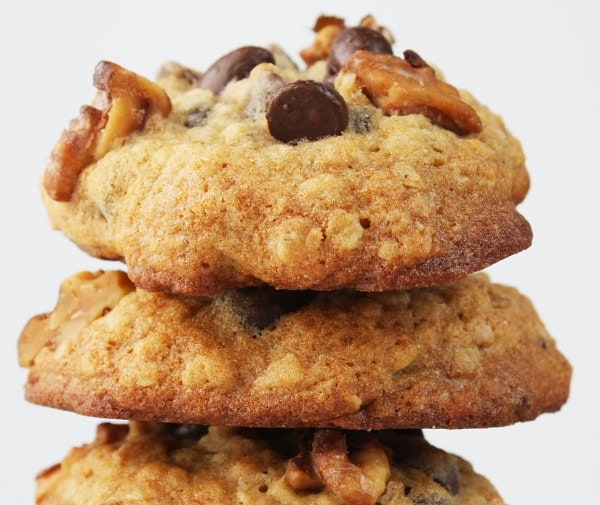 Banana- Walnut Chocolate Chip Cookies
I was pleasantly surprised to find that these are more like a cookie than other banana cookie recipes I've tried. They're "slightly" cakey, but are definitely more like a cookie than cake or bread. Delicious way to use up some ripe bananas!
Yield:
3 dozen
Prep Time:20 min
Cook Time:13 min
Ingredients:
1 cup all-purpose flour
1/2 cup whole wheat flour
1 teaspoon kosher salt
1/2 teaspoon baking soda
3/4 cup unsalted butter, at room temperature
1/2 cup granulated white sugar
1/2 cup light brown sugar, packed
1 large egg
1 1/2 teaspoons vanilla extract
1/2 cup ripe banana, mashed
1 cup old fashioned rolled oats
8 ounces semisweet chocolate chips
1/2 cup walnuts, toasted & coarsely chopped
Directions:
1. Preheat oven to 375 degrees F. Line baking sheets with parchment paper (or silpat), or spray with nonstick spray.
2. Whisk together flours, salt and baking soda in a medium bowl.
3. In a large bowl, beat butter and sugars with an electric hand mixer; mix on medium speed until pale and fluffy. Reduce speed to low and add egg & vanilla; mix until combined. Mix in banana. Add flour mixture; mix just until combined. Stir in oats, chocolate chips and walnuts.
4. Drop dough by heaping Tablespoonful onto prepared baking sheets (or use a cookie scoop), spacing about 2 inches apart. Bake cookies until golden brown and just set, 12 to 13 minutes. Let cool on sheets on wire racks 5 minutes. Transfer cookies to wire racks; let cool completely.
Tips:
*Be sure to use a banana that is well on its way to the trash can. The darker it is, the softer and sweeter it becomes.
*Sub milk chocolate chips for semi-sweet if you'd like.
*To toast walnuts, spread on a baking sheet and toast briefly (3-5 min) in a 375 degree oven. Watch closely because they'll turn into burnt walnuts pretty quickly.
*Cookies can be stored in airtight containers at room temperature up to 2 days. They also freeze well.