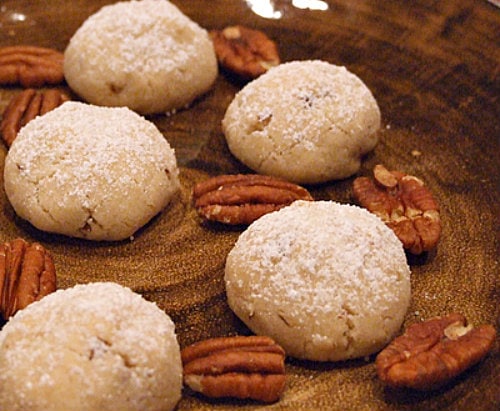 Yield: 34 cookies
Prep Time: 30 min
Cook Time: 20 min
Pecan Sandies
They're a little strange to make as the dough is a mass of crumbs, but they all come together when you form the balls and they turn out great. If you try to eat them while warm, they will crumble apart- they need time to set.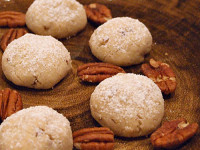 Ingredients:
2 cups all-purpose flour
1/4 cup finely chopped pecans
1/8 teaspoon salt
3/4 cup granulated white sugar
9 tablespoons butter, softened
2 teaspoons vanilla extract
1/4 cup powdered sugar
Directions:
1. Preheat oven to 350°F.
2. Combine flour, pecans, and salt in a medium bowl, stirring well with a whisk.
3. Place granulated sugar and butter in a separate medium bowl; beat with an electric mixer at medium speed until fluffy (about 2 minutes). Beat in vanilla extract. Beating at low speed, gradually add flour mixture, and beat just until combined (mixture will be crumbly).
4. Shape dough into 34 (1-inch) balls (about 1 tablespoon each). Place dough balls 2 inches apart on baking sheets coated with cooking spray. Bake for 20 minutes or until lightly browned.
5. While cookies are still hot, sift powdered sugar evenly over tops. Remove from pan; cool completely on wire racks.
Tips:
*It is important for your butter to be soft when you prepare the dough so it will hold together nicely when you shape it into balls.
Nutritional Information per serving:
Serving size: 1 cookie
Calories per serving: 77
Fat per serving: 3.7g
Saturated Fat per serving: 2g
Sugar per serving: 4.5g
Sodium per serving: ,span class="sodium">9.1g
Fiber per serving: .28g
Protein per serving: .87g
Cholesterol per serving: 8.08mg
Carbohydrates per serving: 10.18g
WW POINTS per serving:
Points Plus Program: 2 Old Points Program: 2
2 Responses to "Pecan Sandies"
Leave a Comment