Honey- Molasses Chicken Drumsticks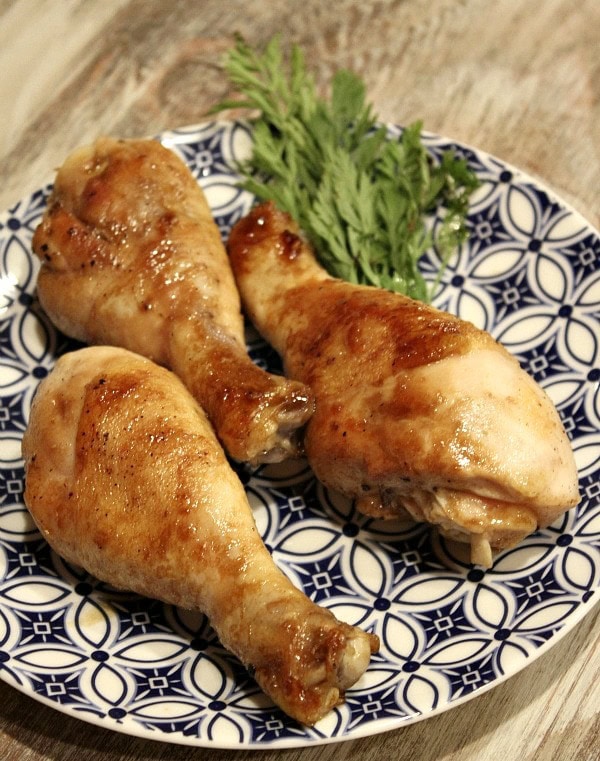 Yield: 3 servings (2 drumsticks per serving)
Prep Time: 15 min
Cook Time: 20 min
Honey- Molasses Chicken Drumsticks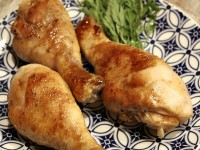 Ingredients:
SAUCE:
1 tablespoon packed brown sugar
2 tablespoons water
2 tablespoons honey
2 tablespoons balsamic vinegar
1 tablespoon Dijon mustard
1 tablespoon molasses
1 teaspoon minced garlic
CHICKEN:
1 teaspoon olive oil
6 chicken drumsticks, skin removed
1/2 teaspoon kosher salt
1/4 teaspoon freshly ground black pepper
Directions:
1. Combine sauce ingredients in a small bowl; whisk together and set aside.
2. Heat oil in a large nonstick skillet over medium-high heat. Sprinkle chicken with salt and pepper. Add chicken to pan, browning on all sides. Add honey mixture to pan, turning chicken to coat. Reduce heat to medium-low. Cover and cook 15 minutes or until chicken is done, turning chicken every 5 minutes. Uncover and cook an additional minute or until mixture is thick and darker color, and the chicken is well coated. Remove from heat; serve immediately, or cool before refrigerating.
Tips:
*Nifty tip: Before measuring out your honey, spray your measuring spoon with nonstick spray. The honey won't stick to the spoon and it will slide right off!
*I didn't include the nutritional info on this once since Cooking Light shared it as "6 servings- 1 chicken drumstick per serving." I don't see how one chicken drumstick could possibly be enough to for one serving, but check the original recipe if you need the nutritional info.
36 Responses to "Honey- Molasses Chicken Drumsticks"
Leave a Comment