Herb- Crusted Pork Tenderloin with Red Onion Jam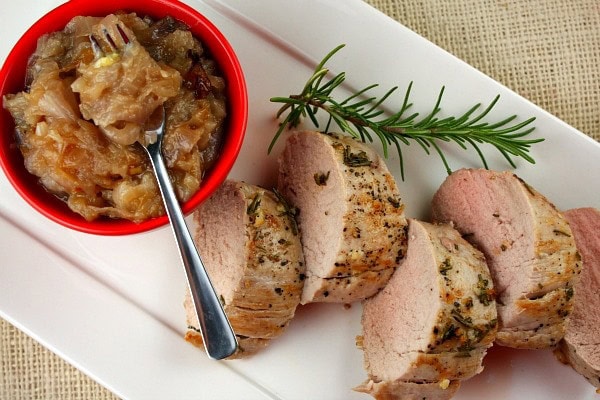 Yield: 4 servings
Prep Time: 20 min
Cook Time: 40 min
Herb- Crusted Pork Tenderloin w/ Red Onion Jam
The Red Onion Jam is so delicious and so easy!! (Try adding a dash of white wine to your jam!)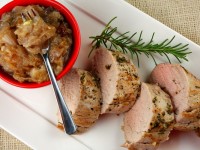 Ingredients:
1 tablespoon salted butter
3 medium red onions (about 1 1/2 pounds), thinly sliced
2 teaspoons granulated white sugar
1 teaspoon salt, divided
1/4 cup water
1 pound pork tenderloin
1/2 teaspoon coarse ground black pepper
1 tablespoon chopped fresh rosemary
1 clove garlic, minced
2 teaspoons olive oil
Directions:
1. Preheat oven to 475°F.
2. Heat butter in a large skillet over low heat until melted. Add onions, sugar, 1/2 teaspoon of the salt, and the water; bring to a boil. Cover and simmer until water has evaporated and the onions are fork-tender, about 20 to 30 minutes. Remove from heat and keep warm.
3. Sprinkle pork with pepper and remaining 1/2 teaspoon of salt. Spray a nonstick skillet with nonstick spray. Add pork and brown on both sides, about 5 minutes. Transfer to a small roasting pan.
4. Meanwhile, combine rosemary, garlic, and oil in a small bowl. Rub the mixture over the tenderloin. Roast until the pork reaches an internal temperature of 160°F, 15 to 20 minutes. Let stand 10 minutes before slicing into 1-inch slices. Spoon the onion jam over the pork.
Nutritional Information per serving:
Serving size: 1/4th of the recipe
Calories per serving: 315
Fat per serving: 14.5g
Saturated Fat per serving: 5.5g
Sugar per serving: 2g
Fiber per serving: 1.5g
Protein per serving: 35g
Cholesterol per serving: 114mg
Carbohydrates per serving: 9.75g
WW POINTS per serving:
Points Plus Program: 8 Old Points Program: 7
Leave a Comment