Pork Tenderloin with Blueberry Barbecue Sauce
This recipe has been featured in a post on The Recipe Girl blog:  Grilled Pork Tenderloin with Blueberry Barbecue Sauce
Yield: 4 servings
Prep Time: 15 min
Cook Time: 60 min
Pork Tenderloin w/ Blueberry Barbecue Sauce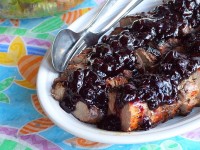 Ingredients:
SAUCE:
2 pints (5 to 6 cups) blueberries
2/3 cup honey
1/2 cup ketchup
1 medium jalapeño pepper, seeded and minced
1/2 cup chopped shallots
1 Tablespoon grated fresh ginger
2 teaspoons freshly squeezed lime juice
1/2 teaspoon dry mustard
MEAT:
2 (1-pound) pork tenderloins
salt and freshly ground black pepper
Directions:
1. Prepare sauce: Combine ingredients in a medium saucepan. Bring to a boil over medium heat; reduce heat and simmer until thickened, about 45 minutes. Divided sauce between 2 bowls; set aside.
2. Prepare meat: Preheat grill to medium heat. Season pork with salt and pepper. Sear, turning to cook on all sides, 10-15 minutes. Brush with half of the barbecue sauce, turning frequently, until pork is thoroughly glazed, about 10 minutes more (a meat thermometer should read about 150°F). Set aside and let rest for 5 minutes. Carve crosswise; serve with remaining barbecue sauce.
Leave a Comment