I've been making this Avocado- Pine Nut Salad for YEARS. First discovered at my sister's house eons ago while plowing through her loads of cookbooks, this has since become a classic family favorite. Need a great salad for a potluck? This is it. Need a salad that most people will eat? I've got you covered.  Need a new side salad for dinner because you're tired of the same old thing? This is the one.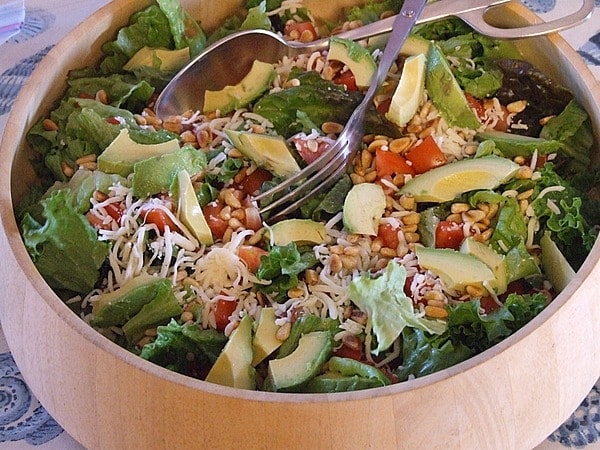 It's simple, and it's darn good. Many in my extended family and network of friends have now incorporated this salad into their meal rotations. It's that good!  Add grilled chicken to make this a main dish salad.
Yield: 8 Servings
Prep Time: 15 min
Avocado- Pine Nut Salad
This has been my family's favorite salad recipe for years and years. Every family gathering we have, this salad makes an appearance!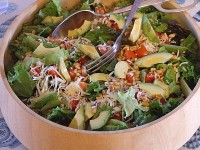 Ingredients:
2 medium vine-ripened tomatoes, chopped
1 head green leaf lettuce, chopped
1 head red leaf lettuce, chopped
1 large avocado, chopped
1/3 cup pine nuts, toasted
1/4 cup mozzarella cheese, shredded
DRESSING
4 Tablespoons white wine vinegar
3 Tablespoons olive oil
1 1/2 Tablespoons Dijon mustard
salt and pepper, to taste
Directions:
1. Place dressing ingredients in shaker jar. Shake well and refrigerate until chilled.
2. Prepare salad ingredients and toss with chilled dressing.
3. Serve immediately.
Tips:
*An easy way to roast raw pine nuts is to dry roast them in a heated saucepan, stirring often so that they do not burn (they burn easily if not watched).
*Grill some chicken and marinate it in the salad dressing for a great summer, main-dish salad!
Nutritional Information per serving:
Serving size: 1/8th of the salad
Calories per serving: 179
Fat per serving: 14g
Saturated Fat per serving: 2g
Sugar per serving: 1g
Fiber per serving: 6.25g
Protein per serving: 5g
Cholesterol per serving: 2.5mg
Carbohydrates per serving: 12g
WW POINTS per serving:
Points Plus Program: 5 Old Points Program: 5.5
12 Responses to "Avocado- Pine Nut Salad"
Leave a Comment