Chickpea and Spinach Salad with Cumin Dressing
This recipe has been featured in a post on The Recipe Girl blog: Chickpea Spinach Salad with Cumin Dressing.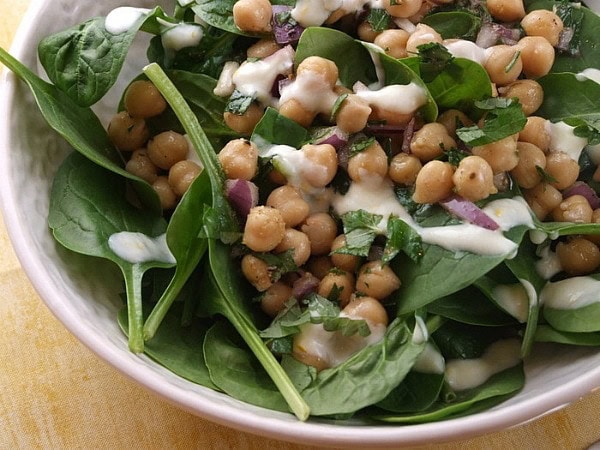 Yield: 4 servings
Prep Time: 15 to 20 minutes
Chickpea & Spinach Salad w/ Cumin Dressing
I absolutely LOVE the flavors in this lower fat salad. It makes for a terribly satisfying lunch.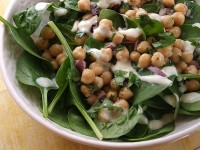 Ingredients:
1 (15.5 ounce) can chickpeas, drained & rinsed
2 Tablespoons chopped fresh flat-leaf parsley
1/4 cup diced red onion
2 Tablespoons olive oil
2 Tablespoons fresh lemon juice
1/4 teaspoon finely grated lemon zest
3/4 teaspoon ground cumin
pinch of cayenne pepper
salt & freshly ground black pepper to taste
3 Tablespoons plain nonfat yogurt
1 Tablespoon fresh squeezed orange juice
1/4 teaspoon finely grated orange zest
1/4 teaspoon honey
4 cups baby spinach leaves (packed)
1 Tablespoon coarsely chopped fresh mint
Directions:
1. In a medium bowl, combine chickpeas, parsley and onion.
2. In a small bowl, whisk together the oil, lemon juice and zest, cumin, cayenne, salt and black pepper. Pour the dressing over the chickpea mixture and toss to coat evenly.
3. In another small bowl, stir together the yogurt, orange juice and zest, and honey.
4. Serve the chickpea salad over a bed of spinach leaves. Top with yogurt sauce and garnish with the mint.
Nutrition Facts- Amount Per Serving (salad divided into 4 equal portions):
Calories 216, Calories From Fat (34%) 74.26, Total Fat 8.5g, Sat Fat 1g , Cholesterol 0.70mg, Sodium 362.70mg, Potassium 421.57mg, Carbohydrates 29.5g, Dietary Fiber 6g, Sugar 1g, Net Carbs 23.50g, Protein 7.21g
WW POINTS per serving:
Points Plus Program: 6 Old Points Program: 6
8 Responses to "Chickpea and Spinach Salad with Cumin Dressing"
Leave a Comment