4th of July Recipes: Red, White and Blue Cupcakes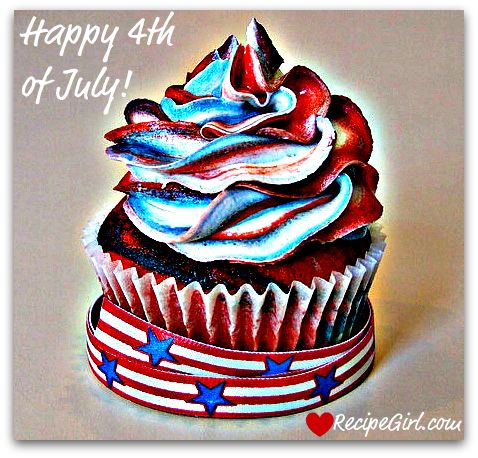 Happy 4th of July Week! I'm planning on celebrating with cupcakes: Red, White & Blue Cupcakes.
I've wanted to make a multi-colored tie-dye sort of cupcake for quite some time, so I decided to start with the red, white & blue sort for the holiday.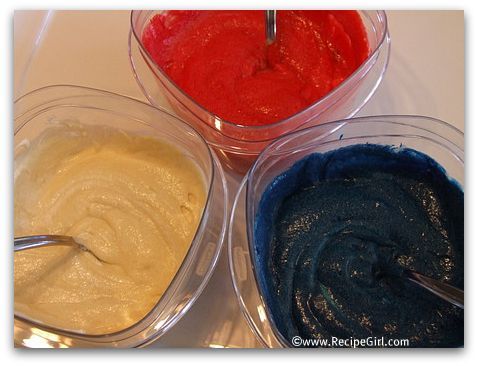 They're simple, really. Use a vanilla cake batter and divide it into three bowls, then use gel paste to color each batter (you can get gel paste at baking stores or craft stores- it's better than regular food coloring because it doesn't add a ton of liquid to your batter).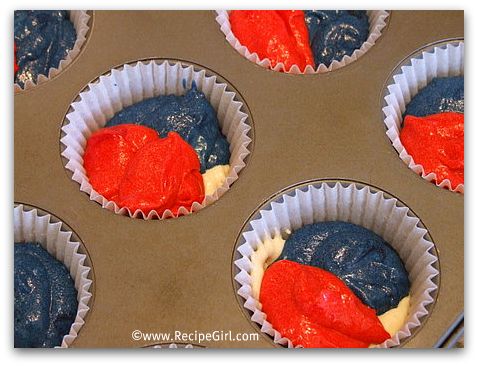 Plop a heaping teaspoonful of each color into each cupcake paper.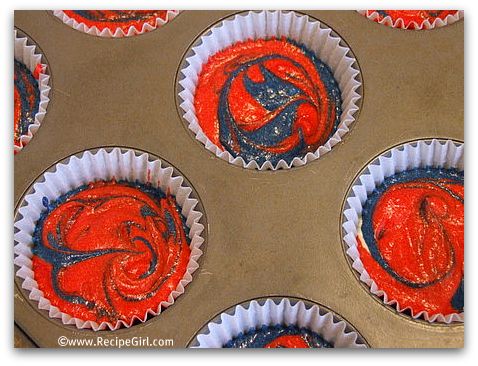 Then use a toothpick to swirl the three colors together slightly.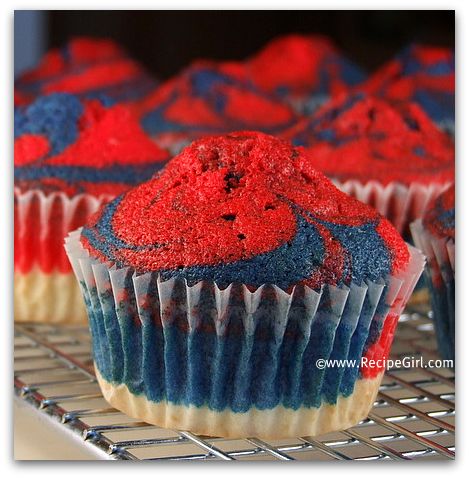 Ta da! Now the frosting…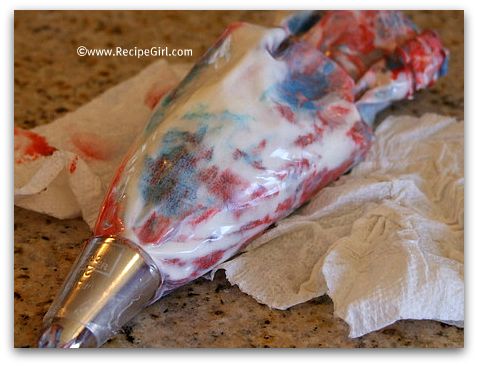 To create red, white and blue swirled frosting, make a batch of this frosting (or your favorite white frosting recipe) and divide it into three parts. Color the red and the blue with gel paste. I added a little white gel paste to the white frosting too and used clear vanilla extract.  Scoop each color frosting into your piping bag side by side (piping bags can be found at baking or craft stores, but you can also use a large plastic zip bag). Use whatever sort of tip you'd like. I like to use a large tip to get a large swirl (the swirl shown was done with a Bakery Crafts tip 1G).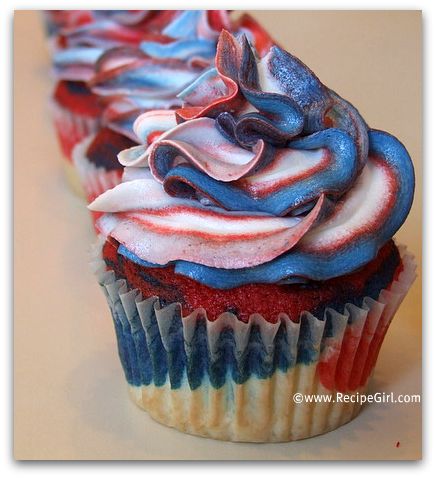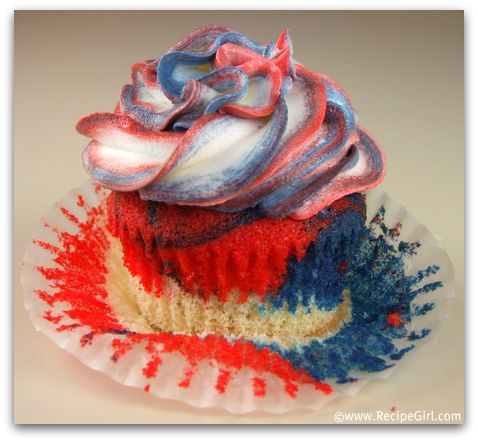 These were gobbled up recently at our Memorial Day celebration bbq… the kids swarmed and ate all of them within about 30 seconds, but we did manage to taste-test one of them at home. They're a very good vanilla cupcake (added color and all!), and the frosting is the most excellent part (this coming from a frosting-addict 🙂 ).
Have a happy, safe 4th of July week, and I hope you get to make and sample some wonderful summer-themed food at a gathering or two around town.
This recipe can be found HERE.
Other great 4th of July Cupcake ideas on the blogs:
The Foodista Blog:  4th of July Red Velvet Cupcakes
Noble Pig:  Firecracker Cupcakes
Bakerella:  Patriotic Pops
Beantown Baker:  Red, White & Blue No-Bake Frozen Cupcakes
Big Black Dog:  Strawberry Dot Cupcakes
40 Responses to "4th of July Recipes: Red, White and Blue Cupcakes"
Leave a Comment