Here is an easy recipe for Red, White and Blue Sangria– the perfect summer cocktail recipe.  Click below to watch a short video showing you how to make this recipe, then scroll to the bottom of this post to print out the complete recipe.
The big fireworks holiday will be here before you know it here in the USA, and it's usually celebrated with festive parades, hot summer barbecues, and a whole lot of red-white-and-blue paraphernalia.  I'm a sucker for that kind of stuff, having already shared my 100 red-white-and-blue recipe links several weeks ago.  Here's another one to add to the list:  Red, White and Blue Sangria.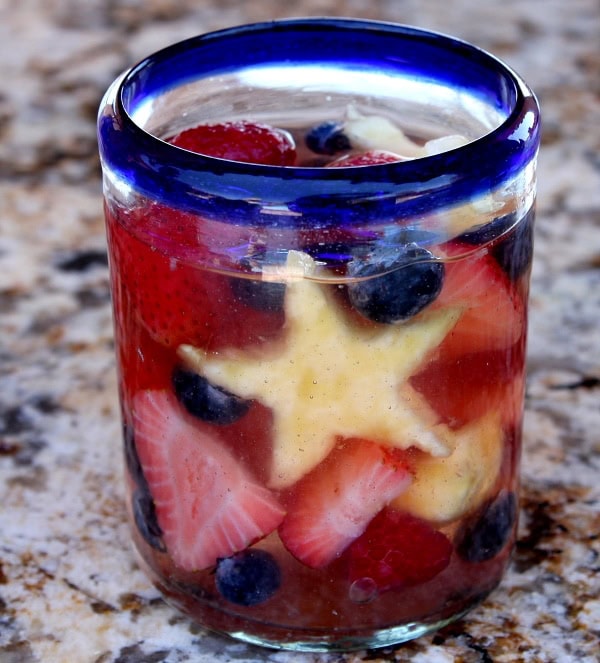 I'm an enormous fan of Sangria of every sort… red, white, peach, strawberry… I love them all. This one is a white sangria with added triple sec and berry-flavored vodka. A little lemon juice and simple syrup, along with blueberries, strawberries, raspberries and pineapple round out the recipe. It has a bit of a patriotic vibe to it with red, white (pineapple… a stretch, I know), and blue fruit floating around, especially if you take the time to cut stars from your fresh pineapple 🙂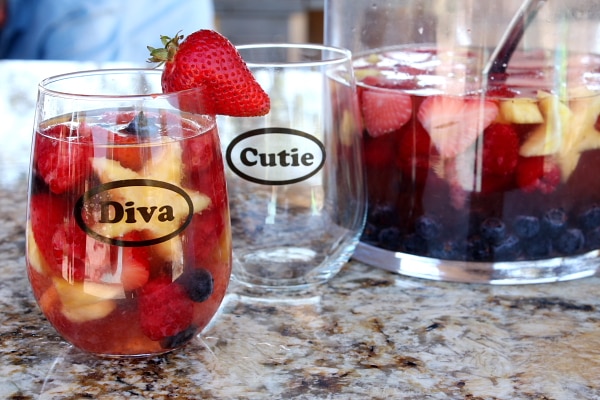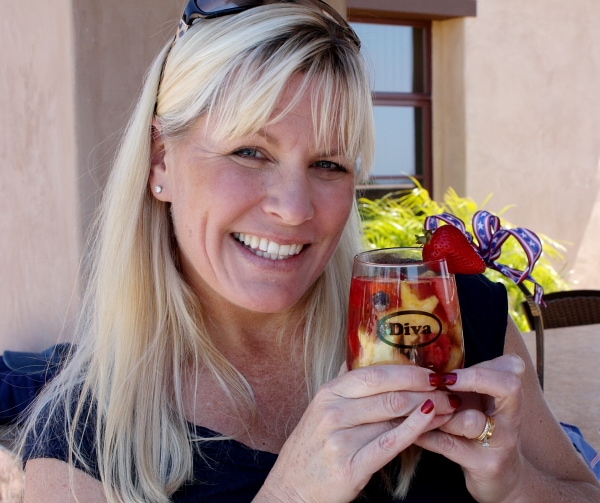 Apparently, I'm a diva!  Enjoy this sangria all summer long!
Red, White and Blue Sangria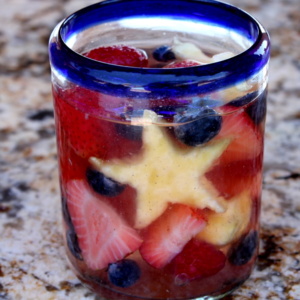 Love this recipe for a patriotic holiday...
Yield:
8 to 10 servings
Prep Time:15 minutes
Ingredients:
2 bottles dry white wine (Sauvignon Blanc is good)
1 cup triple sec
1/2 cup berry-flavored vodka
1/2 cup freshly squeezed lemon juice
1/2 cup simple syrup (see tips below)
1 cup blueberries
1 1/2 cups hulled and sliced strawberries
1 cup raspberries
1 1/2 cups pineapple chunks
Directions:
Combine all ingredients in a large punch bowl or pitcher and stir well. Cover and refrigerate at least 4 hours.
Serve well-chilled with a good scoop of fruit floating in each drink, or serve over ice.
Tips:
To make 1/2 cup simple syrup, boil 1/2 cup water and add 1/2 cup granulated white sugar. Turn heat to simmer and stir until dissolved. Turn off the heat and let cool. Now it's simple syrup!
Use fresh fruit for this recipe. Frozen just won't be great.
To make star-shaped pineapple pieces, cut long & wide pieces of pineapple off the side of the fresh fruit. use a star cutter to cut shapes.