Lemon Oregano Salmon with Roasted Tomatoes
Here is my latest recipe using salmon:  Lemon Oregano Salmon with Roasted Tomatoes
I've never been a huge "fish" person.  I like it, but I certainly don't care for any kinds of fishy fish.  Some people say they don't like salmon for that very reason.  But I don't view salmon as a fishy fish at all.  To me, it's rather different than other swimming creature varieties.
Salmon has always been my favorite fish.  The flavor and heartiness of it all is what appeals to me.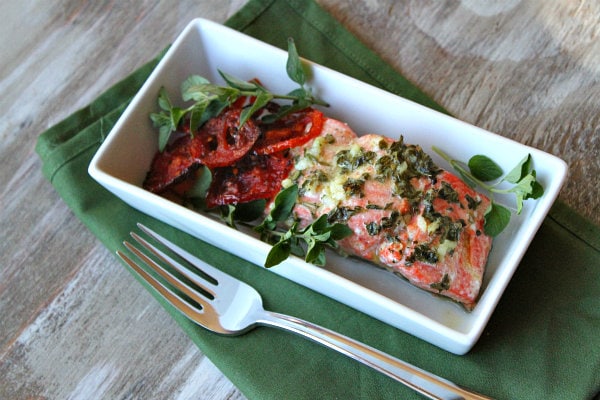 This is a fresh and easy sort of recipe.  And if you have fresh tomatoes and fresh oregano growing in your summer garden, then that's a bonus.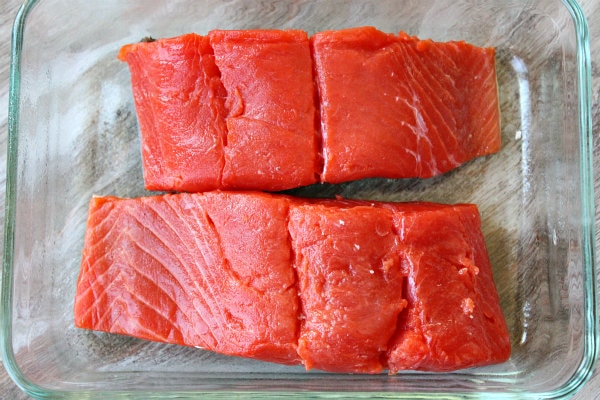 Here's how you make it:  First you need to get your salmon marinating.  Rinse off your salmon to get any fishy smell off, then pat it dry and place it in a greased pan.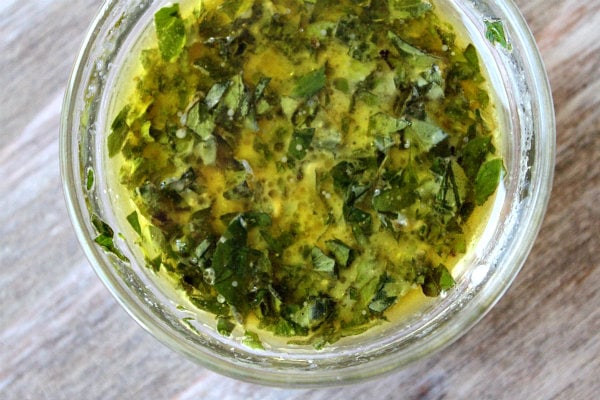 The marinade is super simple- oil, lemon juice, oregano, dijon, garlic, salt and pepper.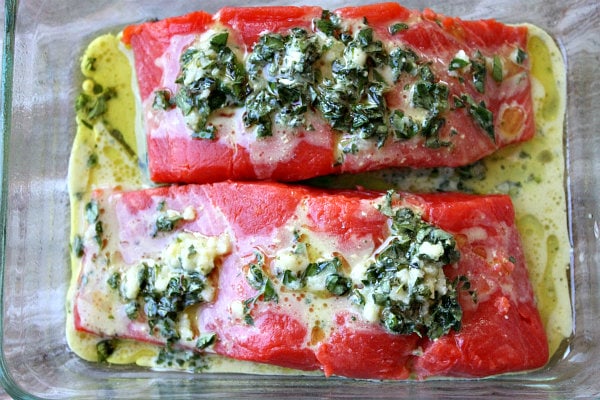 Pour the marinade over the top and let the salmon soak it all in while you prepare the tomatoes.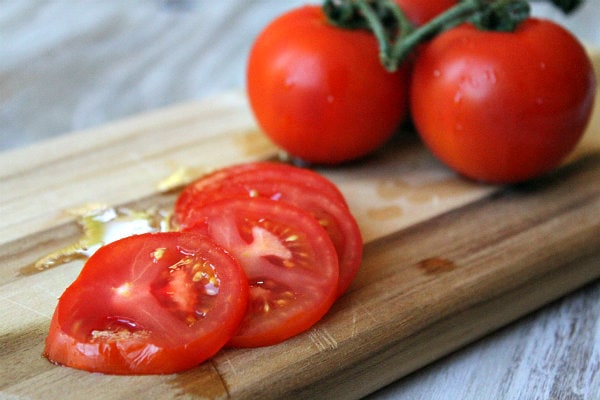 I wish I could say that I have vines of tomatoes growing out of control in my courtyard- so many that I have to beg neighbors to take them.  Unfortunately, that's not the case.  It appears that I don't have much of a green thumb.  Either that, or it's just tough to make a garden grown in our icky desert-like soil.  I like to think it's the soil.  Find the most flavorful little tomatoes you can for this recipe- at the Farmer's Market… or the little Campari tomatoes are good.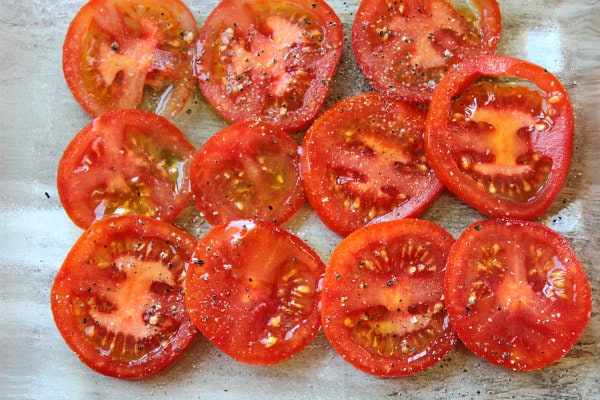 Drizzle the tomato slices with olive oil, and sprinkle with salt and pepper.  Roasted at 400 degrees, it should take 10 to 15 minutes to get them where you want them (depending on the thickness of your slicing).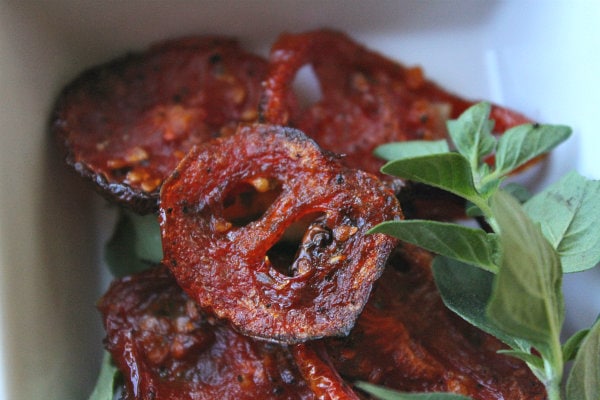 When they're done they'll look like this… dark red, barely burnt edges, and slightly crispy and sweet.  SO GOOD that they just might not make it into your salmon dish. I was OBSESSED with these roasted tomatoes. Obsessed, I tell you!
Serve each salmon filet with a generous portion of roasted tomatoes.  Be sure to grab a bit of roasted tomato with each bite of salmon.  The combination is truly delightful! Enjoy!
Yield: 2 servings
Prep Time: 20 minutes
Cook Time: 20 minutes
Lemon Oregano Salmon with Roasted Tomatoes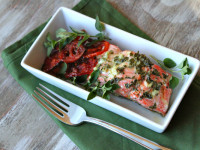 Ingredients:
SALMON:
Two 5-ounce portions of fresh salmon, rinsed and patted dry
1 tablespoon extra-virgin olive oil
1 tablespoon freshly squeezed lemon juice
1 tablespoon finely chopped fresh oregano
1 teaspoon Dijon mustard
1 large clove garlic, minced (about 1/2 teaspoon)
salt and pepper
TOMATOES:
3 medium ripe tomatoes (I like Campari), sliced thinly- about 1/4-inch
1 tablespoon extra-virgin olive oil
salt and pepper
oregano sprigs to garnish, optional
Directions:
Preheat the oven to 400 degrees F.
Marinate the salmon: Set the salmon filets in a small, shallow, greased dish- skin side down. In a small bowl, whisk together the oil, lemon, oregano, mustard, and garlic. Drizzle the marinade over the salmon. Sprinkle with salt and pepper. Set the salmon aside to marinate (room temp is fine- as long as it isn't super warm in your house).
Roast the tomatoes: Lay the tomato slices onto a greased, rimmed pan. Brush with olive oil and sprinkle with salt and pepper. Place the tomatoes in the oven and set the timer for 10 minutes. Check on the tomatoes and make sure they are not roasting too quickly- they'll start to shrivel up and will appear dark on the edges- the juices may burn around the sides. If they appear to be just as roasted as they can get before burning, go ahead and take them out and let them cool. Otherwise, keep them in the oven and add the dish of salmon to the oven too. Continue to keep an eye on the tomatoes until they are sufficiently roasted. The salmon will bake anywhere from 8 to 15 minutes, depending on the thickness of your salmon. It'll be done when the fish flakes away easily with a fork.
Serve each salmon filet accompanied by several roasted tomatoes and oregano sprigs for garnish, if desired.
Tips:
The roasting of the tomatoes will vary from person to person... thickness makes the timing vary for sure. They can go from perfect to burnt quickly, so just keep a close eye.
Weight Watchers Freestyle SmartPoints: 4 per serving-- and if you prepare the tomatoes with a light spray of nonstick spray instead of 1 tablespoon oil... you can reduce that point count to 2 points per serving.
SOURCE: RecipeGirl.com
Here are a few more salmon recipes you might enjoy:
28 Responses to "Lemon Oregano Salmon with Roasted Tomatoes"
Leave a Comment