Today I'm sharing what looks to be a very spring-like recipe for:   Key Lime Fudge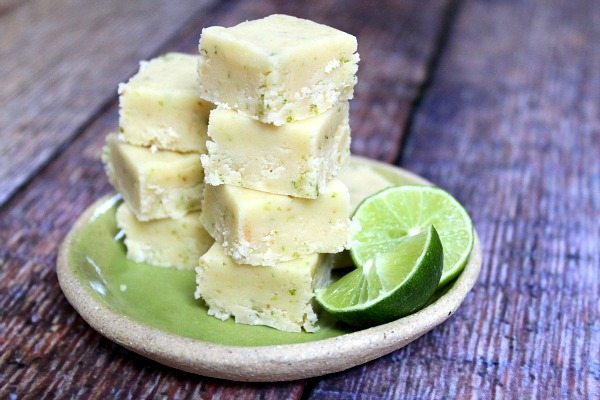 The best part of spring is the green.  Where I live now (near Lake Tahoe) everything but the tall pine trees turns rather brown in the winter and the land looks pretty bare.  The lawn goes dormant, the flowers die and most of the rest of the plants drop their leaves.  It's not such a pretty sight unless there is snow covering the ground.  77 degree temps tell me that winter is over and spring has sprung.  We didn't have a terribly cold winter anyways this year, so the grass is on its way to green, and I'm getting ready to plant some new plants and flowers that I'll be hoping the deer and squirrels won't be excited to eat.   Green is where it's at.  Green makes me happy.  Key Lime Fudge is barely green, but it makes the cut and it's a yummy spring green confection.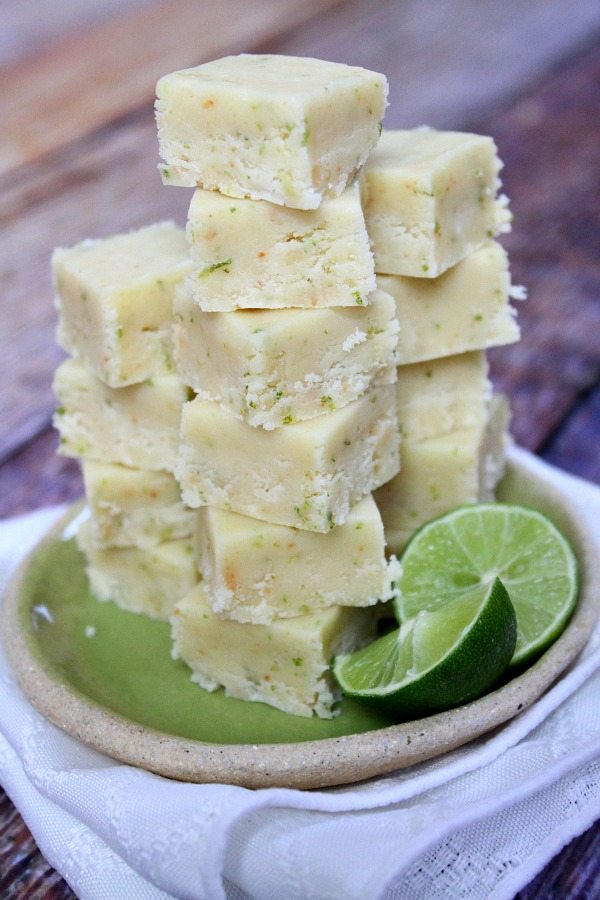 Have you ever picked up a bag of key limes?  They're awfully cute.  They're tiny little things.  You've gotta squeeze the heck out of them to get every bit of their juice, but it's all worth it.  They have a stronger scent and a thinner rind than the typical lime.  The flavor is more tart and bitter.  These limes present themselves nicely in sweet treats (like key lime pie!) since the sugar balances out that tart flavor and highlights the unique flavor of the key lime.  I love them!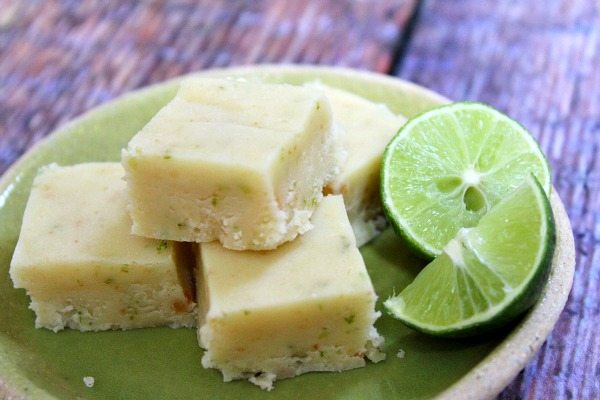 You can most certainly use regular limes for this fudge.  They might give the fudge a slightly sweeter flavor, but all will still be good.  Don't skimp on the lime zest in this recipe since it gives the fudge a fabulous green tint, and it adds a good amount of lime flavor to the recipe too.  So if you're wishing for a little "spring" in your life and it hasn't quite arrived yet, treat yourself to some Key Lime Fudge instead.  Enjoy!
Yield: About 36 pieces
Prep Time: 15 min
Cook Time: 8 min
Key Lime Fudge
Ingredients:
One 5-ounce can evaporated milk (2% or whole)
1 2/3 cups granulated white sugar
1/2 teaspoon salt
12 large marshmallows (halved)
2 cups white chocolate chips (I used Whole Foods mini chips)
1/4 cup grated lime zest (about 5 limes)
2 tablespoons Key lime juice (5 to 7 limes, juiced)
Directions:
1. Line an 8" x 8" square pan with aluminum foil; grease the foil with butter. It's not a good recipe for a 9-inch square pan as the fudge will be too thin.
2. Combine the milk, sugar and salt in a large heavy saucepan over medium heat. Stir and bring to a boil; boil 8 minutes, stirring constantly at a boil (if you have a candy thermometer, you can bring it to the soft-ball-stage, but I didn't use one). Remove the pan from heat. Add the marshmallows, chocolate, zest and juice, and stir until the marshmallows and chocolate are melted and the mixture is smooth. Scrape the fudge into the prepared pan. Tip the pan to make sure the fudge covers the bottom evenly. Cool completely, then cut into 1-inch squares.
Tips:
*This recipe can be made with regular limes too.
Source: RecipeGirl.com (adapted lightly from an old Southern Living recipe)
Other desserts using KEY LIMES that you may be interested in:
Key Lime Pie Bars by Brown Eyed Baker
Key Lime Pie by RecipeGirl
Baked Key Lime Pie Donuts by Taste and Tell
Key Lime Cream Cake by Bakerella
Key Lime Pie Ice Cream by Cafe Johnsonia
51 Responses to "Key Lime Fudge"
Leave a Comment