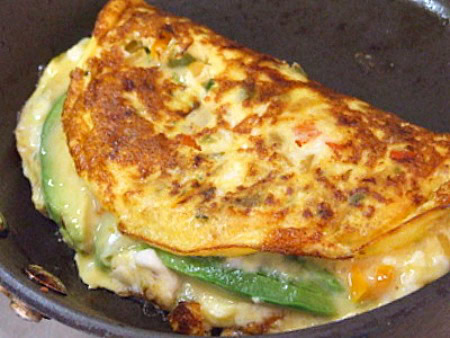 Avocado- Manchego Cheese Omelette
Yield:
4 servings
Prep Time: 25 min
Cook Time: 15 min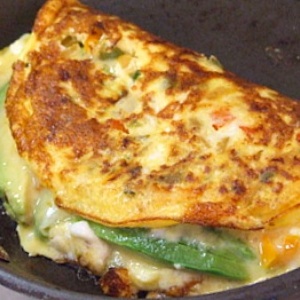 Ingredients:

1/2 cup yellow bell pepper, finely diced
1/2 cup red and green bell pepper, finely diced
1 jalapeño pepper, seeded and finely diced
1/2 cup onion, finely diced
1 Tablespoon fresh cilantro, minced
2 teaspoons fresh parsley, chopped
salt and pepper to taste
cooking oil
8 large eggs
1/2 cup milk
1 large avocado, sliced
1 1/2 cups Manchego cheese, shredded

Instructions:

1. Sauté peppers and onions in a small amount of oil. Add cilantro and parsley, season with salt and pepper. Cook until tender. Set aside.

2. Combine eggs and milk, whisk together well, and set aside.

3. Heat a nonstick skillet over medium heat. Spray with cooking spray. Ladle 1/4 of the beaten egg into the pan. Stir in sautéed pepper and onion. Cook until set. Flip omelette and cook until done. Add sliced avocado and top with cheese. Fold omelette and turn out onto warm serving plate. Top with additional cheese and garnish with fresh sprigs of cilantro.

4. Repeat this process 3 times to create four servings.