There's a very sweet blogging friend of mine who is expecting her first baby very soon… Maria from Two Peas and Their Pod.  Today, we are having an online baby shower for her and her husband Josh, and I've made some Baby Buttons to celebrate baby pea (baby button cookies).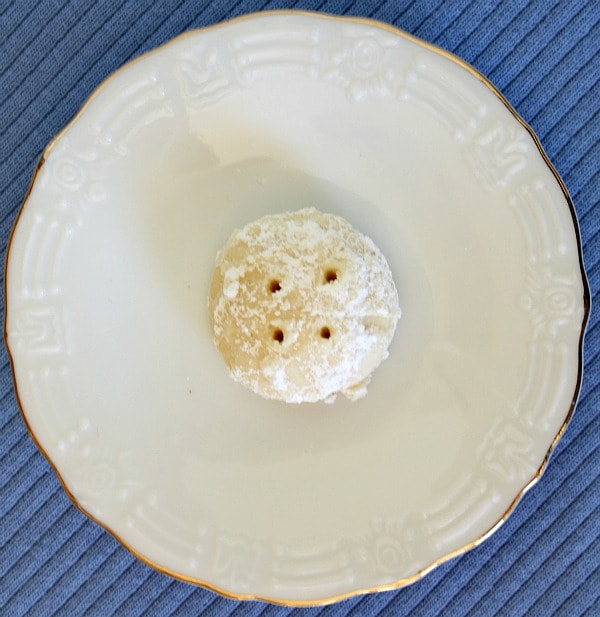 They are lemon-scented little shortbread cookies.  And they're made to look like little baby buttons.  At least I hope they look like baby buttons.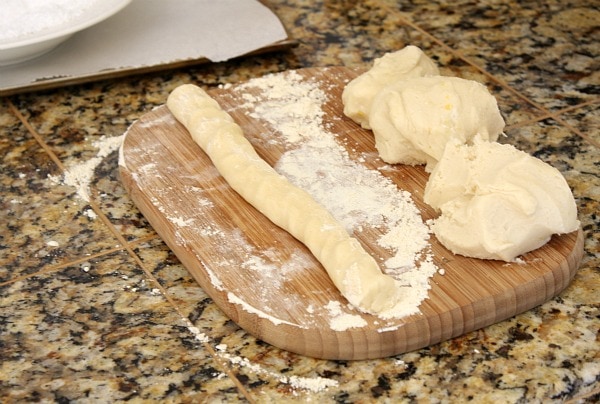 The dough is a very simple mix of butter, powdered sugar, cornstarch, flavoring, lemon zest and flour.  It's all mixed together in the food processor.  Then you break it off into chunks and roll out little logs.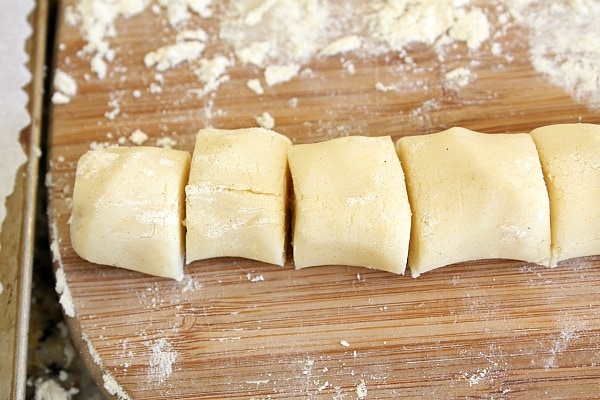 The logs are sliced into little pieces…
…and then they are rolled into balls.
You can place all of the cookies on one cookie sheet since they do not spread out much.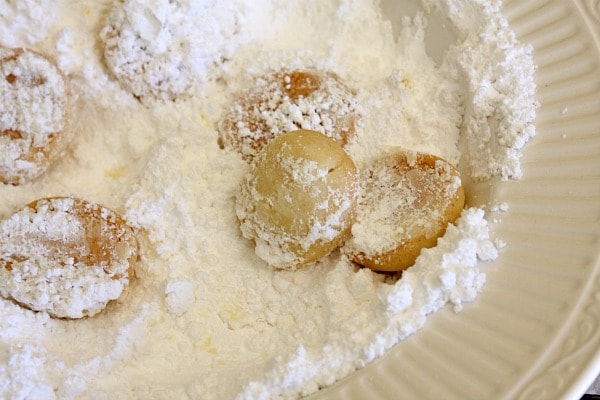 Roll the warm cookies in powdered sugar.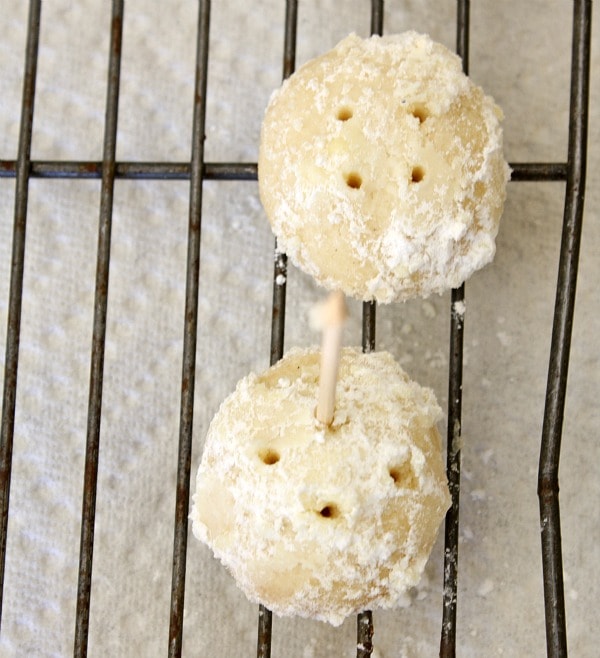 Use a toothpick to poke 4 holes in each cookie (these are your buttonholes).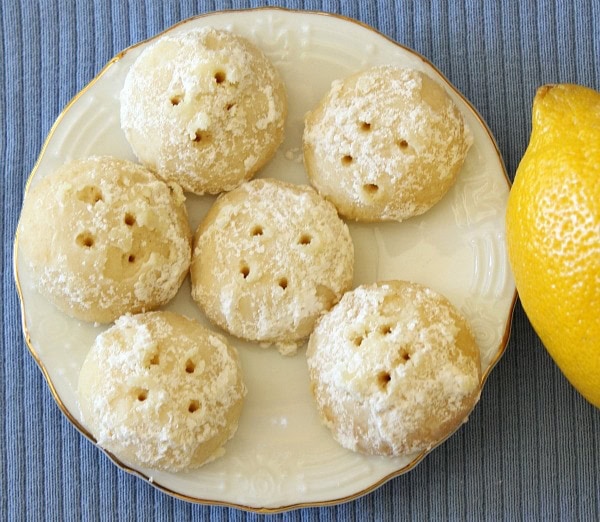 And here they are!
Congratulations to Josh and Maria!  I know that adding another little pea to your pod is going to be the most wonderful experience ever.  I'm looking forward to meeting your baby boy 🙂
Baby Button Cookies
These are fun little cookies to make for a baby shower...
Yield:
About 4 dozen cookies
Prep Time: 30 min
Cook Time: 20 min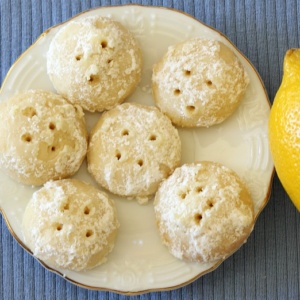 Ingredients:

COOKIES:
1 cup (2 sticks) unsalted butter, at room temperature
1/2 cup powdered sugar
1/2 cup cornstarch
1/2 teaspoon vanilla (or lemon) extract
1 teaspoon finely grated lemon zest
1 1/2 cups all-purpose flour

ROLLING SUGAR:
1 cup powdered sugar, sifted
1 teaspoon finely grated lemon zest

Instructions:

1. Preheat oven to 350 degrees F. Line a baking sheet with parchment paper. You will only need one baking sheet if you're using a large one.

2. Prepare cookies: In a food processor, pulse butter with powdered sugar until combined. Add cornstarch, extract, zest and flour; process until a soft dough forms. Remove the dough to a floured surface and divide into 4 equal chunks. Roll a chunk of the dough into a skinny log- about 12 inches long. Cut each log into 12 pieces, and roll each piece into a ball. Place the balls on the prepared baking sheet about 1 inch apart. They won't spread much, so you can probably get them all on one baking sheet.

3. Bake for 20 to 22 minutes, until the bottoms are golden but the tops are still light.

4. Roll in the sugar: In a medium bowl, mix powdered sugar and lemon zest. Just use a fork to blend in the zest and get that powdered sugar scented with lemon. Add a few warm cookies at a time to the sugar mixture. Roll in the sugar and remove to a wire rack to cool completely. While still warm, use a toothpick to poke 4 little holes into the top of each cookie to make a buttonhole pattern.

Tips:

*Cookies can be stored in an airtight container for up to 1 week.
Want to celebrate with us?  Here's a list of the other baby shower eats…
Drinks
Simple Bites – Lemon Balm infused Lemonade
Ingredients, Inc. – Healthy Fruit Punch
Food for My Family – Lemongrass Soda
Heather's Dish – Mixed Fruit Punch
She Wears Many Hats – Mini Pistachio Smoothies
Appetizers/Savory Bites
With Style and Grace – Truffle Popcorn
Family Fresh Cooking – Baby Peas & Cheese Frittata
Barbara Bakes – Creamy Orange Fruit Dip and Fruit
Aggie's Kitchen – Pasta Salad with Balsamic Basil Vinaigrette
Reluctant Entertainer – Nutella Berry Bruschetta
Dessert
Dorie Greenspan – French Lemon Cream Tart
TidyMom – Blue and Chocolate Cake Balls
i am baker – Baby Pea Baby Shower Cake
Brown Eyed Baker – Pavlova
Picky Palate – Chocolate Chip Oatmeal Cookie Sandwich
What's Gaby Cooking – Coconut Cupcakes with Cream Cheese Icing
Cookin' Canuck – Nutella & Cream Cheese Swirled Blondies
Kevin and Amanda – Baby Blue Chocolate Chip Oatmeal Cookie Cups
Sweetopia – Decorated Sugar Cookies
Mountain Mama Cooks – Lavender Shortbread Cookies
Sweetapolita – Decorated Sugar Cookies
RecipeGirl – Baby Button Cookies
RecipeBoy – Mud Cups with Gummy Worms
Add a Pinch – Blackberry Tartlets
Dine and Dish – Oven Baked Cinnamon Apples
Crafts
Wenderly – Handmade Sweet Pea Cards
Our Best Bites – How To: Make a Diaper Cake Centerpiece