Here's an easy carrot side dish: Baby Carrots with Tarragon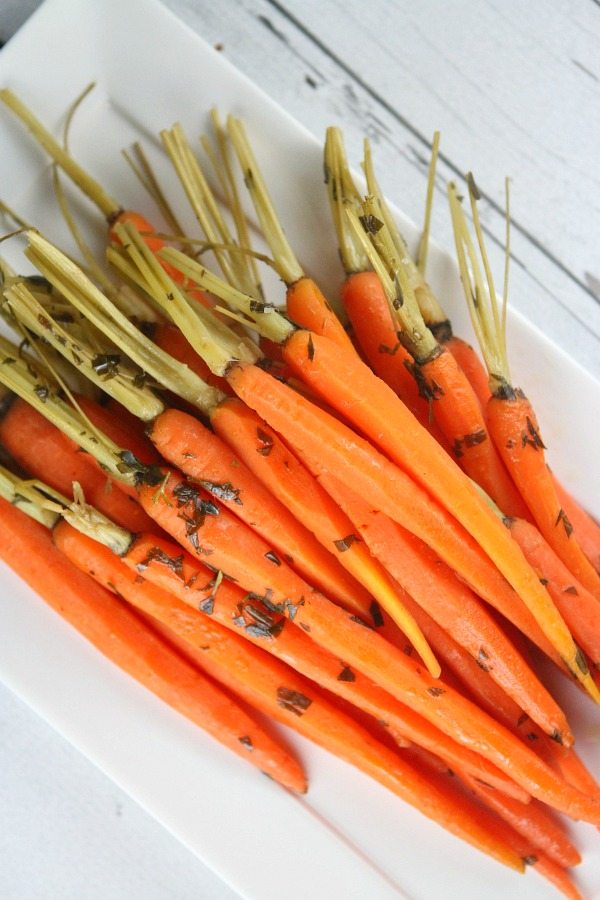 Baby Carrots with Tarragon
Yield:
6 servings
Prep Time: 15 min
Cook Time: 20 min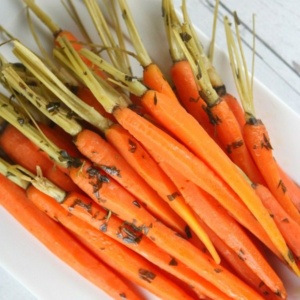 Ingredients:

4 bunches baby carrots (each about 8 ounces), peeled, trimmed, 3 inches of stems left intact
1/4 cup water
3 tablespoons minced fresh tarragon, divided
2 tablespoons (1/4 stick) butter
1 tablespoon white wine vinegar
1 tablespoon honey

Instructions:

1. Combine carrots, water, 1 1/2 tablespoons tarragon, butter, vinegar and honey in heavy large skillet. Bring to boil. Reduce heat to medium; cover and simmer until carrots are almost tender, about 12 minutes. Uncover; cook until carrots are tender and liquid is reduced to glaze, about 6 minutes longer. Season with salt and pepper.

2. Transfer to platter. Sprinkle with remaining 1 1/2 Tablespoons tarragon.
More carrot recipes you may enjoy:
Cumin Roasted Carrots and Meyer Lemon by A Thought For Food
Roasted Whole Carrots with Rosemary and Honey by RecipeGirl
Easy Pickled Carrots by David Lebovitz
Carrot and Orange Soup by RecipeGirl
Whiskey- Glazed Carrots by The Pioneer Woman