This recipe is featured in a RecipeGirl theme-party menu: Sicilian Dinner Party.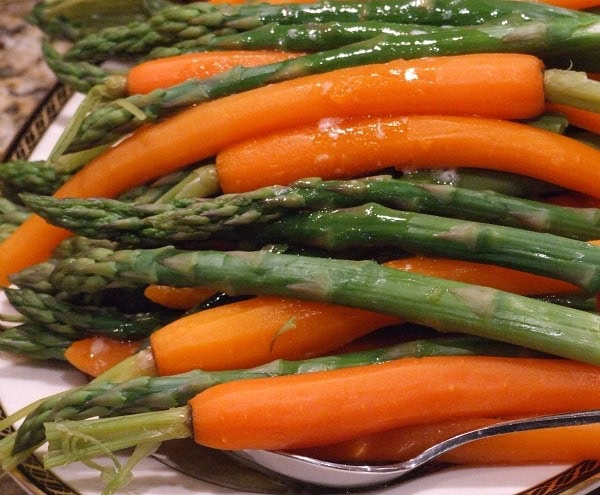 Asparagus & Carrots w/ Maple- Butter Sauce
A simple, delicious sauce makes all the difference in this easy side dish.
Yield:
10 servings
Prep Time: 25 min
Cook Time: 15 min
Ingredients:

2 pounds carrots, with fronds attached
2 pounds asparagus, trimmed
1/2 teaspoon chili powder
6 Tablespoons butter
1/2 cup maple syrup
4 teaspoons cider vinegar
1/2 teaspoon salt

Instructions:

1. Trim and peel carrots, but keep about 1/2-inch of the frond stems attached to the whole carrot. Place in large sauté pan & cover with water. Bring to a boil. Reduce heat; cover and let simmer for 8 minutes, or until crisp-tender. Drain.

2. Meanwhile, in a small saucepan, melt butter. Whisk in chili powder. Stir in maple syrup, vinegar and salt.

3. Add trimmed asparagus to the pan with the carrots. Pour maple butter over the carrots & asparagus; cover. Bring to a low simmer and cook until asparagus are crisp-tender.

4. Remove carrots and asparagus from the pan with a slotted spoon and place on a platter. Drizzle a small amount of the sauce on top.