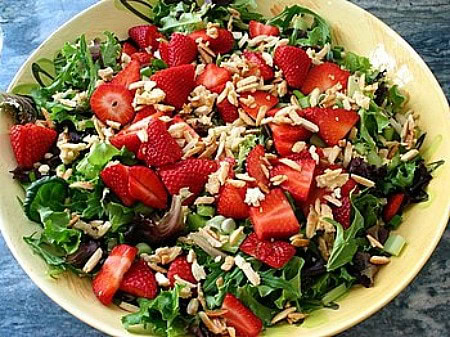 Baby Greens w/ Strawberries & Sugared Almonds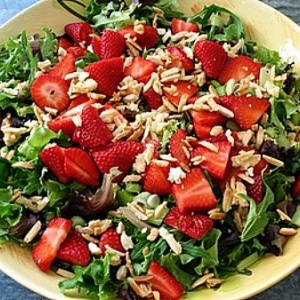 This is a great strawberry green salad- the sugared almonds are really easy to make and add delicious flavor and crunch to the salad.
Yield:
8 servings
Prep Time: 20 min
Cook Time: 6 min
Ingredients:
ALMONDS:
3 Tablespoons granulated white sugar
1/2 cup almonds, slivered
DRESSING:
2 Tablespoons granulated white sugar
1 Tablespoon Italian parsley, chopped
2 Tablespoons white wine vinegar
1/2 teaspoon sea salt
dash of freshly ground pepper
dash of Tabasco sauce
1/4 cup extra-virgin olive oil
SALAD:
1 pound baby greens
1 cup celery, finely chopped
2 whole green onions, finely chopped
1 pint strawberries, cleaned, hulled & sliced
Directions:
1. Prepare almonds: In a small skillet, heat the sugar over medium heat until it begins to melt. Add the almonds to the pan and toss rapidly until the sugar coats all of the almonds and the almonds are lightly browned. Pour them out onto a glass dish and separate almonds with a fork. Cool until hardened and break into pieces.
2. In a small bowl, combine all of the dressing ingredients except for the olive oil. Add the oil in a slow stream, whisking as you add the oil until the dressing thickens.
3. Place the greens, celery, green onions and strawberries in a large bowl. Toss them with the dressing. Add almonds, toss lightly and serve.
Tips:
*If preparing this salad as VEGAN, just make sure that you're comfortable w/ the brand or type of sugar you're using- that it's considered vegan.