This is one of those recipes that has been in my "must-try" folder for years.  YEARS!  The recipe caught my eye because when I was mall-shopping way back in my college days, I stopped into a restaurant and ordered a salad that was served on top of pizza dough.  It was amazing.  I've never been able to get that pizza salad out of my head.  Then I happened upon this recipe the other day… tucked away in my files, and I decided it was time to try it.  We all had it for lunch last Saturday:  Bacon- Avocado Griddle Pizzas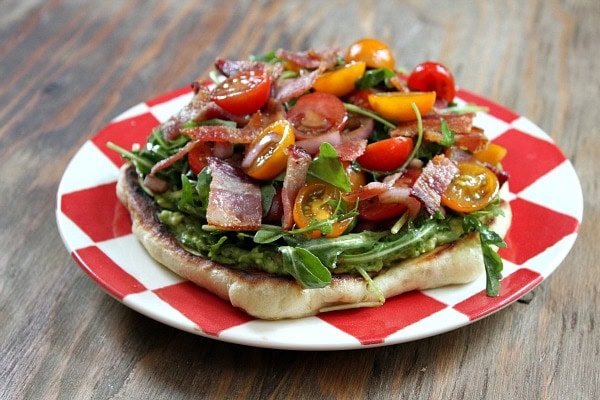 This version is a little different than the one I remember: it's griddle-cooked dough topped with mashed avocado and a marinated tomato- arugula salad.  Oh, and topped with BACON.  A little goat or feta cheese would be good sprinkled on top too.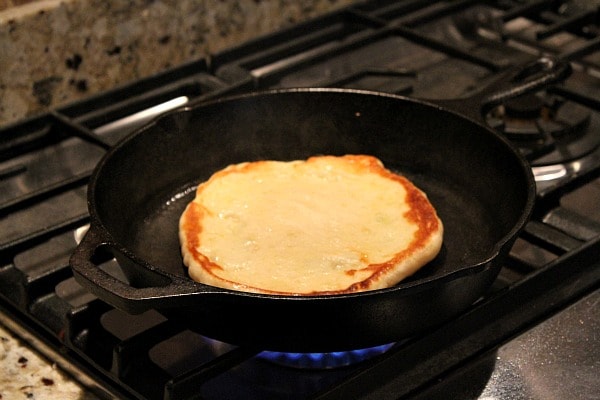 The pizza dough is quick fried in a pan until browned.  The recipe here calls for homemade dough, but you can just as easily pick up store-bought pizza dough and start with that.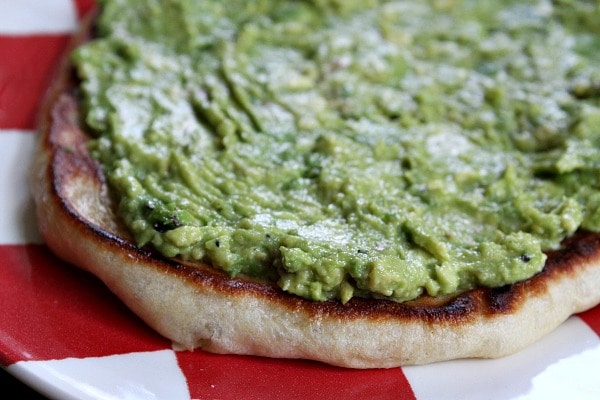 Mashed avocado is spread on top of the cooked dough…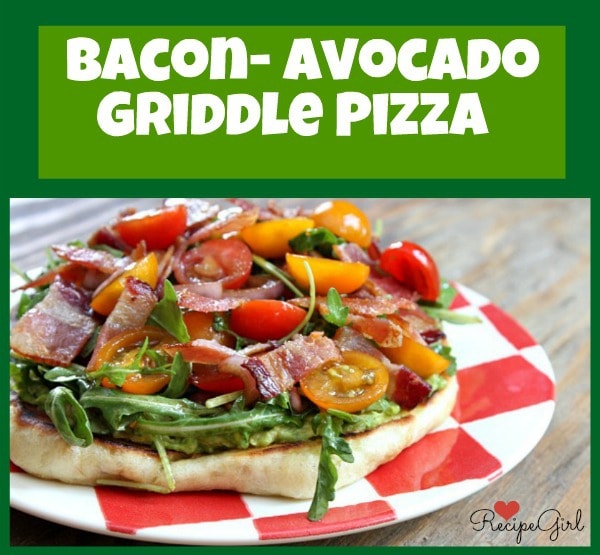 … and a balsamic-dressed tomato/arugula/shallot salad is spooned on top.  Bacon is added for a final touch.  We found that these were easiest to eat with a knife and fork.  I made my dough a little bit thick…next time I would stretch it slightly thinner.  We all enjoyed though- it was something different and fun to make.  I can imagine making it with all kinds of different salads served on top.  A caprese salad would be fabulous.
Bacon- Avocado Griddle Pizzas
To speed things up, you can always use store-bought pizza dough and work with that instead.
Yield:
4 servings
Prep Time: 25min + rising time
Cook Time: 40 min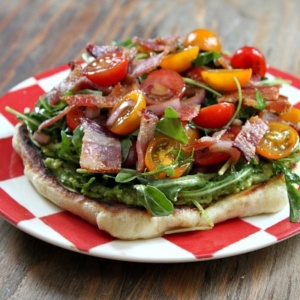 Ingredients:

1 cup lukewarm water (105 to 115 degrees F)
2 1/4 cups Gold Medal® All-Purpose Flour, divided
One 1/4-ounce package active dry yeast
1 teaspoon granulated white sugar
1 teaspoon salt
1 pint grape tomatoes, halved
1 shallot, sliced thinly
1/4 cup extra-virgin olive oil (plus more for brushing)
1 tablespoon balsamic vinegar
salt and freshly ground black pepper, to taste
One 12-ounce package bacon
3 medium avocados
4 handfuls arugula or watercress

Instructions:

1. In a large glass, whisk together the water, 1 tablespoon flour, yeast and sugar; let stand until foamy (about 5 minutes). Using a food processor, combine the remaining flour and salt. With the machine running, pour in the yeast mixture and process until the dough forms a ball. Mix for another minute, then transfer the dough to a large greased bowl, turning the dough to coat. Cover with a clean dishtowel and let rise until doubled in size (about 1 hour).

2. Meanwhile, in a large bowl, toss together the tomatoes, shallot, olive oil and vinegar; season with salt and pepper. Let stand at room temperature to marinate.

3. Preheat a large skillet; add the bacon and cook, turning once until crisp, 12 to 15 minutes Drain on paper towels, then chop into bite-sized pieces. Mash the avocado in a medium bowl.

4. Preheat a griddle or large skillet to medium heat. On a lightly floured surface, divide the dough into 4 pieces, then flatten each one into a disk. Stretch each disk into a 10-inch round. Brush one side of each round with olive oil. Transfer to the heated pan and place oiled-side-down. Cook, lightly, brushing the tops with more oil and flipping once, until browned, about 6 minutes on each side. Transfer to a cutting board (if making these one at a time, wrap them in foil to keep warm while you finish the rest).

5. Spread the avocado evenly on each crust, leaving a 3/4-inch border. Toss the arugula with the tomato mixture and divide the salad mixture between the four pizzas. Sprinkle bacon pieces on top.

Tips:

*Crumbled goat or feta cheese would be an excellent addition to these pizzas.
More pizza made in a frying pan that you might enjoy- from these fabulous blogs:
Frying Pan Pizza by The Perfect Pantry
Skillet Tortilla Pizza by Simply Recipes
Pizza Margherita by No Recipes