Eating healthy today? Good for you. I'll be jumping on the bandwagon along with you beginning this Saturday. More about that later. I can help you get your healthy thing going with a good, filling Bean and Sausage Soup recipe. Make this and you won't feel so deprived on your healthy journey, I promise.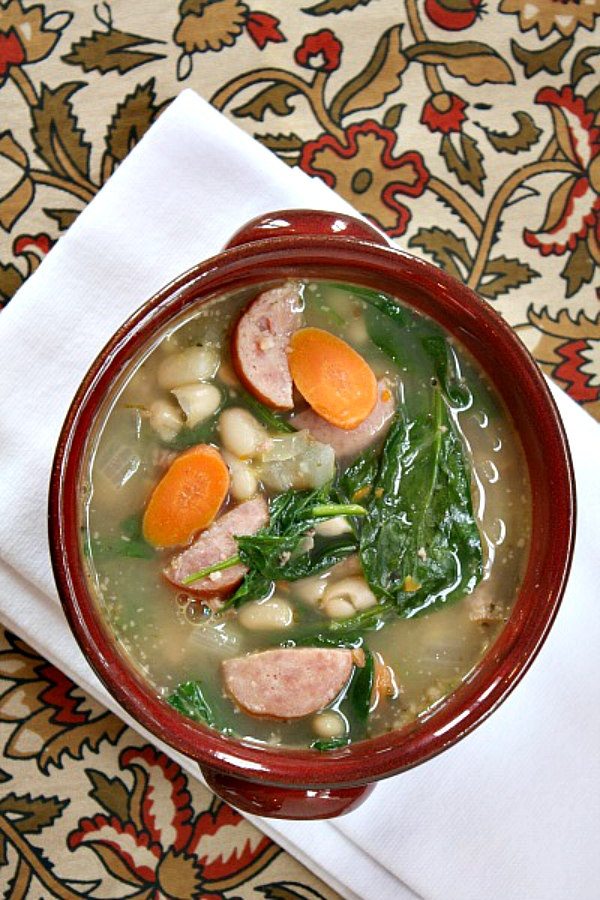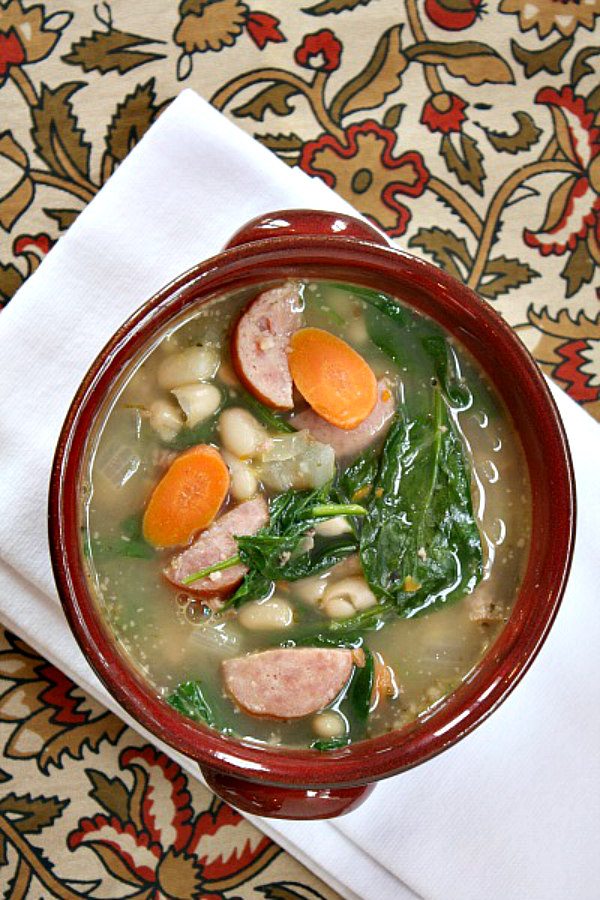 This soup has stuff in it that will fill you up. In a nice, comforting way that won't make you feel bulgy or icky or fat. You'll be stuffed after a bowl or two of Bean and Sausage Soup and you won't break the calorie or your Weight Watchers Points bank. If you do happen to be following the Weight Watchers WW plan, you'll find a link to the WW Points on the recipe card at the end of this post.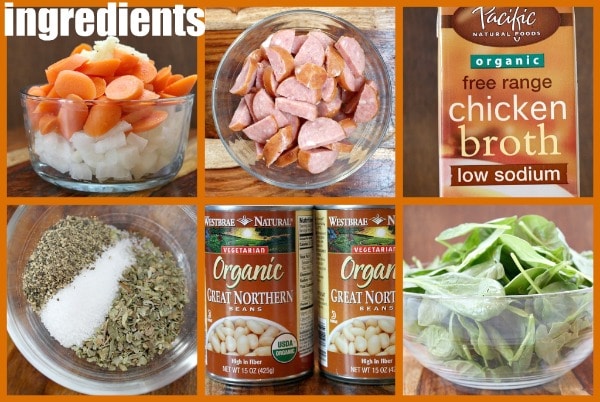 Ingredients include carrots, onions, garlic, kielbasa, chicken broth, pepper, salt, Italian seasoning, white beans and spinach.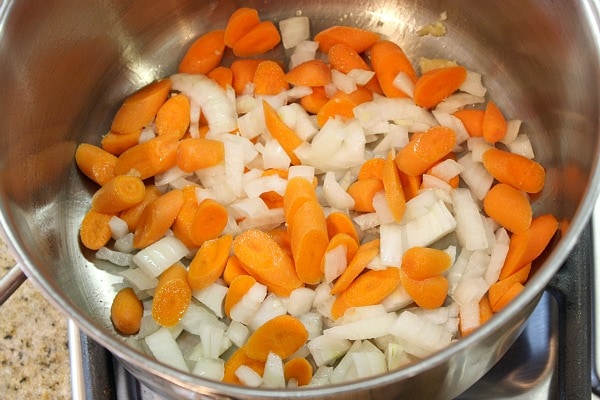 How to make Bean and Sausage Soup:
Sauté the onions, carrots and garlic.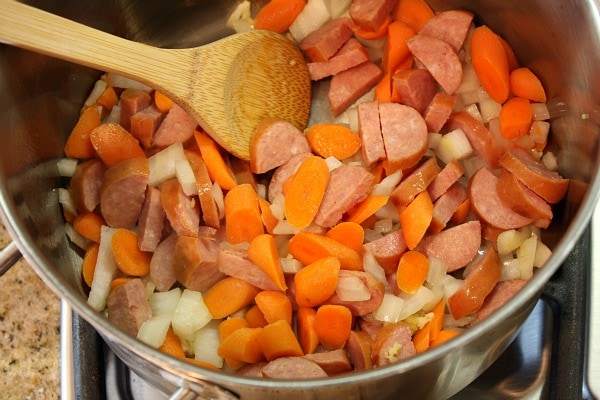 Add the kielbasa. Cook some more.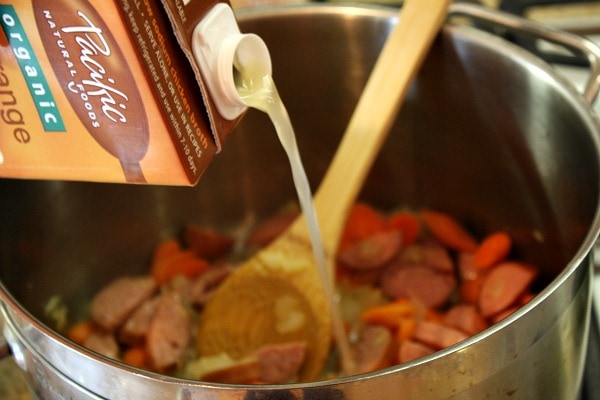 Pour in the chicken broth.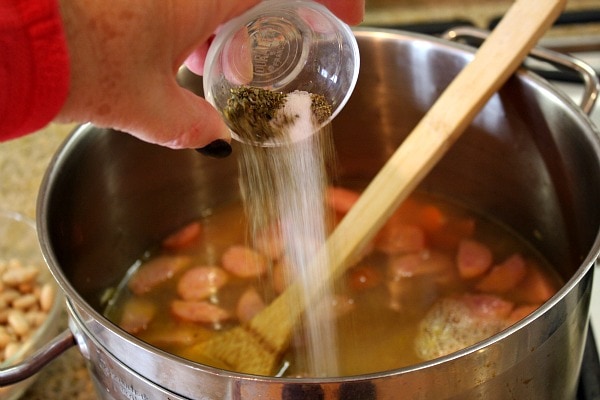 Add the spices.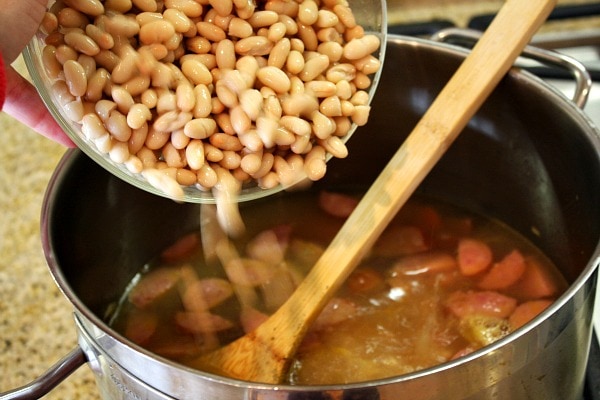 Pour in the beans, and heat up the soup.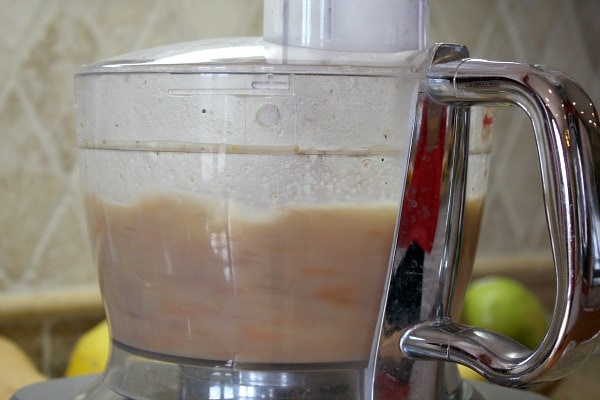 Here's the crazy part. Take 2 cups of the soup out of the pot and blend it in your blender or food processor.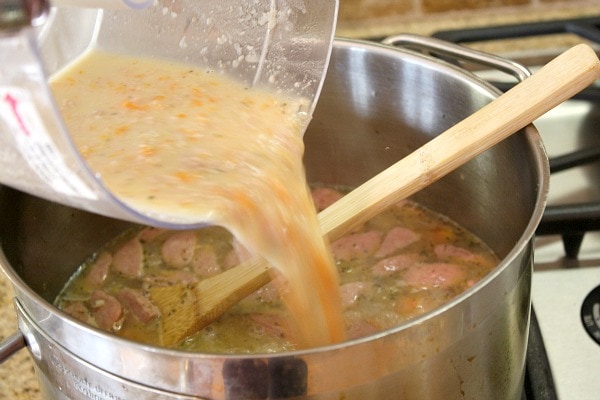 Then pour it back into the soup. It might seems a little strange to blend all of that up, but it gives the soup a nicer, more full-bodied, creamy texture.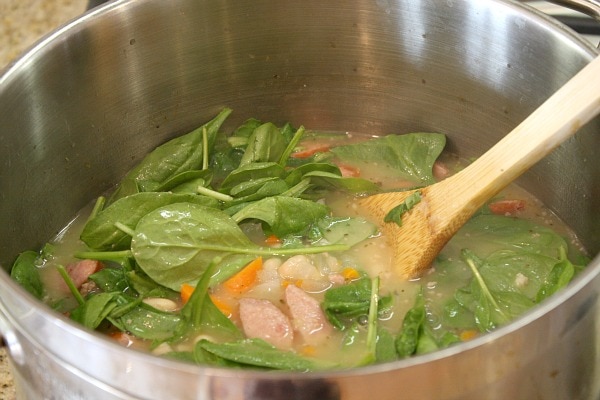 Stir in the spinach. Done!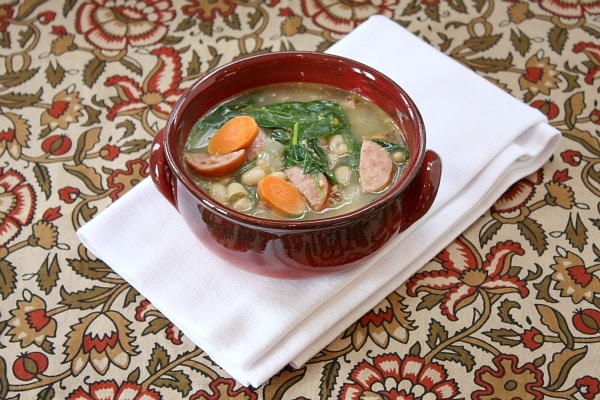 One serving of this = 1 1/4 cups and it packs a small punch at 227 calories.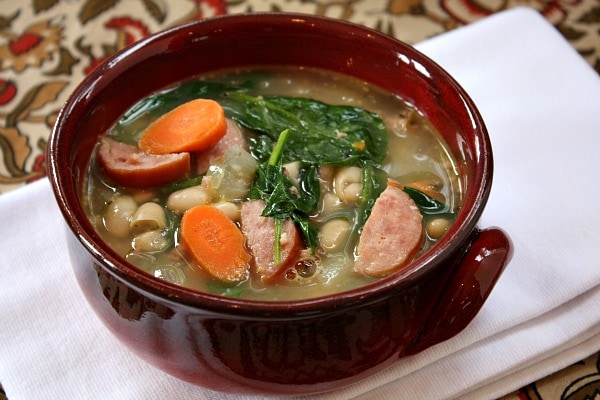 And if you're not eating healthy… or not trying to eat healthy… or just want a good soup recipe for your chilly winter… you can still go for this one. It's not "trying" to be diet-food, it just happens to work out okay for that sort of thing. It also happens to be (naturally) gluten-free too (see *Tips in the recipe).
As for me and the whole "healthy eating" thing… yeah, I'm jumping on the bandwagon along with the rest of the crazy people who think that the New Year is a good time to start. Don't worry– I don't focus on only diet recipes. I've got a whole bunch of great recipes to share this year- desserts, dinners, soups, Super Bowl food… everything. Happy New Year 🙂
Here are a few more soup recipes you might enjoy:
Bean and Sausage Soup
Great, lighter soup recipe!
Recipe Details
Servings:
5
servings (1¼ cups per serving)
Ingredients
1

cup

sliced carrots

1

cup

chopped sweet onion

2

medium

garlic cloves,

minced

7

ounces

turkey kielbasa,

halved lengthwise and cut into ½ inch pieces

4

cups

fat free, low sodium chicken broth

½

teaspoon

dried Italian seasoning

½

teaspoon

freshly ground black pepper

½

teaspoon

sea salt

Two

15.8-ounce

cans Great Northern Beans,

drained and rinsed

One

6-ounce bag

baby spinach leaves
Instructions
Spray a large saucepan with nonstick spray and heat to medium-high heat. Add the carrots, onion and garlic and cook for 3 to 4 minutes, or until the vegetables begin to soften. Add the kielbasa and sauté for 3 additional minutes, stirring occasionally. Reduce the heat to medium; cook 5 minutes. Add the broth, seasonings and beans. Bring to a boil, reduce heat and simmer for 5 minutes.

Place 2 cups of the soup in a food processor or blender- be careful, and let it sit for a few minutes before blending as it will be hot! Process until smooth, then return the pureed mixture to the pan. Simmer the soup an additional 5 minutes. Remove the soup from heat and mix in the fresh spinach.
Notes
If you are preparing this recipe as gluten-free, just be sure to use brands of kielbasa, broth and beans that are known to be GF.
Nutrition
Serving:
1
serving
,
Calories:
308
kcal
,
Carbohydrates:
47
g
,
Protein:
22
g
,
Fat:
5
g
,
Saturated Fat:
2
g
,
Cholesterol:
21
mg
,
Sodium:
1503
mg
,
Potassium:
1080
mg
,
Fiber:
11
g
,
Sugar:
4
g
,
Vitamin A:
7524
IU
,
Vitamin C:
28
mg
,
Calcium:
165
mg
,
Iron:
8
mg