I hope your holidays were happy!  Our holiday time was nice… Mom and sister visiting and spending time with the in-laws too.  Too much food prepared and eaten, for sure!!  The craziness of the holidays (for the most part) is over… those busy days of baking and cooking for a house full of relatives are just about to come to an end. For many of you though, those relatives are still lingering, right? Here's a very simple one-dish, delicious dinner to make for one of those "Oh my gosh, I have to feed all of these people and I don't feel like cooking!" nights: Sausage and Potato Bake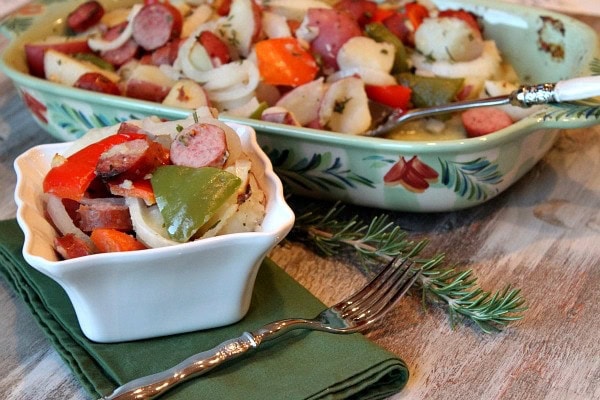 The recipe comes from Hillshire Farm, and it utilizes their Turkey Smoked Sausage. You can print out a coupon for the sausage here.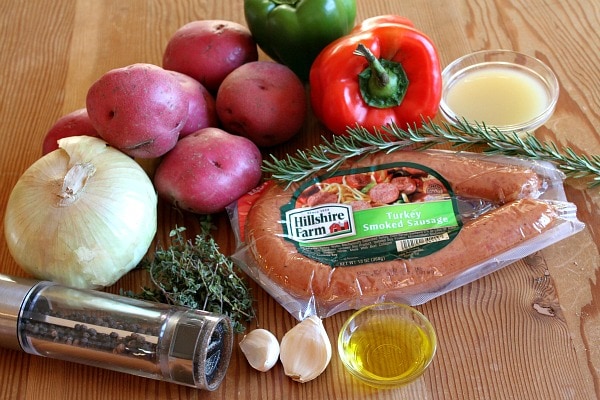 Here are all of the ingredients you need for the recipe (I used fresh herbs, but you can most certainly use dried).  I do like to use Hillshire Farm smoked sausages in recipes because they're  so easy to toss it into soups, casseroles, and eggs.  And they're totally kid- friendly too.  Oh, and another bonus… this product doesn't contain any gluten- so when my gluten-free Mom is visiting then she can eat what we're eating!

For the recipe- the sausage is sliced, and the potatoes are cut into chunks.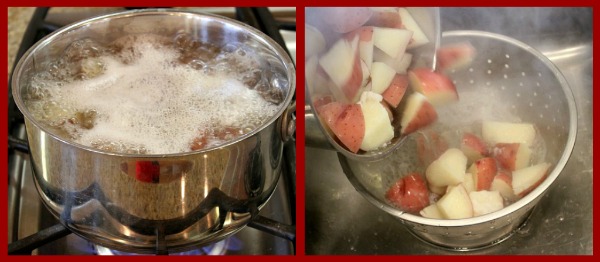 The potatoes are boiled for a short time then drained.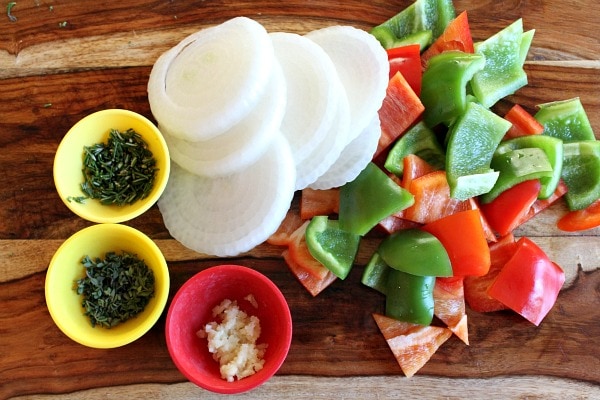 Peppers are chopped, onions are sliced and garlic is pressed.  As I mentioned before, I used fresh herbs since I had them growing in my backyard, but you can most certainly used dried instead (see the recipe below for specifics on measurements).
I whisked the seasonings separately to make sure they were well- combined before adding to the rest (olive oil, garlic, herbs, broth, pepper).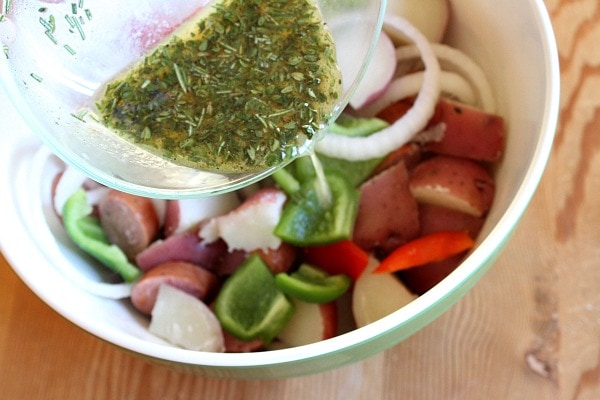 If you don't want to wash another bowl, you can choose to toss the seasonings in the baking pan with the veggies/sausage.  I quickly tossed them in a bowl instead…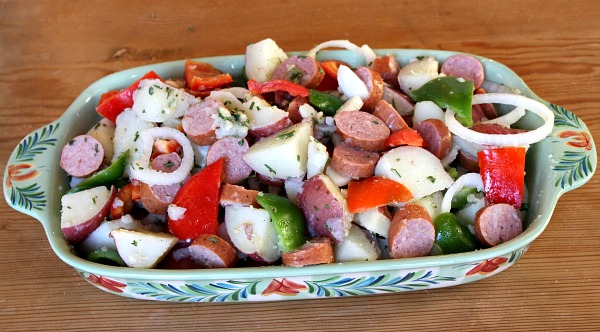 … then transferred everything to my festive baking dish.  That's it!  Easy meal, completely prepared and ready for the oven.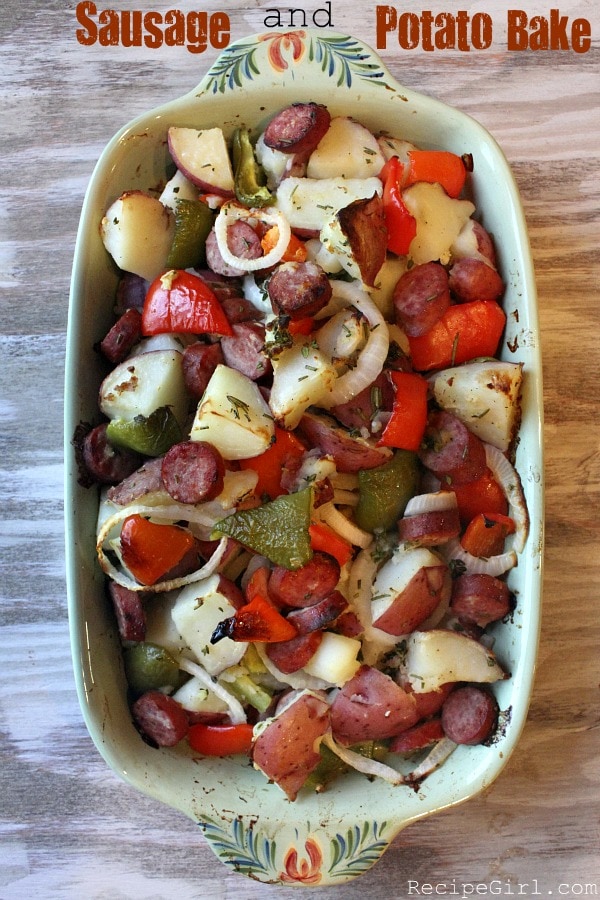 30 to 45 minutes in the oven and your Sausage and Potato Bake is totally done- potatoes delightfully crispy on the edges, and peppers and smoked sausage perfectly roasted.  We enjoyed the warm comfort of this dish at the end of a busy, rainy day of holiday shopping.  Loved the simplicity of the recipe and ease of clean- up too.  We served it with a big, green salad, and everyone in the family was pleasantly stuffed and happy 🙂
Coupon shoppers- look for your Hillshire Farm® Turkey Smoked Sausage coupon HERE.
Sausage and Potato Bake
Yield:
6 servings (about 1 1/2 cups each)
Prep Time: 20 min
Cook Time: 30 min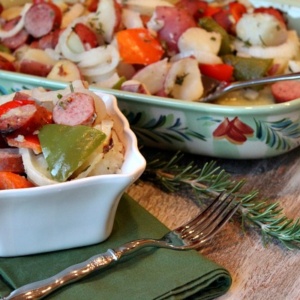 Ingredients:

1 package Hillshire Farm® Turkey Smoked Sausage
6 cups red new potatoes, cut into 1-inch chunks
1 green bell pepper, cut into 1-inch chunks
1 red bell pepper, cut into 1-inch chunks
1 large onion, sliced
2 garlic cloves, minced
1/4 cup reduced-sodium chicken broth
1 tablespoon olive oil
1 teaspoon dried rosemary leaves, crushed (or 1 tablespoon fresh chopped)
1 teaspoon dried thyme leaves, crushed (or 1 tablespoon fresh chopped)
1/4 teaspoon ground black pepper

Instructions:

1. Preheat oven to 400 degrees F.

2. Place cut potatoes in medium saucepan; cover with water. Bring to a boil; reduce heat. Simmer 10 minutes or until crisp- tender. Drain potatoes.

3. Combine sausage, potatoes, bell peppers, onion, garlic, chicken broth, olive oil and seasonings in a 12x8-inch pan (I used 13x9-inch); mix lightly. (Alternately, you can mix the sausage and vegetables in a large bowl, whisk the seasonings together separately then pour over and toss- then transfer the mixture to the pan).

4. Bake for 30 minutes or until potatoes are lightly browned and vegetables are tender. For crispier potatoes, bake 10 to 15 minutes longer.

Tips:

*This recipe is easy to make gluten- free: Just be sure to use a brand of broth that is known to be GF.

Nutrition:

Nutritional Information per serving:
Serving size: 1 1/2 cups
Calories per serving: 260
Fat per serving: 10g
Saturated Fat per serving: 2.5g
Sodium per serving: ,span class="sodium">570g
Fiber per serving: 5g
Protein per serving: 12g
Cholesterol per serving: 40mg
Carbohydrates per serving: 32g

WW POINTS per serving:
Points Plus Program: 7 Old Points Program: 5

Source:  RecipeGirl.com (Reprinted with permission from Hillshire Farm)
Disclosure:  This post is sponsored by Hillshire Farm, who wanted to share their Sausage and Potato Bake recipe with RecipeGirl readers.  All opinions shared are my own.
Other delicious- looking Smoked Sausage recipes on the blogs:
Smoked Sausage and Veggie One- Skillet Meal by Coupon Clipping Cook 
Slow- Cooked Tuscan Sausage and Bean Soup by RecipeGirl
Smoked Sausage and Shrimp Gumbo by Food for My Family 
Swiss Macaroni and Cheese with Smoked Sausage by Eat at Home 
Lentil Stew with Sausage by Simply Recipes