Here's a very simple one-dish, delicious dinner to make for one of those "Oh my gosh, I have to feed all of these people and I don't feel like cooking!" nights: Sausage and Potato Bake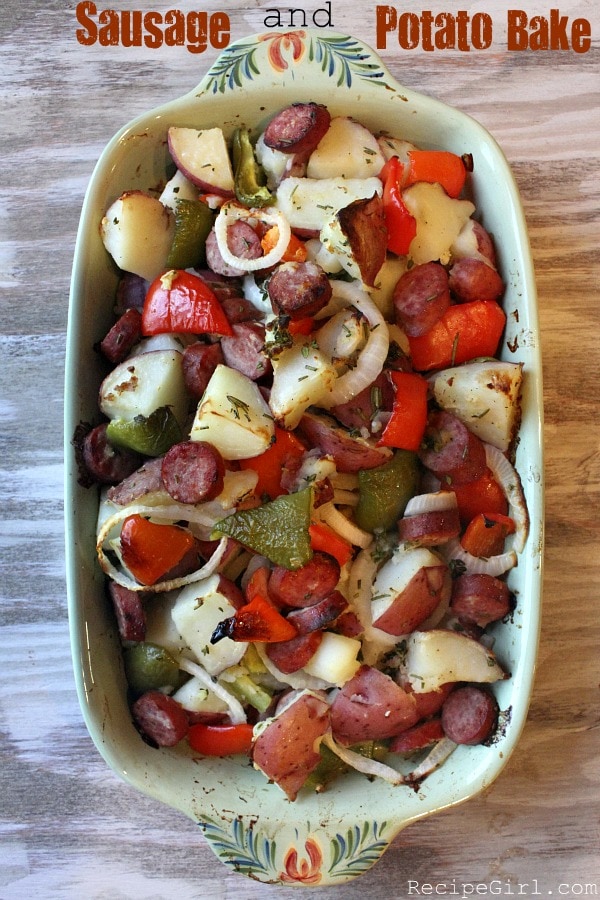 This is an easy dinner recipe that everyone will enjoy. It's quite delicious, and it's not as heavy as many meals.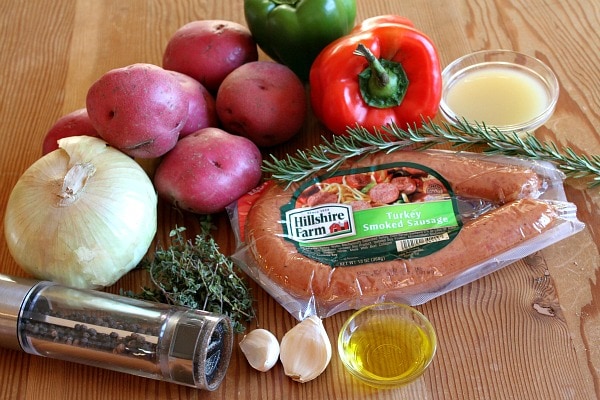 Ingredients needed:
turkey smoked sausage
red potatoes
green bell pepper
red bell pepper
onion
garlic
reduced-sodium chicken broth
olive oil
rosemary and thyme (dried or fresh)
freshly ground black pepper
Here are all of the ingredients you need for the recipe (I used fresh herbs, but you can most certainly use dried). I do like to use smoked sausages in recipes because they're so easy to toss it into soups, casseroles, and eggs. And they're totally kid- friendly too. Oh, and another bonus… it's easy to make this recipe gluten free.

For the recipe- the sausage is sliced, and the potatoes are cut into chunks.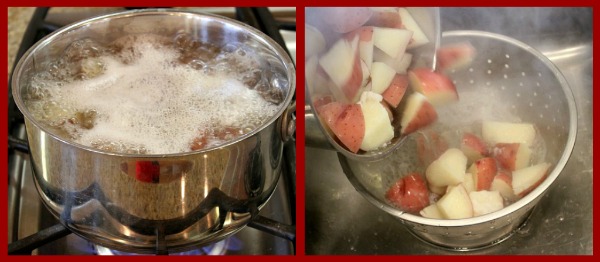 The potatoes are boiled for a short time then drained.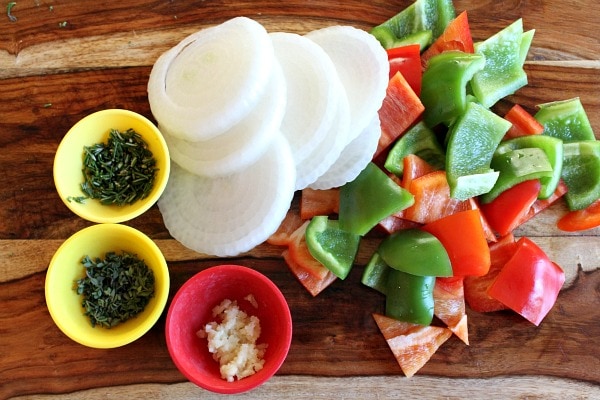 Peppers are chopped, onions are sliced and garlic is pressed. I use fresh herbs since I have them growing in my backyard, but you can most certainly used dried instead (see the recipe below for specifics on measurements).
I whisk the seasonings separately to make sure they are well- combined before adding to the rest (olive oil, garlic, herbs, broth, pepper).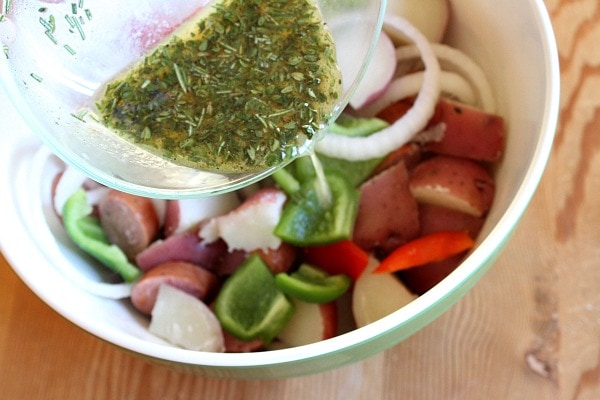 If you don't want to wash another bowl, you can choose to toss the seasonings in the baking pan with the veggies/sausage. I quickly toss them in a bowl instead…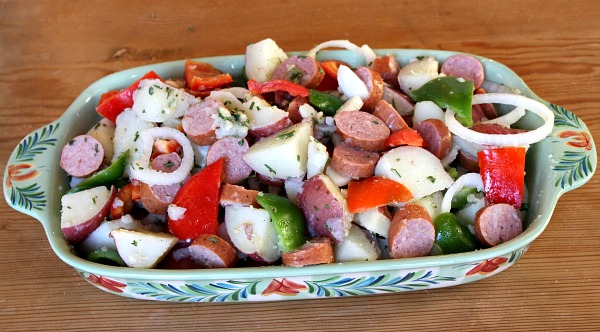 … then transfer everything to my festive baking dish. That's it! Easy meal, completely prepared and ready for the oven.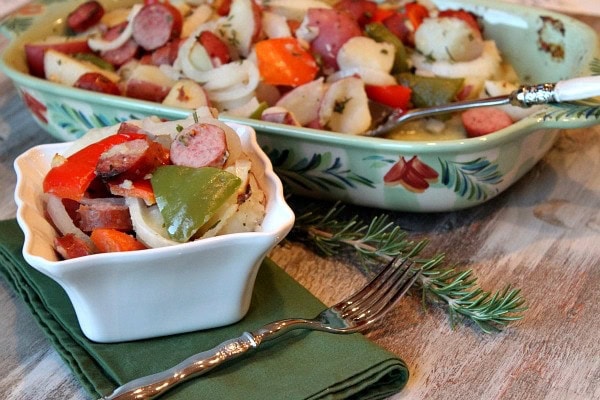 30 to 45 minutes in the oven and your Sausage and Potato Bake is totally done- potatoes delightfully crispy on the edges, and peppers and smoked sausage perfectly roasted. We enjoy the warm comfort of this dish on a gloomy day! I love the simplicity of the recipe and ease of clean- up too. We serve it with a big, green salad, and everyone in the family is pleasantly stuffed and happy!
Recipes Using Smoked Sausage:
Sausage and Potato Bake
A quick and easy one pot dinner.
Recipe Details
Servings:
5
servings (about 1½ cups per serving)
Ingredients
One

13-ounce package

turkey smoked sausage

6

cups

red new potatoes,

cut into 1-inch chunks

1

medium

green bell pepper,

cut into 1-inch chunks

1

medium

red bell pepper,

cut into 1-inch chunks

1

large

onion,

sliced

2

medium

garlic cloves,

minced

¼

cup

reduced-sodium chicken broth

1

tablespoon

olive oil

1

teaspoon

dried rosemary leaves,

crushed (or 1 tablespoon fresh chopped)

1

teaspoon

dried thyme leaves,

crushed (or 1 tablespoon fresh chopped)

¼

teaspoon

ground black pepper
Instructions
Preheat the oven to 400°F.

Place the cut potatoes in a medium saucepan; cover with water. Bring to a boil; reduce heat. Simmer for 10 minutes or until crisp tender. Drain the potatoes.

Combine the sausage, potatoes, bell peppers, onion, garlic, chicken broth, olive oil and seasonings in a 12x8 inch pan (I used 13x9-inch); mix lightly. (Alternately, you can mix the sausage and vegetables in a large bowl, whisk the seasonings together separately then pour over and toss, and then transfer the mixture to the pan).

Bake for 30 minutes or until the potatoes are lightly browned and the vegetables are tender. For crisper potatoes, bake 10 to 15 minutes longer.
Notes
This recipe is easy to make gluten- free: Just be sure to use a brands of broth and sausage that are known to be GF.
Nutrition
Serving:
1
serving
,
Calories:
230
kcal
,
Carbohydrates:
24
g
,
Protein:
14
g
,
Fat:
10
g
,
Saturated Fat:
3
g
,
Polyunsaturated Fat:
2
g
,
Monounsaturated Fat:
4
g
,
Cholesterol:
39
mg
,
Sodium:
947
mg
,
Potassium:
703
mg
,
Fiber:
4
g
,
Sugar:
6
g
,
Vitamin A:
967
IU
,
Vitamin C:
83
mg
,
Calcium:
40
mg
,
Iron:
8
mg