Load up on veggies for dinner with this Sheet Pan Roasted Veggies and Sausage. It is a delicious healthy meal that is super easy to prep, cook, and clean up!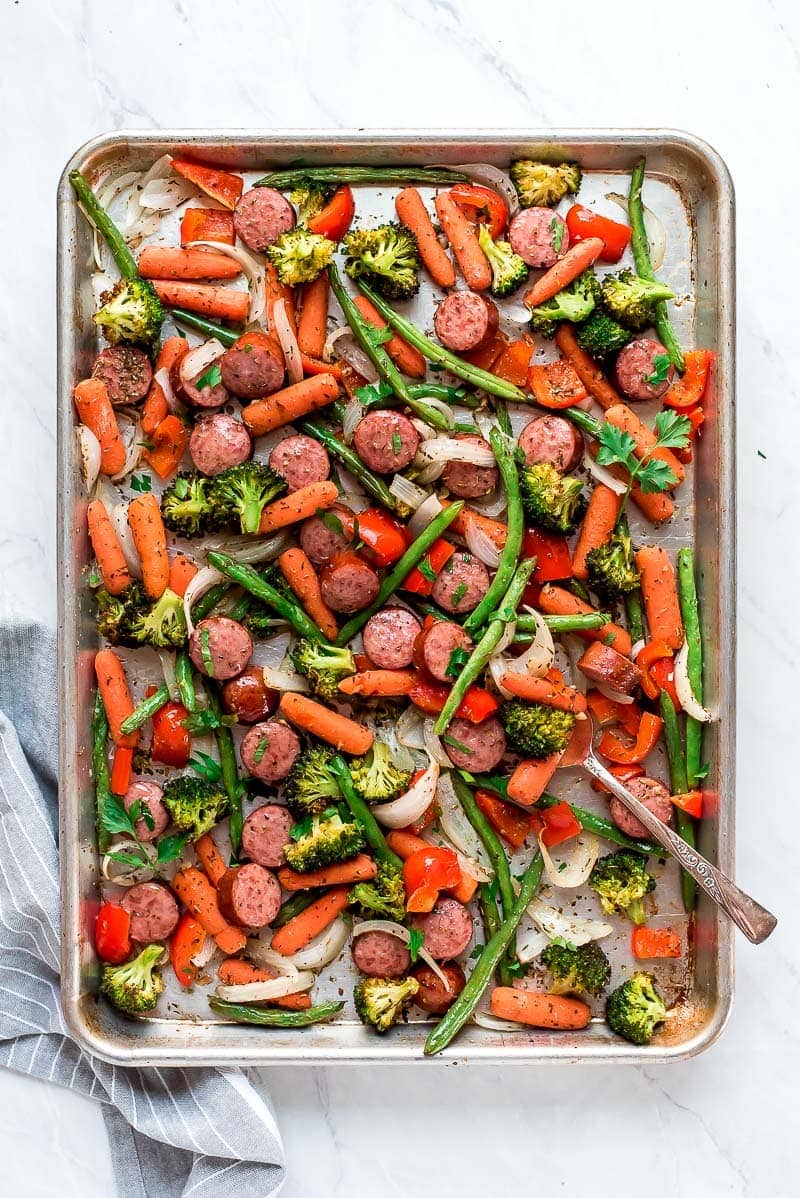 If you're looking for an easy meal to make that is also super easy to clean up, you've come to the right place! This Sheet Pan Roasted Veggies and Sausage recipe is one meal on a pan. I do like my carbs, so I serve it with brown rice on the side. But even then, it's so easy and healthy too! It's perfect for all of those who made a resolution to eat a little healthier this year.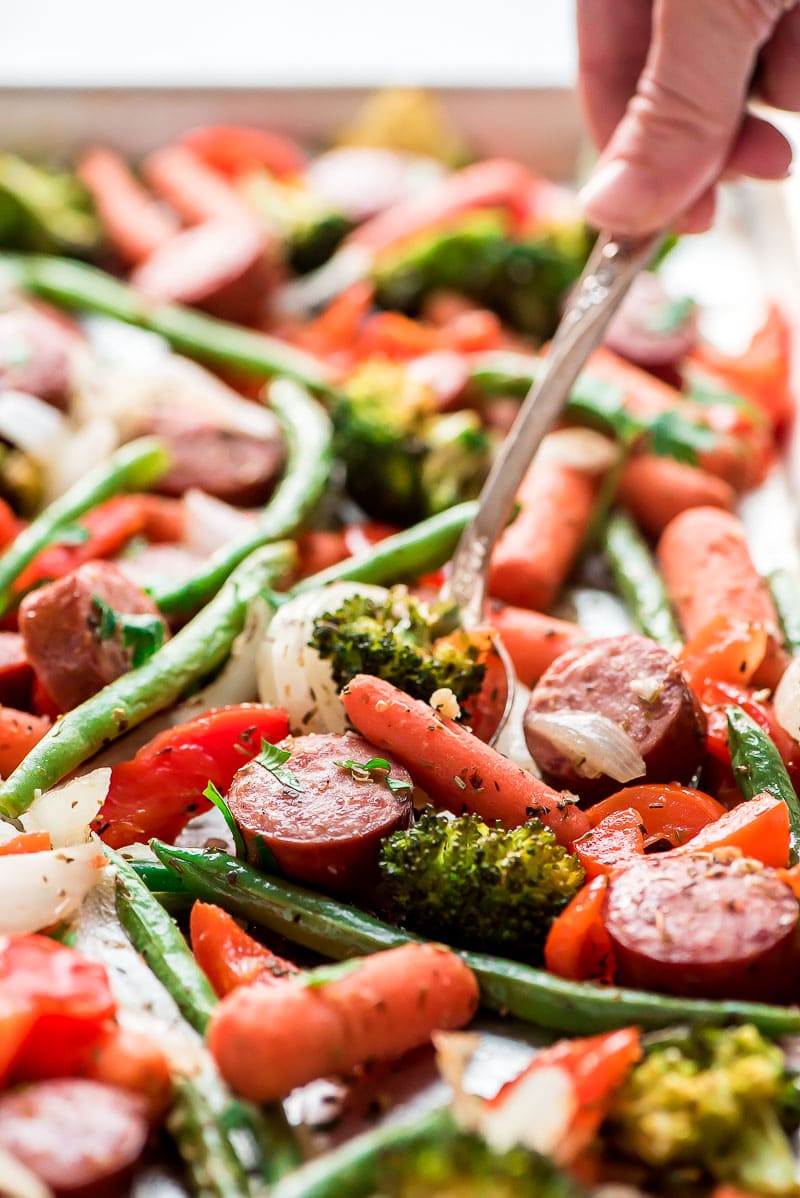 How to make Sheet Pan Roasted Veggies and Sausage:
This meal is completed with a side of brown rice, so the first step in the recipe is to get that started so it will be done by the time your sheet pan dinner is finished cooking.
Since this meal is heavy on the vegetables, a bit of chopping is involved. If your baby carrots are pretty thin then you can toss them straight on the pan but if they're thicker than your thumb then you'll need to slice them in half. Both the broccoli florets and bell pepper should be cut large, about 1 to 1 1/2 inches. The onions can be cut about the same thickness as your green beans. What's great about the green beans is that they don't need to be cut at all if you buy the ones in the package that are already trimmed.
The last thing you need to chop up is the sausage. Cut the long Kielbasa sausage rope up into about 3/4 inch rounds. You should get about 30 pieces. Place them on the pan with the veggies, and then you're ready to drizzle on the olive oil, Italian seasoning, salt, and pepper. Toss everything together (I find this easiest to do with your hands) so everything is evenly coated. Spread it out into an even layer, and then bake it at 400 degrees for 20 to 25 minutes, or until the vegetables are nicely roasted.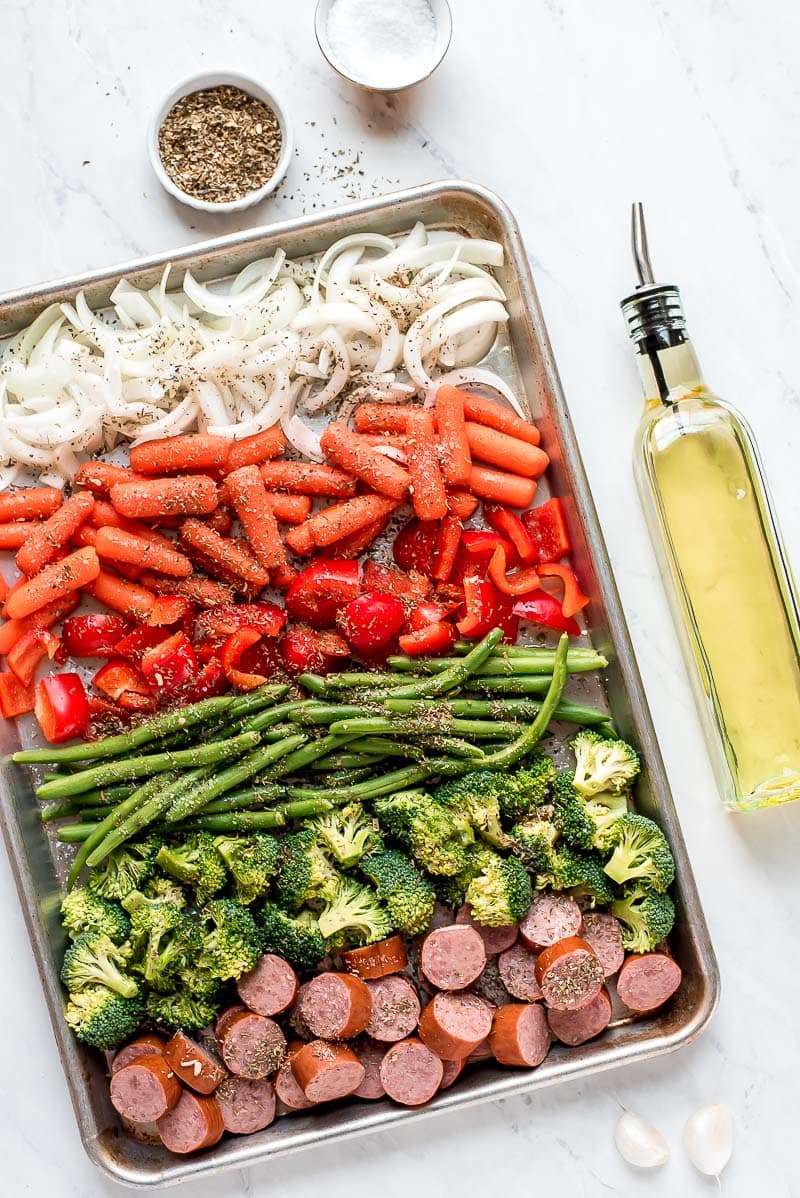 What's the best kind of sausage to use?
There are so many types and varieties of sausage. It can be a bit overwhelming standing in the store trying to pick out the right one. For this recipe you'll want a rope sausage. This is the kind that is often found in the shape of a horseshoe. You'll find this sausage made up of beef, turkey, pork, or chicken, or some combination of them. Any type works for this meal. The turkey and chicken varieties are leaner and still taste delicious. I like to use Hillshire Farm's Turkey Polska Kielbasa for this recipe.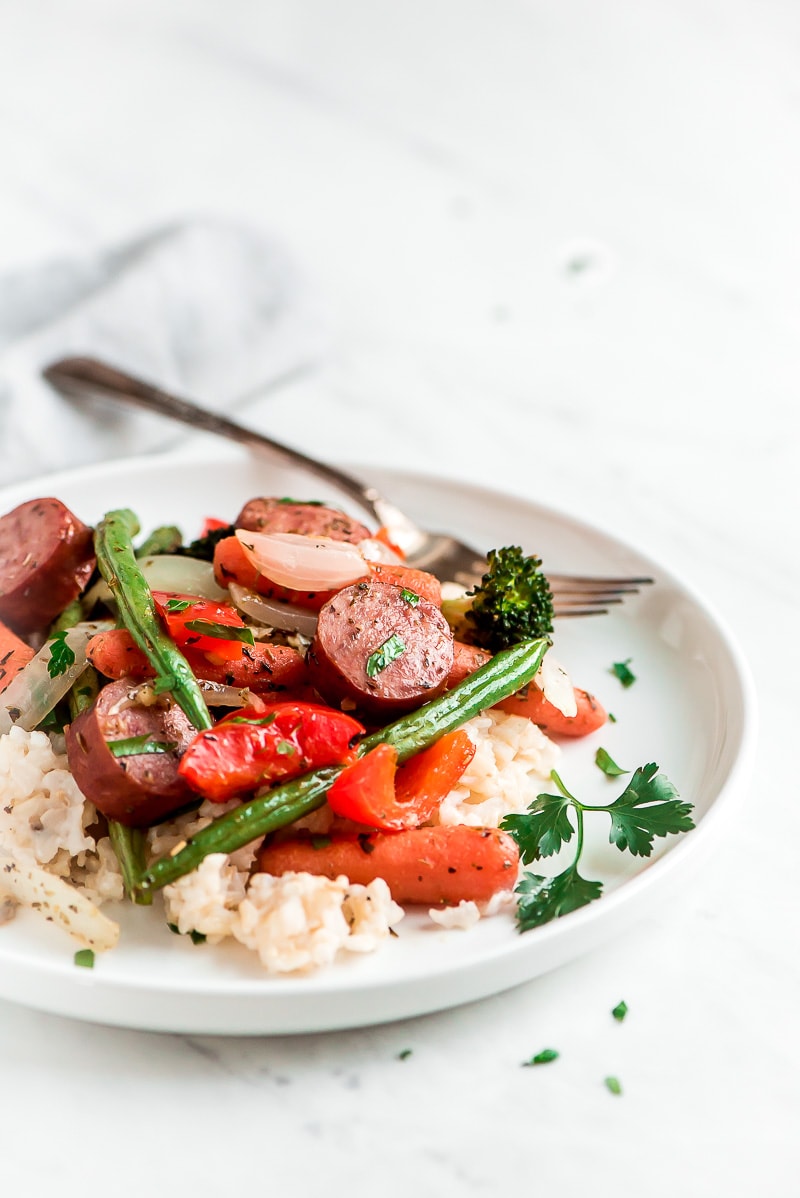 Can I prep Sheet Pan Roasted Veggies and Sausage ahead of time?
YES! You can chop up all your veggies and sausage, toss them in a large zip baggie with the oil and seasonings and keep it in the fridge until ready to bake. This is a great option for giving a meal to someone in need (someone who had a baby, surgery, loss of a family member…) so that they can easily make a fresh hot meal when they're ready.
If you're looking for more recipes made on a sheet pan, try these:
Sheet Pan Roasted Veggies and Sausage
Super easy dinner recipe for a busy weeknight!
Recipe Details
Ingredients
1

cup

uncooked brown rice

(optional)

13

ounces

Turkey Polska Kielbasa

(or any other smoked sausage)

2

cups

baby carrots

(halved, if large)

2

cups

broccoli florets

1

cup

sliced onions

2

cups

green beans

1

medium

red bell pepper

(seeded & cut into 1 inch pieces)

3

tablespoons

olive oil

2

tablespoons

Italian seasoning

2

medium

garlic cloves

minced

1

teaspoon

kosher salt

(or 1/2 teaspoon table salt)

1/2

teaspoon

ground black pepper
Instructions
If you'd like to serve this dinner with rice, start this meal by cooking the brown rice according to package directions. Let sit 10 minutes before fluffing. While rice cooks, prep and bake the veggies and sausage.

Preheat the oven to 400 degrees F. Place all vegetables and sausage on a large rimmed, 18x13-inch sheet pan that has been sprayed with nonstick spray.

Drizzle the veggies and sausage with olive oil and sprinkle with Italian seasoning, minced garlic, kosher salt, and black pepper. Mix it all together with your hands and spread it out evenly on the pan.

Bake for 20 to 25 minutes (stirring after 15 minutes) until the vegetables are cooked to fork tender.

Serve warm with rice.
Notes
NOTE:  Nutritional information does not include the brown rice, since that's an optional ingredient here.
Nutrition
Serving:
1
serving
,
Calories:
325
kcal
,
Carbohydrates:
20
g
,
Protein:
21
g
,
Fat:
18
g
,
Saturated Fat:
3
g
,
Cholesterol:
69
mg
,
Sodium:
1199
mg
,
Potassium:
805
mg
,
Fiber:
6
g
,
Sugar:
8
g
,
Vitamin A:
10530
IU
,
Vitamin C:
92.5
mg
,
Calcium:
132
mg
,
Iron:
3.7
mg