These Beef Wellingtons with Gorgonzola and Madeira Wine Sauce are an elegant and extremely delicious way to serve filet mignon.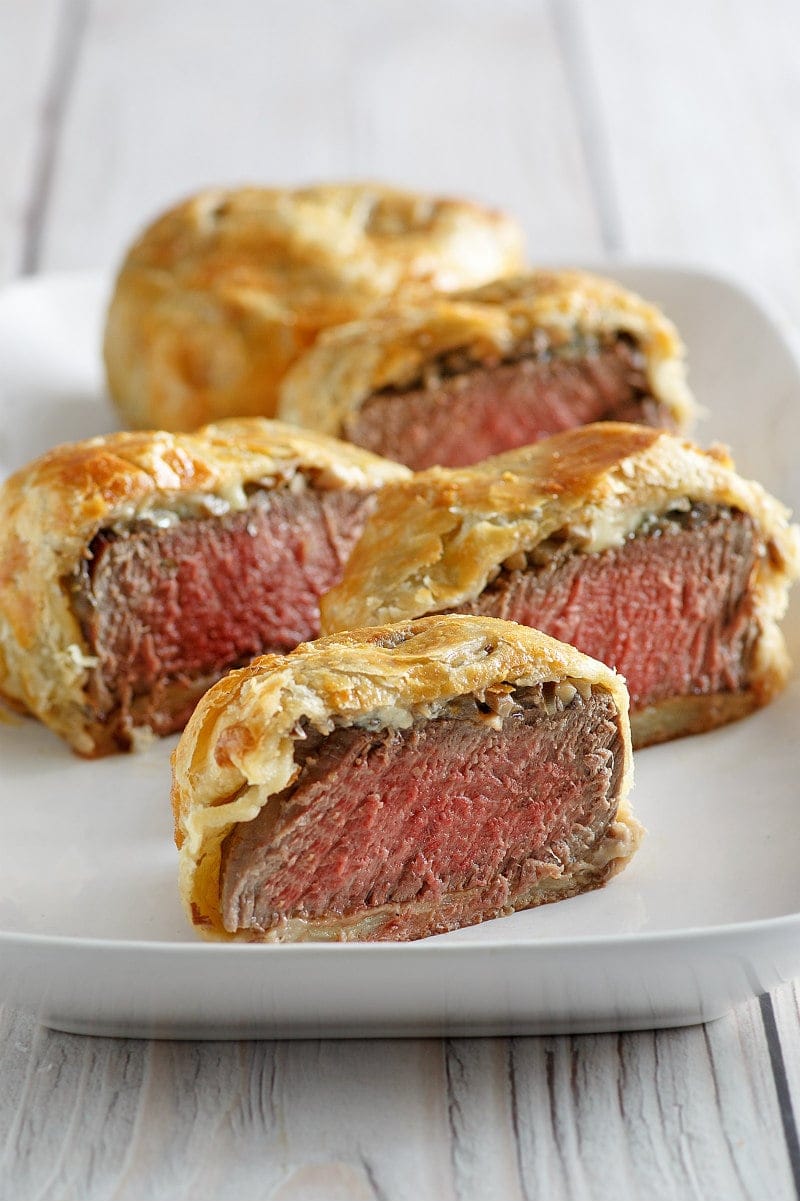 I first tried Beef Wellington when I was about 10 years old. My Mom brought me along on a business trip to Las Vegas, and we went to a "fancy" restaurant. I don't know what compelled me to try it- maybe it was the description on the menu or the waiter's pitch, but I will certainly never forget that meal. Tender filet mignon was wrapped in pastry. And there was a sauce drizzled on top. It was pure heaven for a simple ten year old.
What was my mother thinking letting me order something so grande?! I'm so glad she did. Those kinds of food memories are what help shape you into the eater you become. I've always been open to trying new and different types of foods. I can thank Mom for that, I guess.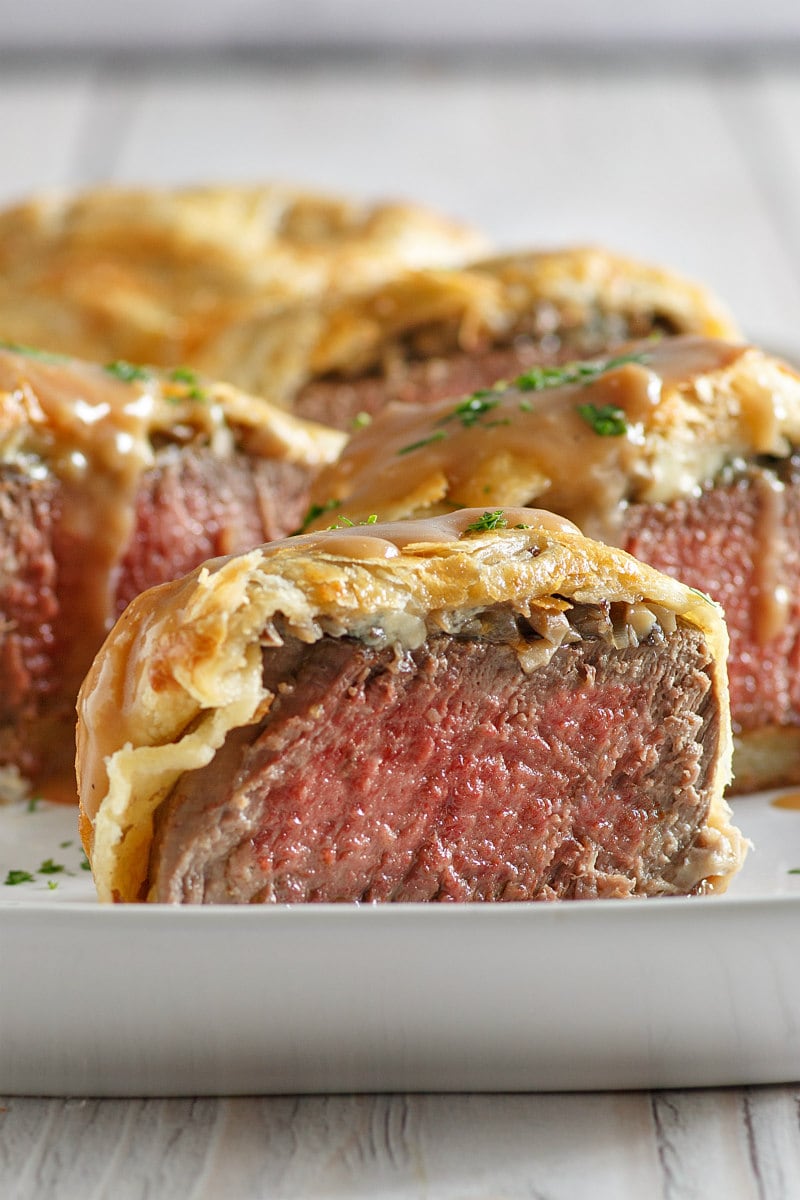 About Beef Wellington:
Its origins are English, though there's no real evidence that it was connected to Arthur Wellesley, the first Duke of Wellington (as you would assume). Meat baked in pastry was definitely part of English cuisine though there are similarities to French versions of this sort of dish as well.
Beef Wellington is essentially a preparation of beef filet coated with mushroom paté. It's then wrapped in pastry and baked. A sauce is drizzled on top. Wellington can also be prepared with sausage and salmon, and there are even some vegetarian versions out there.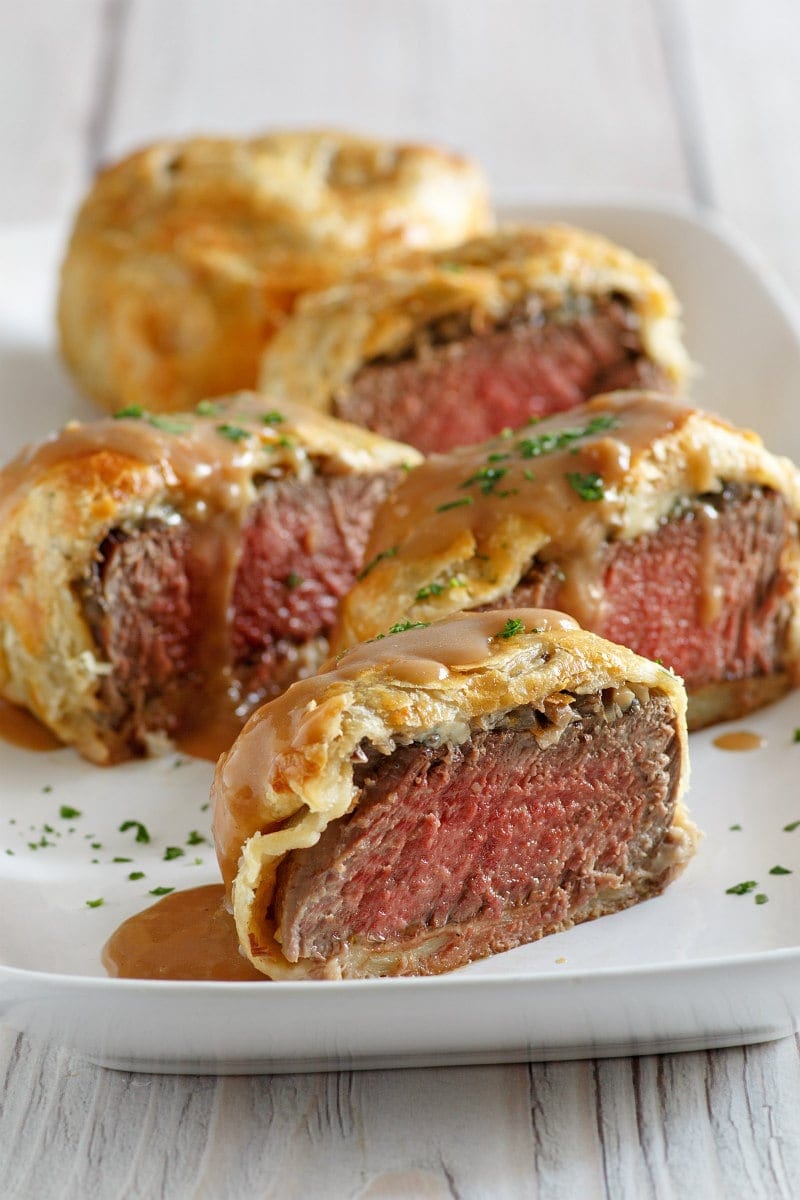 How done do you like your beef? If you like it prepared to medium rare, that's what you'll find in this recipe. If you are worried about the temperature and doneness without being able to check on it, you can insert an instant read thermometer into the center of the beef (right through the puff pastry), and it should read 135 degrees F. to be medium rare when served. Bake it a little longer if you prefer it more done.
The lovely thing about Beef Wellingtons is cutting into them. The sight of perfectly cooked beef is a good sight indeed! Remember that it's coated with a mushroom paté, and that is a terrific pairing. This recipe adds in a bit of Gorgonzola cheese too, though you could leave it out if you don't care for it. The Madeira wine sauce puts it all over the top.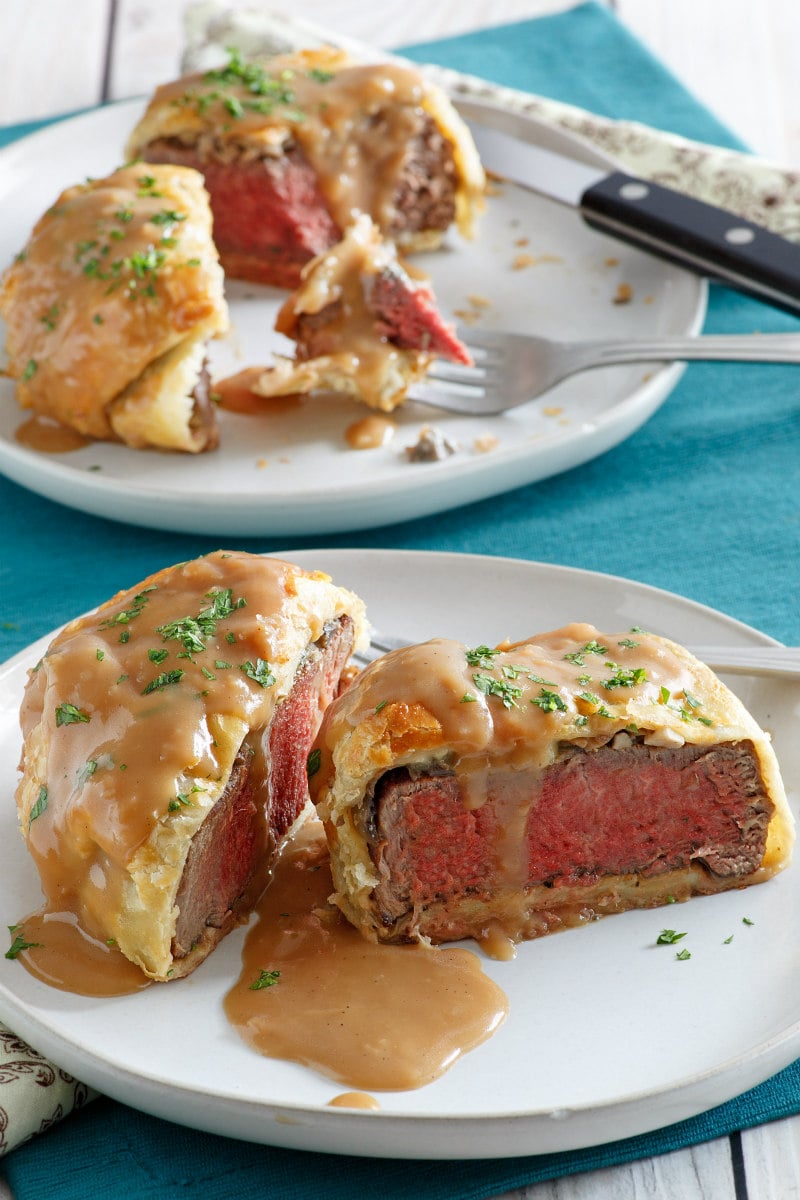 This is the sort of dish you make for a special occasion. It's not low in fat or calories, and it's quite expensive and time intensive to make. It's all worth it, I promise! A special treat once in a while is perfectly fine.
Beef Wellingtons came full circle for me in college when I worked for a catering company. We prepared both Beef and Salmon Wellingtons for fancy dinner parties, and it was fun to serve them and watch the reactions of the clients as they sat down to dinner. Everyone loves an amazing, elegant meal like this.
Here are a few more recipes that use Madeira wine:
Beef Wellingtons with Gorgonzola and Madeira Wine Sauce
Oh my, these Beef Wellingtons are fabulous. I absolutely love the flavor, and the meat turns out to be incredibly tender. It's time intensive... with some chilling time involved, but so worth it for a special occasion.
Recipe Details
Ingredients
BEEF WELLINGTONS:
4

(1½"-thick)

center-cut filet mignons

(about 6 ounces each)

4

ounces

large mushrooms

1

tablespoon

unsalted butter

1

tablespoon

finely chopped shallot

1

tablespoon

minced garlic

1

large

egg

(whisked with 1 tablespoon water)

1

sheet

puff pastry,

thawed (see Recipe Notes below)

4

tablespoons

crumbled Gorgonzola cheese
MADEIRA WINE SAUCE:
1

teaspoon

olive oil

2

tablespoons

finely chopped shallots

1/2

cup

Madeira wine

3/4

cup

beef broth

salt and pepper

3

tablespoons

butter,

at room temperature (divided)

1

teaspoon

all purpose flour

2

teaspoons

chopped parsley
Instructions
PREPARE THE BEEF WELLINGTONS:
Preheat oven to 425°F.

Pat filets mignons dry and season with salt and pepper. In a shallow roasting pan, roast filets in middle of oven 12 minutes, or until a meat thermometer registers 110°F. for rare, and cool (filets will be baked again after being wrapped in pastry). Chill filets, covered, until cold, about 1 hour.

Thinly slice mushrooms and in a heavy skillet cook in butter with shallot, garlic, and salt & pepper to taste over moderate heat, stirring, until mushrooms are lightly browned. Transfer mushroom mixture to a bowl to cool completely. In a small bowl lightly beat egg with water to make an egg wash.

On a lightly floured surface roll out puff pastry sheet into a 14-inch square. Trim edges to form a 13-inch square and cut square into 4 (6 1/2-inch) squares.

Put 1 tablespoon gorgonzola in the center of 1 square and top with 1/4 mushroom mixture. Top the mushroom mixture with a filet mignon, pressing it down gently, and wrap 2 opposite corners of the puff pastry over the filet, overlapping them. Seal the seam with egg wash. Wrap the remaining 2 corners of the pastry over completely. Arrange beef wellington, seam side down, in a non-stick baking pan. Make 3 more beef wellingtons in the same manner. Chill the remaining egg wash for brushing on pastry just before baking. Chill the beef wellingtons, loosely covered, at least 1 hour and up to 1 day.

Preheat the oven to 425°F. Brush the top and sides of each beef wellington with some remaining egg wash and bake 20 minutes, or until the pastry is golden.
PREPARE THE MADEIRA WINE SAUCE:
While the wellingtons are baking, prepare the sauce: Heat the olive oil in a saucepan; add the shallots and sauté until soft. Add the wine and cook over high heat- about 30 seconds; add the broth and bring to a full rolling boil, stirring constantly. Add a little salt and pepper to taste. Continue cooking, stirring occasionally, until reduced by half. Meanwhile, blend 2 tablespoons of butter and flour in a small mixing bowl. Stir it into the reduced sauce and cook briefly. Swirl in the remaining tablespoon of butter.

When ready to serve, place the wellingtons on serving plates and pour sauce over the top. Serve immediately.
Notes
This recipe calls for a sheet of puff pastry from a 17.25-ounce package of frozen puff pastry.
Nutrition
Serving:
1
Beef Wellington with Sauce
,
Calories:
1026
kcal
,
Carbohydrates:
32
g
,
Protein:
42
g
,
Fat:
78
g
,
Saturated Fat:
31
g
,
Cholesterol:
212
mg
,
Sodium:
698
mg
,
Potassium:
762
mg
,
Fiber:
1
g
,
Sugar:
2
g
,
Vitamin A:
535
IU
,
Vitamin C:
1.7
mg
,
Calcium:
111
mg
,
Iron:
6.2
mg