These are the Best Homemade Meatballs ever! This is my go-to recipe for meatballs. They're a combination of beef and pork, and they turn out perfect every time.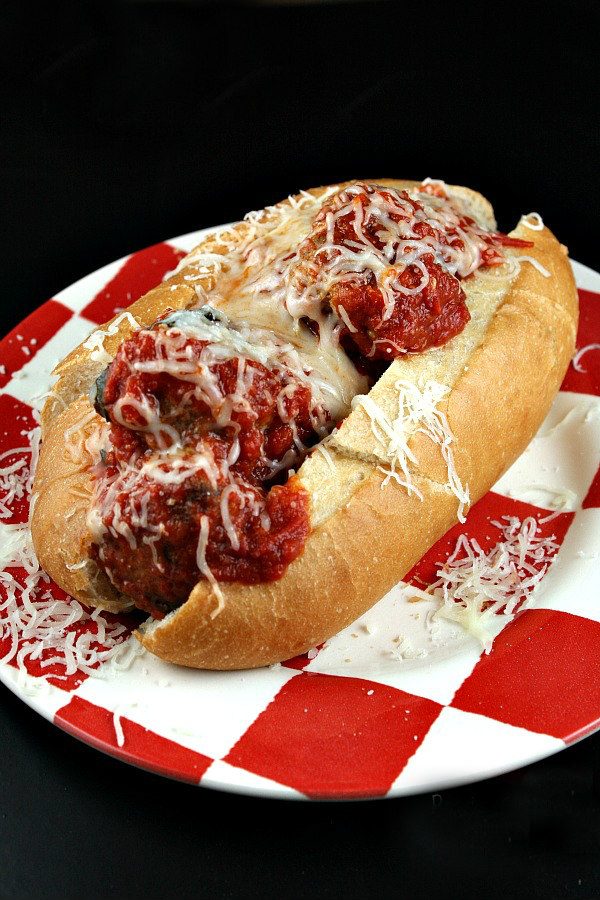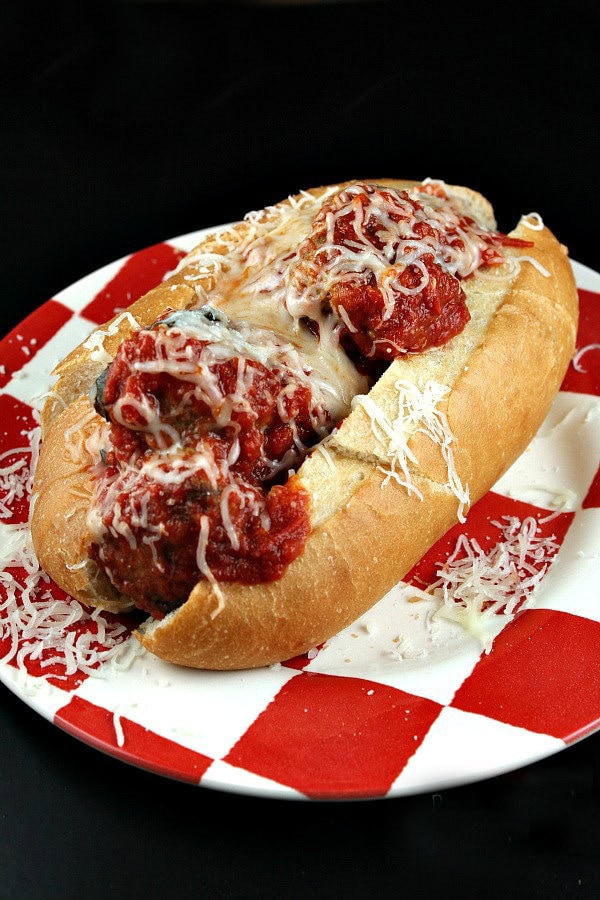 There once was a relative who casually commented that she couldn't believe that I didn't have a recipe for homemade meatballs on my site. "I can't have everything!" I told her. "Yeah, but meatballs???" she questioned. She's right. It's time for a good meatball recipe.
Thank goodness the Pioneer Woman came along with her fab recipe to save my meatball-lacking site. Pioneer Woman (Ree Drummond) published a cookbook- The Pioneer Woman Cooks- Food From My Frontier. It's bright and pretty and full of step by step photos, life on her ranch, and food that you want to eat. Besides the fact that I'm proud to call Ree my friend and you should support her because she's lovely and fabulous and has cute dimples and a contagiously fun personality, her cookbook is truly one that you should have on your cookbook shelf.
The Best Homemade Meatballs are the ultimate in comfort food! Toss them in marinara sauce and top a pile of freshly cooked noodles with them, or stuff them into a roll to create a meatball sub sandwich with melted mozzarella. We opted for Meatball Subs this time. SO good.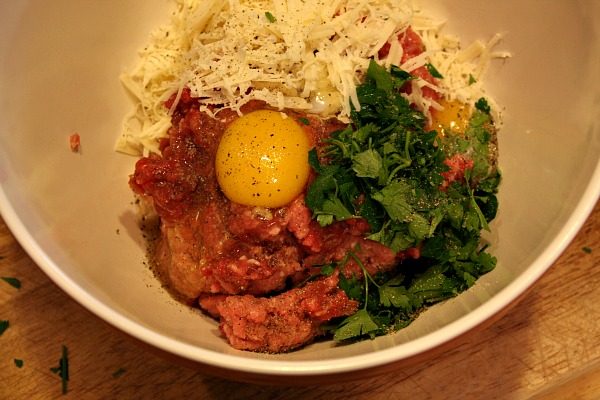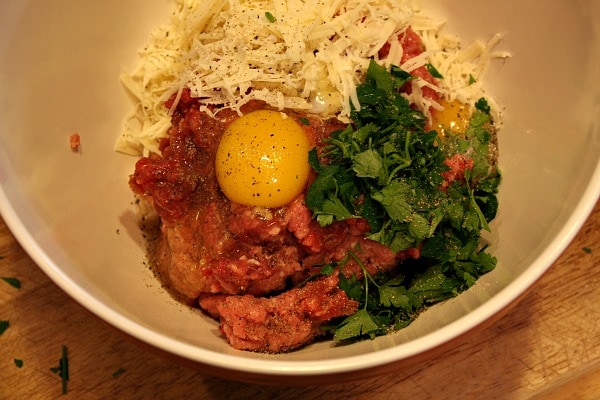 How to Make the Best Homemade Meatballs:
The best homemade meatballs are a simple combination of ground beef and pork, garlic, fresh parsley, eggs, Parmesan cheese, breadcrumbs, salt/pepper and a splash of milk. P.S. >Whole Foods and maybe other markets sell both ground beef and ground pork in bulk in their meat department… so you can just go in there and tell them you'd like exactly 3/4 pound of each.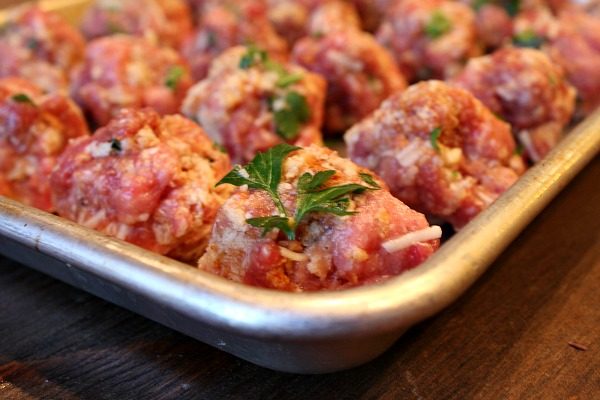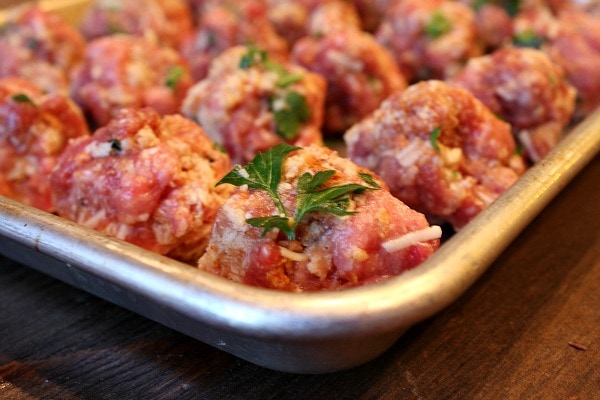 Shape them into whatever size meatballs you'd like- tiny ones to go on pizza or regular-sized meatballs like these (you'll get about 24). Then you pop them into the freezer for a few minutes, just to firm them up so they don't fall apart when you cook them in a skillet.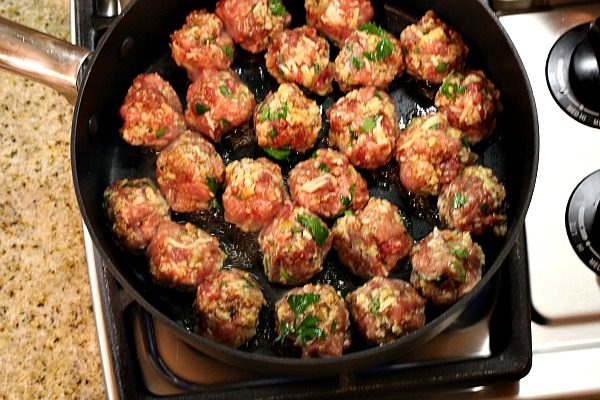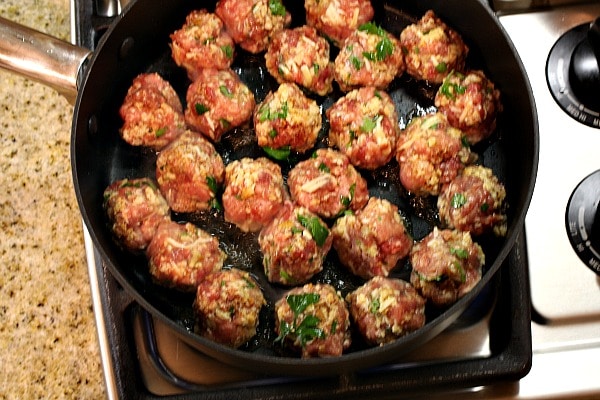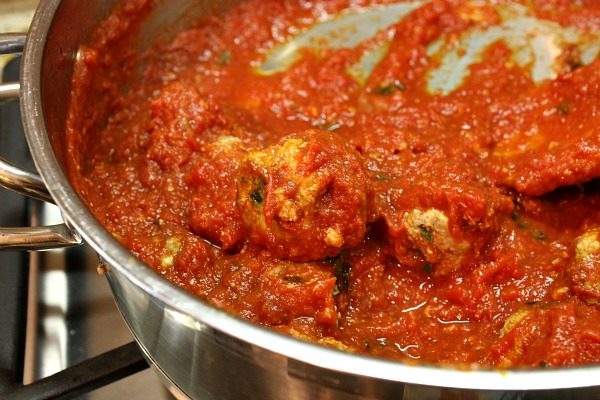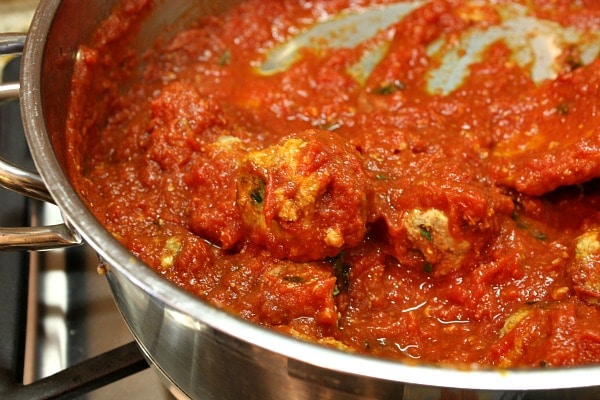 The meatballs are quickly browned in a skillet before they're added to marinara sauce to simmer and finish them off. You can use bottled marinara, or you can use my homemade marinara sauce recipe.
Then you are free to use your meatballs however you'd like! I hope that relative who so delicately pointed out that I have no meatballs on my site is happy now. I really should thank her for her feedback… because these meatballs are very, very good!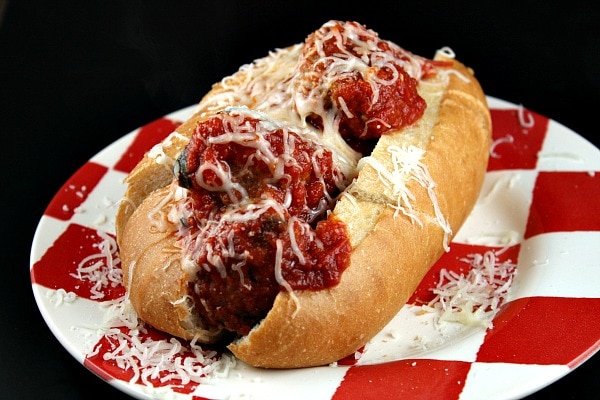 We do love to enjoy these Best Homemade Meatballs in a sub roll- it's the ultimate comfort food, and it works out well for an easy weeknight meal. They're also really good served over zucchini noodles!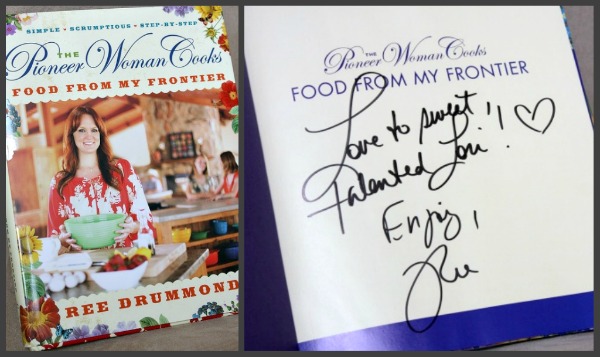 In this cookbook, The Pioneer Woman shares a recipe for Rigatoni and Meatballs (sauce and all). These are just the meatballs here. Save this recipe because you'll want to make them over and over again!
If you like this recipe, you might also enjoy my Beef Burrito Casserole or this Meatball Pizza for easy dinner ideas.
Best Homemade Meatballs
This is a big time favorite, go-to recipe for the very best beef and pork homemade meatballs!
Recipe Details
Servings:
6
servings (4 meatballs per serving)
Ingredients
12

ounces

90% lean ground beef

12

ounces

ground pork

3

medium

garlic cloves,

minced

3/4

cup

breadcrumbs

2

large

eggs

3/4

cup

freshly grated Parmesan cheese

1/4

cup

finely chopped fresh Parsley

1/4

teaspoon

salt

freshly ground black pepper

splash

of milk

2

tablespoons

olive oil

6

cups

marinara sauce

(jarred or homemade)
Instructions
In a large bowl, combine the meat, garlic, breadcrumbs, eggs, Parmesan, parsley, salt, a couple of grinds of pepper and a splash of milk. Mix together well with clean hands. Roll into 24 1 1/2-inch balls and place on a rimmed baking sheet. Place the baking sheet with the meatballs into the freezer for 5 to 10 minutes to firm them up slightly.

To brown the meatballs, heat a couple of swirls of olive oil in a heavy pot or large skillet over medium-high heat. Add the meatballs, turning to brown all sides. They do not need to be cooked through.

Add the meatballs and marinara sauce to a large pot and stir gently. Heat over medium heat until the sauce begins to bubble. Reduce heat to a simmer and cook for 20 minutes, stirring very gently a couple of times during simmering.

Serve meatballs and marinara over noodles or stuffed into rolls with melted mozzarella cheese.
Nutrition
Serving:
1
serving (4 meatballs)
,
Calories:
481
kcal
,
Carbohydrates:
23
g
,
Protein:
32
g
,
Fat:
28
g
,
Saturated Fat:
10
g
,
Cholesterol:
150
mg
,
Sodium:
1765
mg
,
Potassium:
1234
mg
,
Fiber:
4
g
,
Sugar:
11
g
,
Vitamin A:
1470
IU
,
Vitamin C:
21
mg
,
Calcium:
223
mg
,
Iron:
5.5
mg