I've partnered with M&M'S® to create a fun birthday themed recipe:  Birthday Cake Milkshakes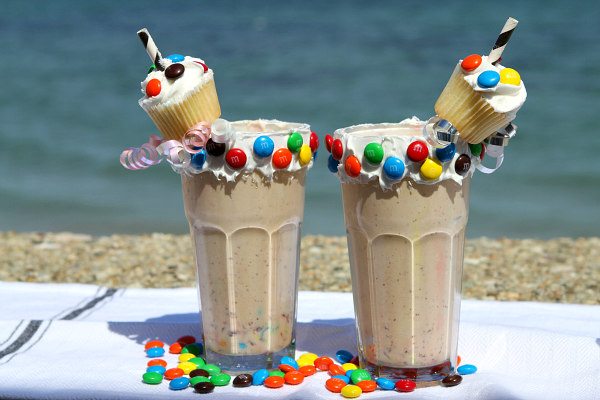 If there is a birthday coming up for a certain someone you know… a someone who enjoys being surprised with goodies, then a birthday milkshake is the way to go.  It's a treat filled to the brim with an M&M'S cake batter milkshake, and the rim is adorned with the most delicious garnish ever.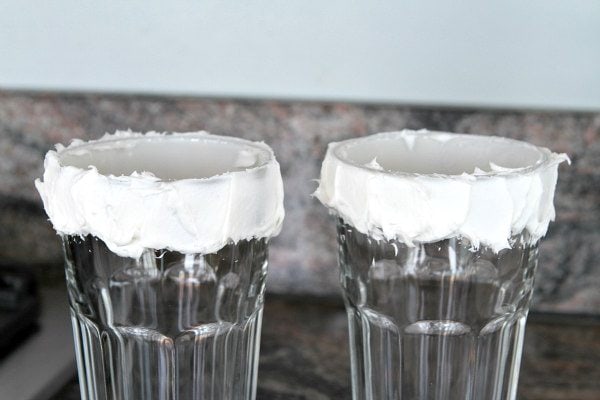 White frosting is rubbed on the edge of the rims of the glasses.  A birthday cake treat wouldn't be complete without frosting, would it?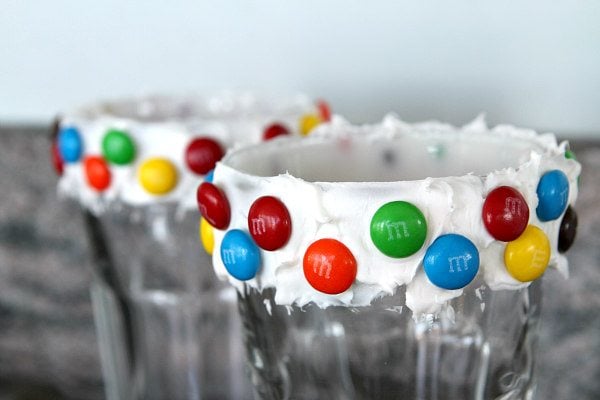 To make these an extra special treat, M&M'S are dotted into the frosting.  YES, this means you'll get to eat both the frosting and the M&M'S as you sip your birthday cake milkshake!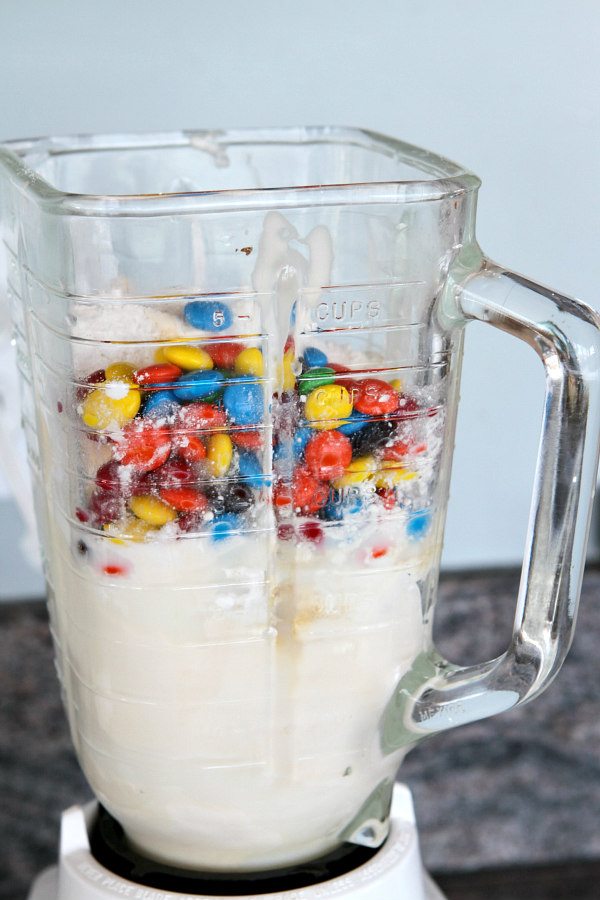 Blend up the milkshake mixture until it's nice and creamy– the M&M'S in the milkshake will grind down and add a chocolatey flavor.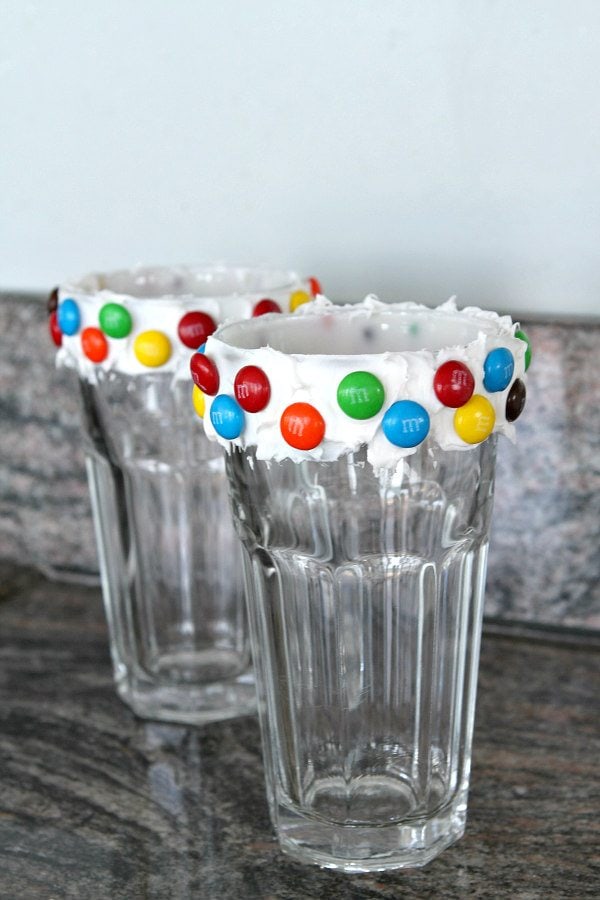 Then fill your beautifully adorned glasses with milkshake!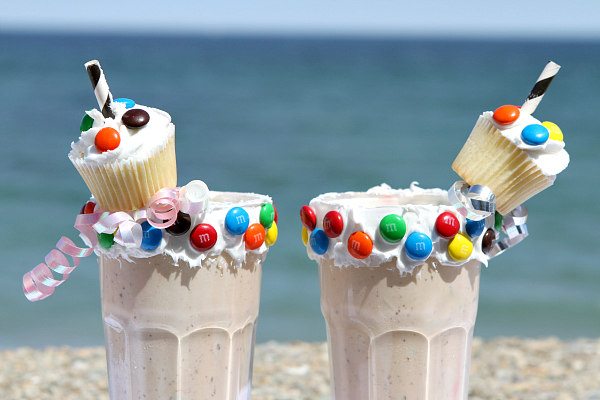 To make these extra fun, I poked mini cupcakes through festive straws and dotted those with M&M'S too.  I just used store-bought mini cupcakes to make things super easy.  A little curly ribbon tied to the straws helped keep the cupcakes in place.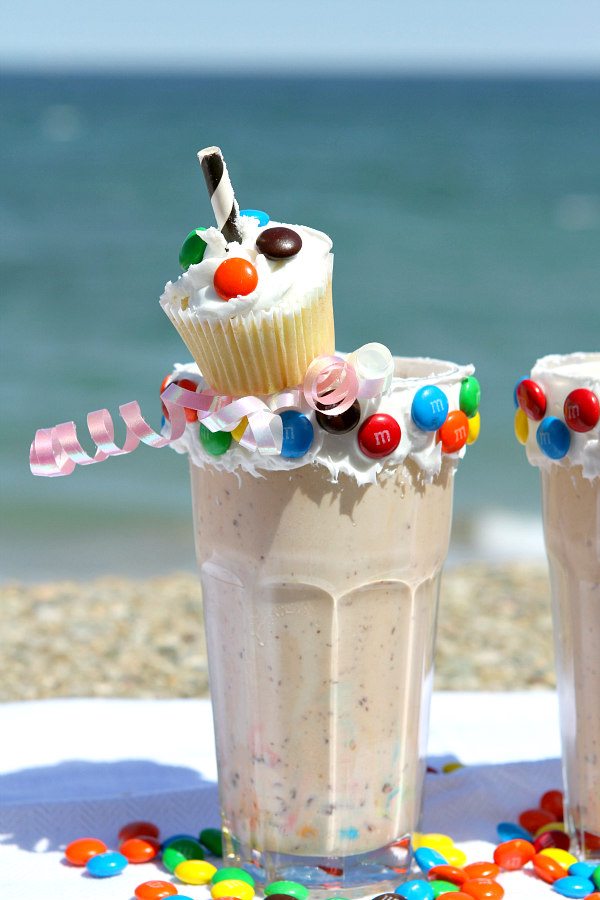 This is definitely the ultimate birthday treat: a cupcake, a milkshake, frosting, and M&M'S!
Want to find more great M&M'S recipes?  Check out the M&M'S Pinterest page: www.pinterest.com/mmschocolate.
Birthday Cake Milkshakes
Yield:
2 large milkshakes
Prep Time: 20 minutes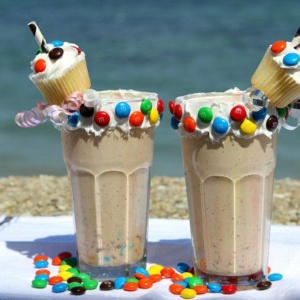 Ingredients:

Milkshake Glasses:

canned white frosting
M&M'S

Milkshakes:

4 extra large scoops vanilla ice cream
1/2 to 3/4 cup milk
2/3 cup white cake mix
1/3 cup M&M'S

Optional Garnishes:

mini-cupcakes
additional M&M'S
fun straws

Instructions:

Prepare your milkshake glasses first:  Use a knife to edge the tops of your glasses with about 1 inch of frosting.  Press M&M'S into the frosting to create a trail of candies around the tops of the glasses.
Prepare the milkshakes:  Place ice cream, 1/2 cup milk, cake mix and M&M'S in a blender.  Blend until smooth.  Add a little more milk if too thick.
Fill milkshake glasses and garnish with fancy straws-- add mini cupcakes punched through the straws, if desired (just use sharp scissors to snip a hole into the bottoms of the cupcake liners.

Nutrition:

Tip:  You can certainly make a bunch of mini milkshakes for a party, if you'd like.  Just use smaller glasses or cups and follow the same instructions.
SOURCE:  RecipeGirl.com
Here are a few more milkshake recipes you might enjoy: