If you like cherries and chocolate, then you'll love this Black Forest Cake!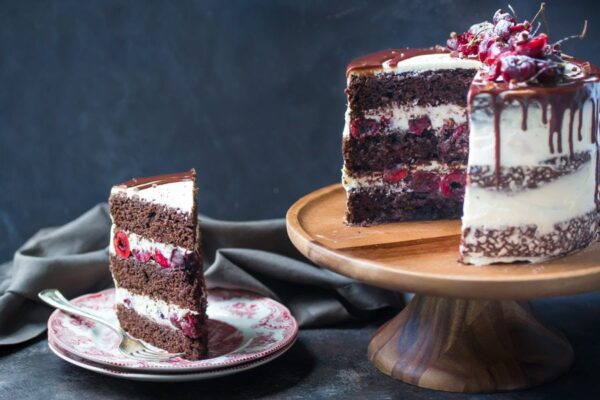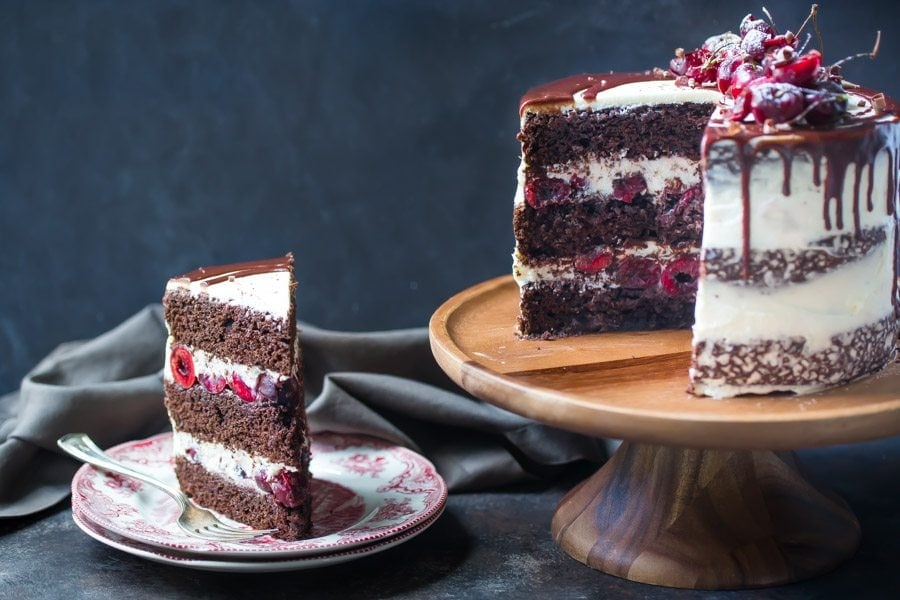 Summer is in full swing and so are the sweet cherries!  I love this time of year so much, for so many reasons, not the least of which are the cherries.
Cherries are by far my favorite fruit, and I wait all year for summer so that I can gorge myself on them!  They are so good, just straight from the bag, but I like them even more when they're paired with chocolate.
This gorgeous layer cake has been on my baking bucket list for far too long!  It's about time I finally made it, and I think you will love it just as much as I did.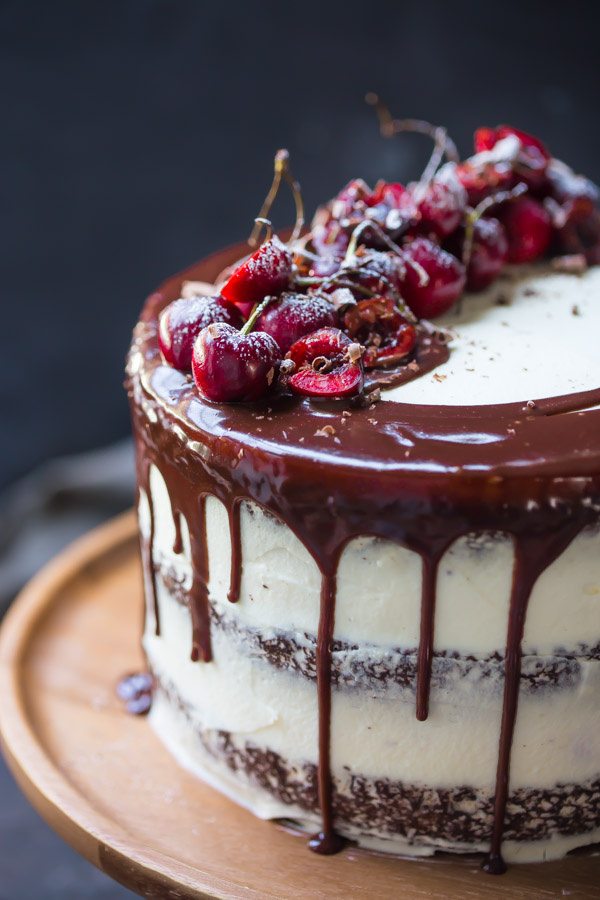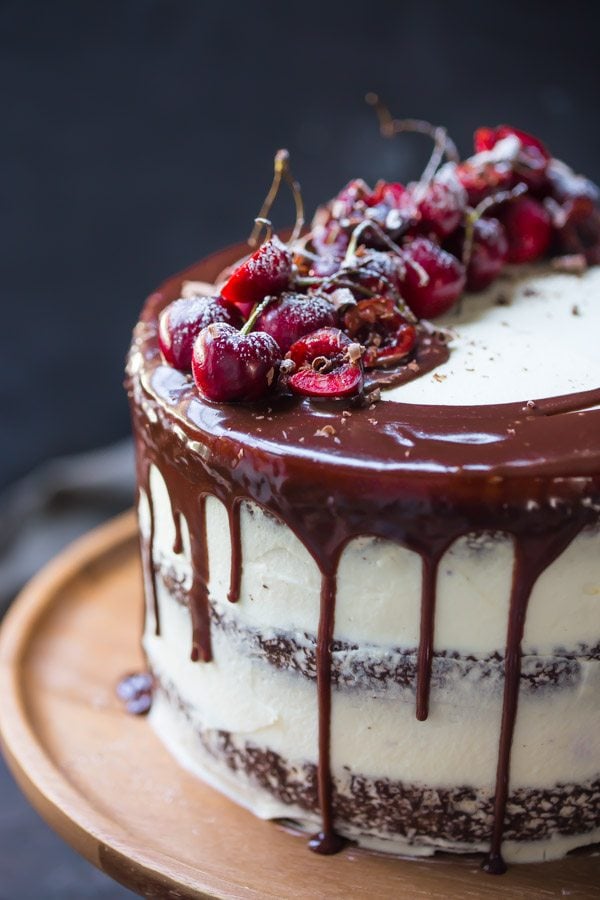 The iconic German black forest cake is typically made with a chocolate sponge cake, but I think you'll find this recipe much easier to make and more moist and flavorful.
The cake layers are often soaked in kirschwasser, a cherry flavored liqueur, but I've left that out to make this dessert a little more family friendly.  Feel free to add it in though!  Just a few tablespoons can be brushed on each layer of the chocolate cake, before adding the filling.
The fresh cherries are glazed with jam and a little almond extract to bring out their sweet flavor.
Fill and frost with fluffy whipped cream frosting, and garnish with chocolate glaze, more fresh cherries, and chocolate curls,* for a showstopper of a dessert that is sure to impress your guests!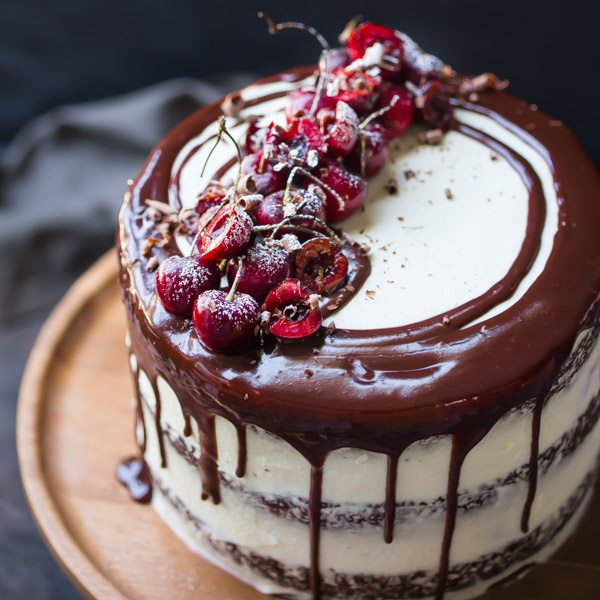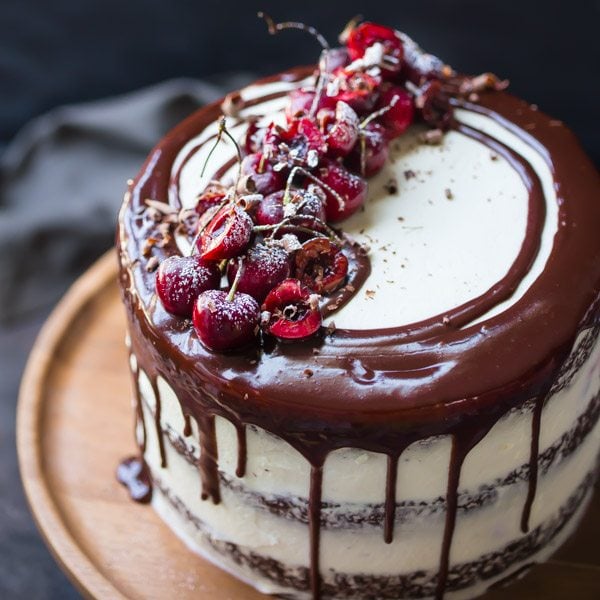 Black Forest Cake
Yield:
serves 8 to 10
Prep Time: 1.5 hours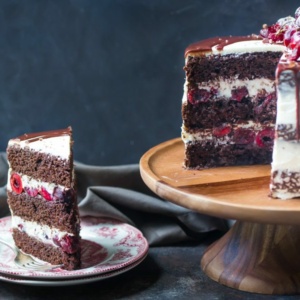 Ingredients:

For the cake layers:

1 1/2 cups granulated white sugar
1 cup all-purpose flour
1/2 cup cake flour
1 cup unsweetened cocoa powder
1 1/2 teaspoons baking powder
1 teaspoon baking soda
1/2 teaspoon kosher salt
1 cup (2 sticks) unsalted butter, softened
4 large Eggland's Best eggs
1 cup plain Greek yogurt
2 teaspoons vanilla extract
1 teaspoon almond extract

For the filling:

3 cups fresh cherries, pitted and halved
1/4 cup cherry jam (seedless raspberry or red currant jam can be substituted)
1 teaspoon almond extract, divided
8 ounces cream cheese, softened
1 cup powdered sugar
2 3/4 cups heavy cream, cold
1 teaspoon vanilla extract

For the garnishes:

1/2 cup heavy cream
4 ounces semisweet chocolate, finely chopped
1/4 cup light corn syrup
1 teaspoon vanilla extract
fresh cherries
chocolate curls*
powdered sugar

Instructions:

To make the cake layers:

Preheat the oven to 325 degrees F, generously mist three 8-inch diameter by 2-inch high cake pans with non-stick spray, and line with circles cut from parchment paper.
Place the sugar, flours, cocoa, baking powder, baking soda, and salt in a large mixing bowl, and whisk to combine.
Cut the butter into smaller pieces and add it to the dry ingredients.  Mix on low speed until the mixture resembles damp sand (30 seconds to 1 minute).
Add the eggs, one at a time, scraping the bottom and sides of the bowl with a silicone spatula after each addition.
When all of the eggs are fully incorporated, add the Greek yogurt, vanilla, and almond extract, and beat on medium speed for about 60 to 90 seconds, to aerate the batter and strengthen the cake's structure.
Divide the batter evenly between the three prepared pans, and bake for 30-40 minutes, or until a toothpick inserted in the thickest part of the cake comes out clean or with one or two moist crumbs.  Cool completely, then fill and frost.

To make the filling:

Place the cherries, jam, and 1/2 teaspoon of the almond extract in a medium bowl and toss to coat.  Set aside.
Place the cream cheese and powdered sugar in a large bowl and beat on medium-low speed until smooth.
Turn the mixer down to medium-low speed and pour the heavy cream down the side of the bowl in a very slow and steady stream.
When all the cream has been added, turn the mixer up to medium-high and whip until the frosting holds stiff peaks.
Fold in the vanilla extract and remaining 1/2 teaspoon of almond extract.

To assemble and garnish:

Place one layer of chocolate cake on a serving platter.
Spread half the cherries on the cake, and top with about 1/3 of the whipped cream frosting.
Top with the second cake layer, and repeat, topping with the third layer.
Frost the cake with the whipped cream frosting.
Heat the cream in a small pot until barely simmering.
Place the chocolate in a small bowl, and pour the hot cream over the chopped chocolate, allowing it to stand for 5 minutes.
Whisk the chocolate and cream together until fully incorporated.
Whisk in the corn syrup and vanilla, and carefully pour the glaze in a slow stream around the perimeter of the cake, allowing it to drip down the sides.
Garnish with fresh cherries, chocolate curls, and powdered sugar.

Nutrition:

To make chocolate curls, just run a veggie peeler down the side of a chocolate bar.
SOURCE: RecipeGirl.com
Here are a few more layer cake recipes you might enjoy: