Here's an easy, delicious summer salad recipe:  Blackberry Salad with Pork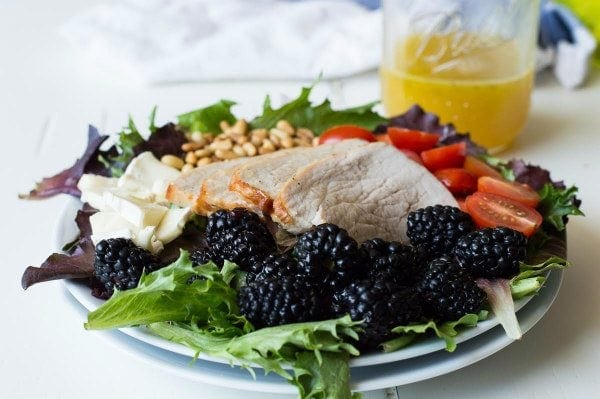 It's nice and light with a simple, homemade honey-lemon dressing.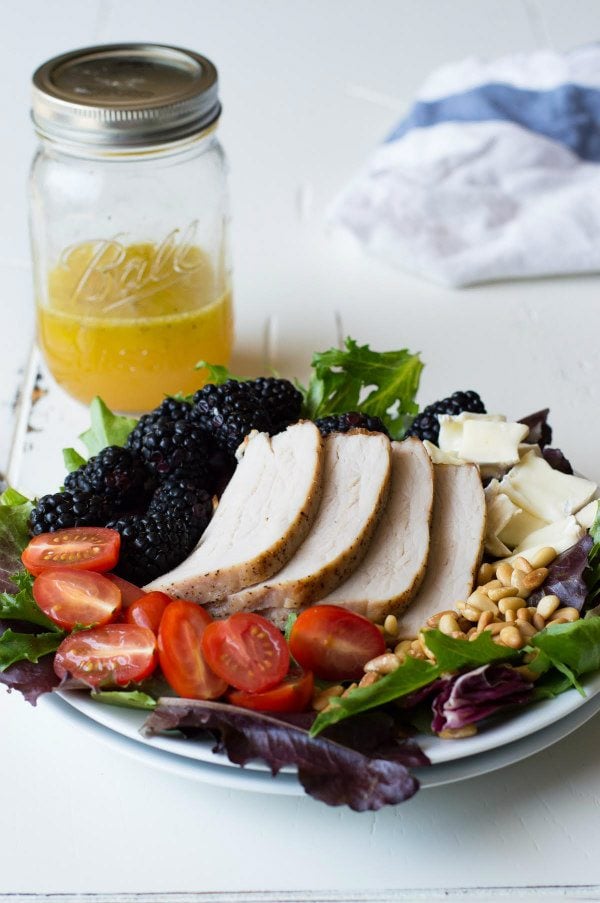 Other berries may be substituted for the blackberries, if desired.
Blackberry Salad with Pork
Yield:
4 servings
Prep Time: 15 minutes
Cook Time: 25 minutes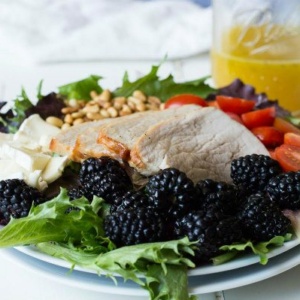 Ingredients:

1 (12 to 16-ounce) pork tenderloin
1/4 cup extra-virgin olive oil
1/4 cup honey
1/4 cup fresh lemon juice (about 2 lemons)
6 cups mixed baby greens (spring mix)
2 cups blackberries, raspberries, and/or sliced strawberries
1 cup grape tomatoes
1/2 cup pine nuts or almonds, toasted (see tips below)
4 ounces Brie cheese, rind removed (if desired) and cut into wedges

Instructions:

Preheat oven to 425°F.
Place pork on a rack in a shallow roasting pan. Sprinkle with salt and ground black pepper. Roast, uncovered, for 25-35 minutes or until an instant-read thermometer inserted in center registers 155°F. Remove from oven. Cover with foil and let stand until temperature registers 160°F. Cool slightly. Slice pork 1/4-inch thick.
For dressing, in a screw-top jar combine oil, honey, lemon juice, salt and pepper to taste; cover and shake well.
To serve, in salad bowls or on individual plates, place greens, top with berries, tomatoes, pine nuts, brie wedges, and pork slices. Drizzle with dressing. Serve immediately.