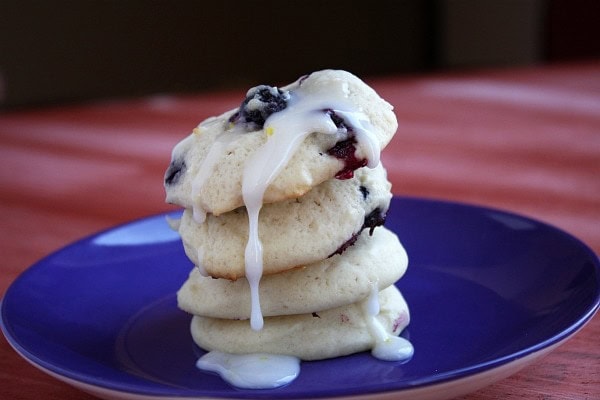 Fresh Blueberry Cookies
Yield:
2 to 3 dozen cookies
Prep Time: 15 min
Cook Time: 12 min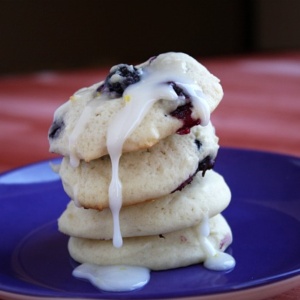 Ingredients:

COOKIES:

1/2 cup butter, at room temperature
1 cup granulated white sugar
1 large egg, beaten
1/2 teaspoon lemon extract
1/2 cup milk
2 1/2 cups all-purpose flour, sifted
1 cup fresh blueberries, picked over & stems removed

GLAZE:
1/2 cup powdered sugar, sifted
1 to 1 1/2 Tablespoons freshly squeezed lemon juice

Instructions:

1. Preheat oven to 375 degrees F.

2. Cream butter and sugar in large bowl with an electric mixer. Beat in egg and lemon extract.

3. Gradually add flour, alternating with milk addition.

4. Carefully fold in blueberries and drop batter 1 1/2-inches apart on greased cookie sheet, silpat-mat or parchment lined baking sheet. I use a cookie dough scoop.

5. Bake 10 to 12 minutes.

6. Let the cookies cool completely. Mix powdered sugar and lemon juice in a small bowl and then drizzle each cookie with a little bit of the lemon glaze. The glaze will set when it has a chance to dry.

Tips:

*Don't wash the blueberries! They tend to get soggy and will provide too much additional moisture to the cookie. If you absolutely must, rinse them lightly and let completely dry before using.