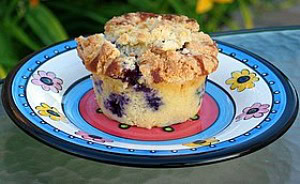 Blueberry Muffins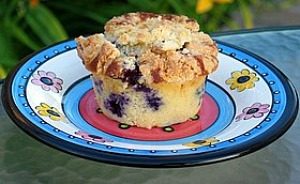 Just like you'd find in a good breakfast restaurant...
Yield:
24 muffins
Prep Time:20 min
Cook Time:20 min
Ingredients:
3 cups all-purpose flour
1 Tablespoon baking powder
2 cups granulated white sugar
1/2 cup butter, cut up
2 large eggs
1 cup milk
1 teaspoon vanilla extract
1 3/4 cups fresh blueberries
2 Tablespoons butter, melted
Directions:
1. Preheat oven to 350 degrees F.
2. Combine flour, baking powder and sugar in bowl; Use a pastry blender to cut in butter until mixture is crumbly. Reserve 1 cup of the sugar/flour mixture and set aside.
3. Add eggs, milk and vanilla to remaining mixture. Beat at medium speed with an electric mixer until smooth. Gently fold in blueberries.
4. Pour batter into 24 greased or lined muffin pan cups.
5. Drizzle melted butter over reserved 1 cup sugar mixture, stirring just slightly. Sprinkle over muffin batter.
6. Bake for 20-25 minutes.
Tips:
Try using 12 large-sized muffin tins for Starbucks- sized muffins!