Here's Part 2 of my tour of Italy with Insight Vacations Luxury Gold.  Today, I'm sharing about our time spent in Calcata, Perugia and Tuscany!
After two fabulous days and nights in Rome, we boarded our luxury motor coach to continue on our tour.  Having access to a motor coach is really a sweet bonus– super comfortable seats with a lot of leg room and storage space… and wifi on board too!
CALCATA: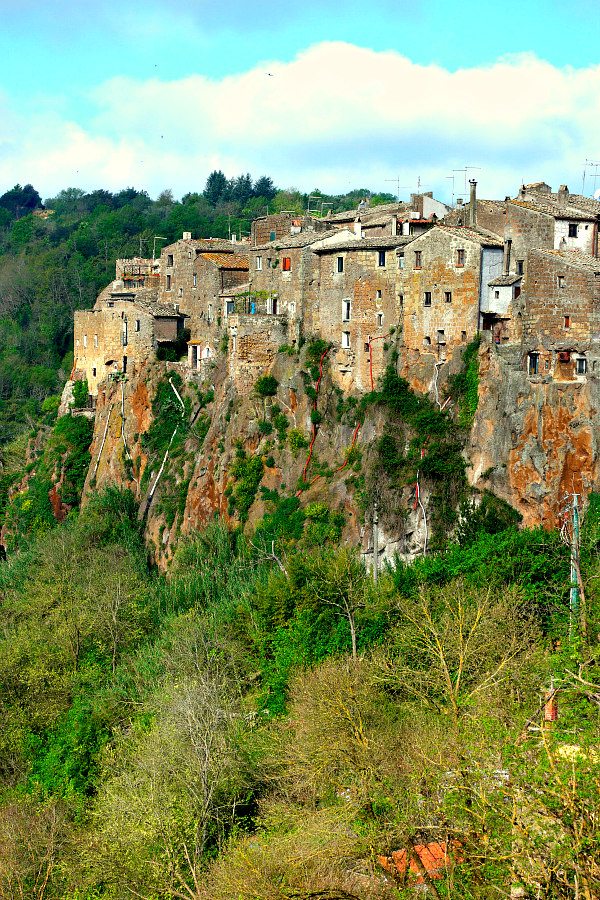 Our first stop- 29 miles from Rome- was in the old cliffside village of Calcata.  I am so happy that Insight includes Calcata on their tour- it turns out to be a fabulous surprise.  This town is so small and cute.  There are many residences– little apartment villas.  We were told that quite a few folks who own these places are from Rome… and they come to Calcata for weekend getaways.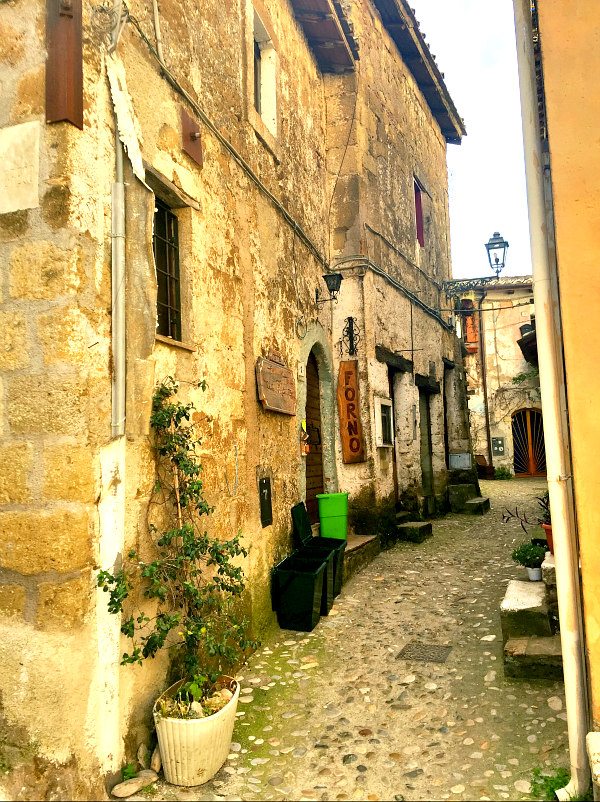 There are quite a few little cafes, restaurants and art galleries within the village.  We even found a tiny jewelry shop.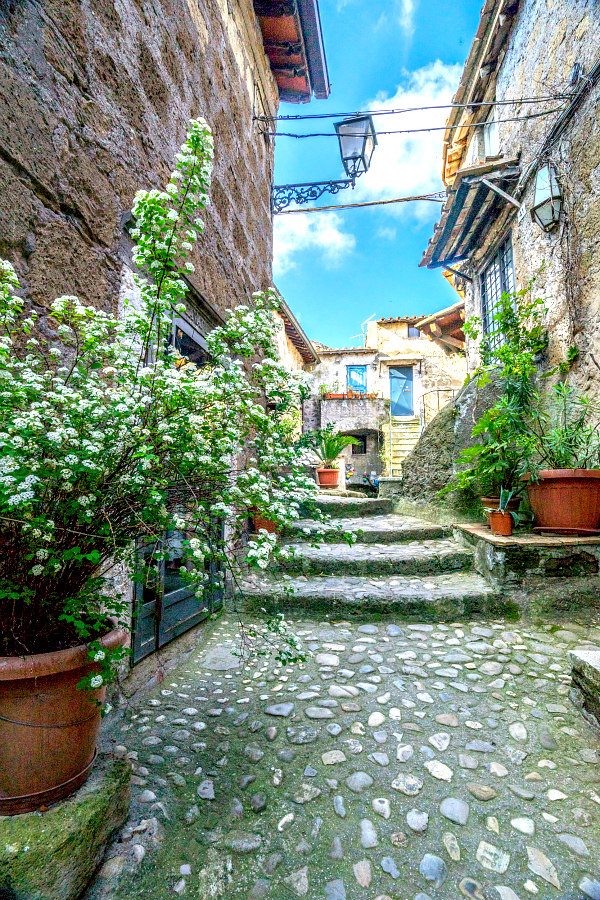 It's a beautiful place to explore.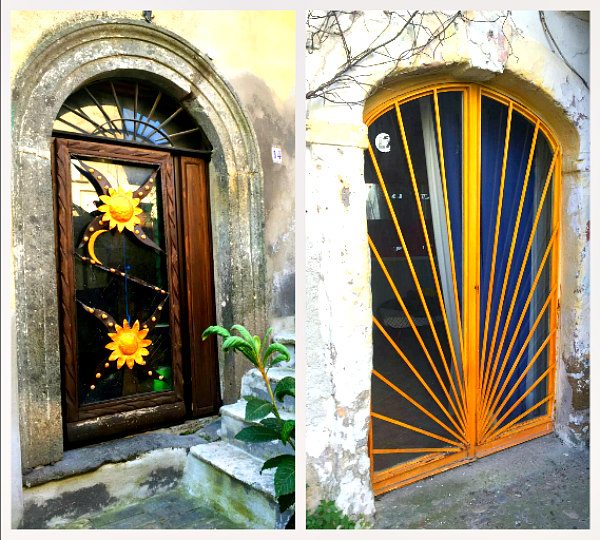 Walk around the tiny town of Calcata and you'll see a lot of interesting doors…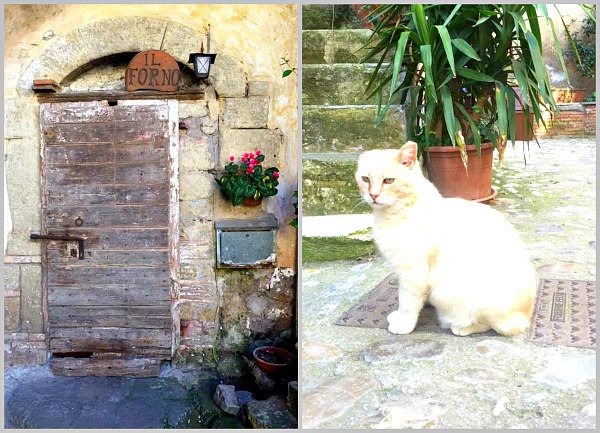 … and everything is very rustic.  I even found a cat that was missing an ear.  I wonder if his name is Van Gogh?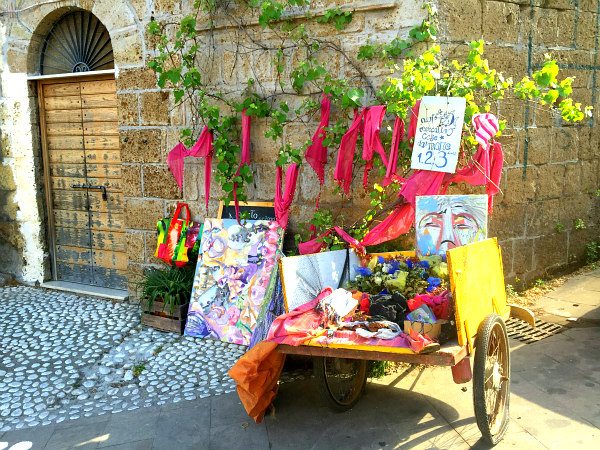 The New York Times once described Calcata as what "may be the grooviest village in Italy, home to a wacky community of about 100 artists, bohemians, aging hippies and New Age types."  For the record, we didn't come across any wacky people at all.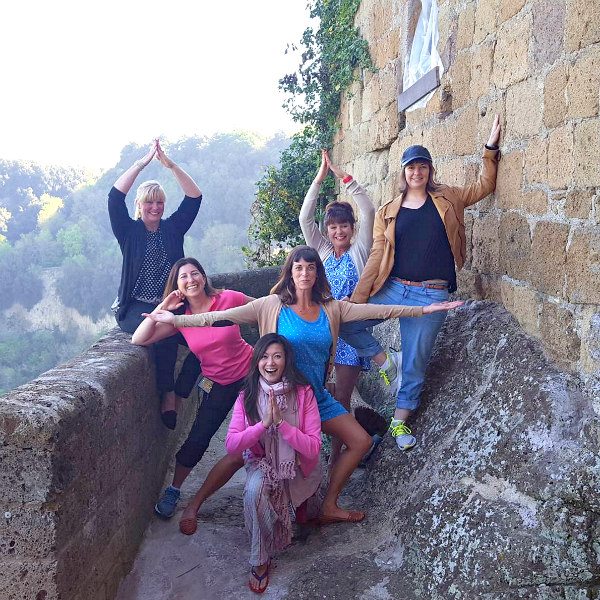 A bunch of us girls on the tour found a beautiful perch overlooking the valley and struck some yoga poses for a photo.  It just seemed like the right thing to do!
ONWARD TO PERUGIA: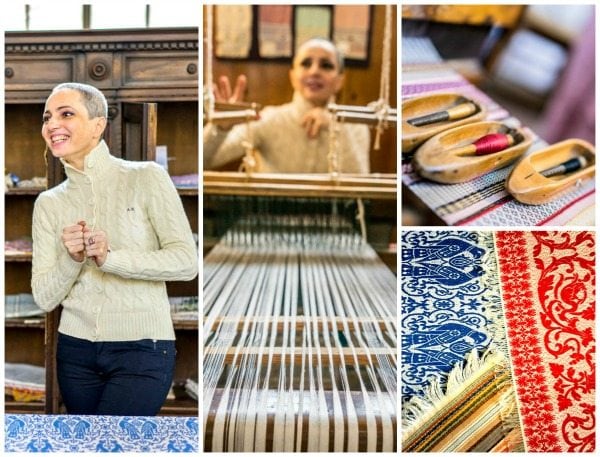 The next stop for the day (in Perugia) was Laboratorio Giudditta Brozzetti (a weaving workshop) to see the art of hand-weaving textiles on antique wooden looms.  This business has been passed down through four generations of the Brozzetti family.  It was fascinating to see how these old looms work, how expertly the weavers work the looms, and how much work these textiles are to produce by hand.  I loved seeing how much of an art this is, and it's really cool that they're keeping this trade alive!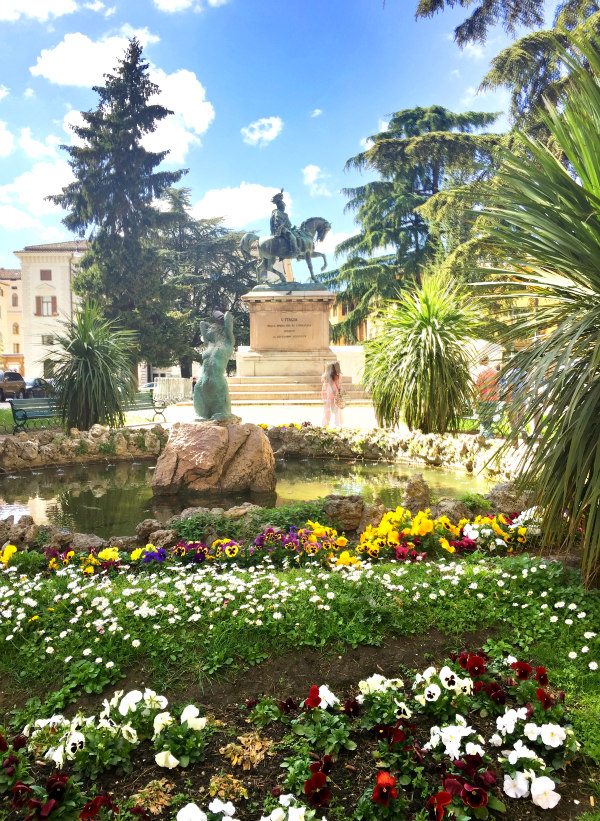 Next, the motor coach continued into Perugia along the Corso Vannuci (the main street), where we were greeted by this beautiful scene.  Perugia is the capital city of the Umbria region.  You can admire several important monuments such as the Priori Palace, the San Lorenzo Cathedral, Fontana Maggiore, Etruscan Arch and the Hypogeum of the Volumni.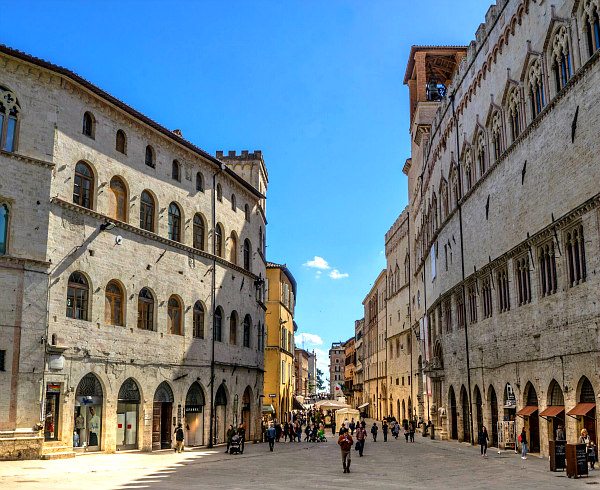 It's a sweet little town with many restaurants, coffee shops, pastry shops, boutiques, museums, gelaterias and hotels.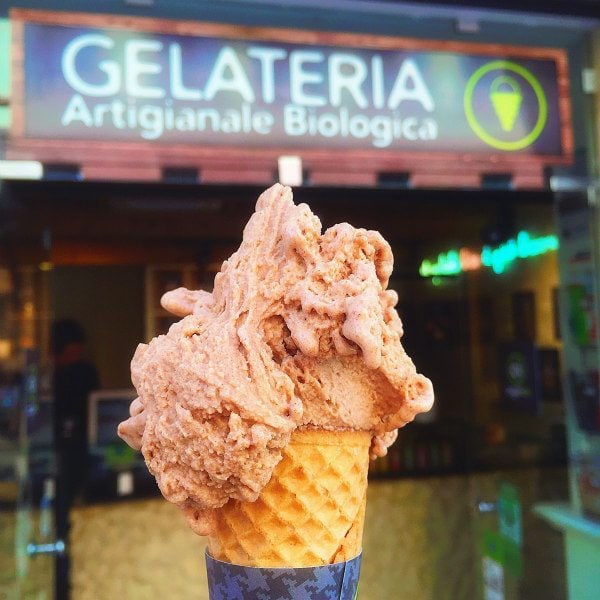 My daily gelato in Perugia: Canelle (Cinnamon).  YUM.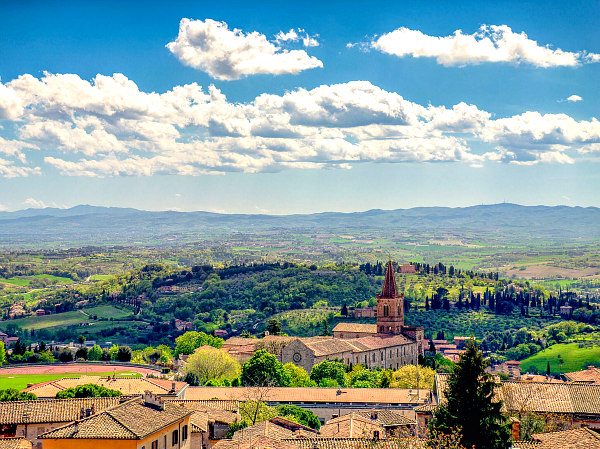 There is a beautiful overlook area at the end of the main street– where you can sit for hours and gaze at the beauty of the upper Tiber valley and toward the city of Assisi (birthplace of St. Francis).
OUR HOTEL IN THE TUSCAN COUNTRYSIDE: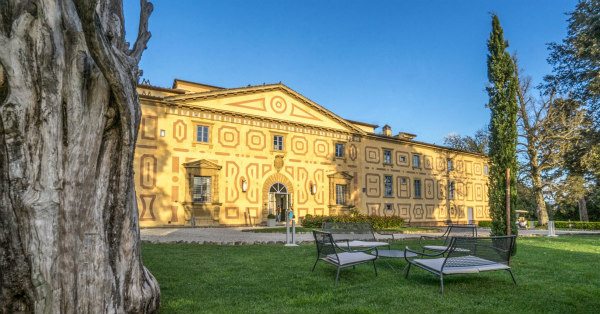 Our next hotel was in the Tuscan hills of Mugello near Florence Italy, where we checked in to stay for 3 nights:  Villa Le Maschere.  The Villa is one of the most beautiful late Renaissance country homes in Tuscany.  It's in a quiet and peaceful area in the countryside- surrounded by park land, walking paths and nature.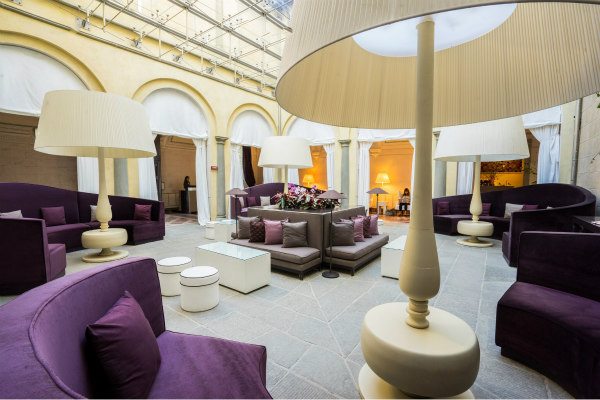 This property is a 5-star resort with great historical and architectural value, but you can see that it has a special emphasis on a more modern interior design.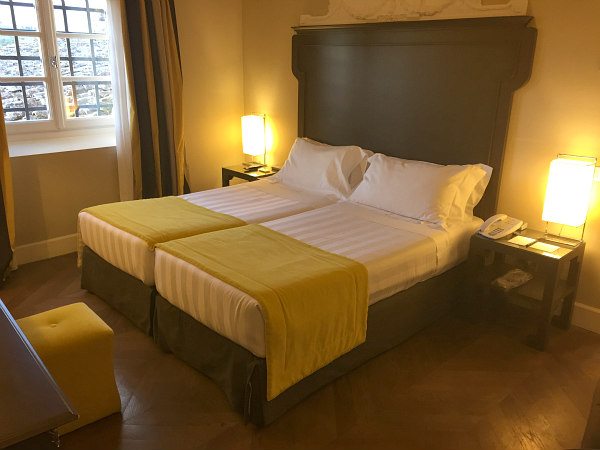 The room I stayed in was quite large- with plenty of room for suitcases, a working desk and a huge bathroom.  We had some intermittent trouble with connecting to the wifi in this hotel- which turned out to be okay because it actually forced us to relax!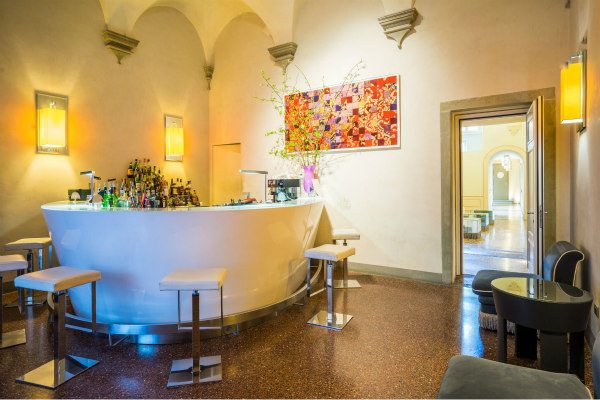 Our first night there, we did a little bit of exploring… and found the bar!
We had champagne with our tour group (an Insight Vacations "Welcome to Tuscany" surprise!)  Pictured:  me… Sandy (ReluctantEntertainer.com) and our new friend Hannah (ItsaSeahorse.com).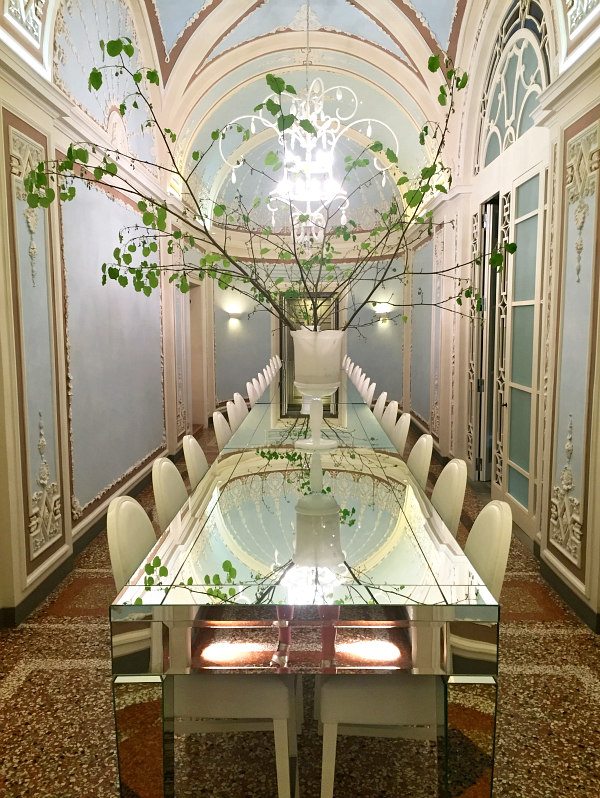 You may have noticed with the lobby picture above that there is a little bit of an Alice in Wonderland theme going on at this hotel.  The oversized lamps, purple decor, a few first-floor hallways with short ceilings, and even smaller than people-sized doors in some places.  It's very unique, isn't it?  I loved this room with the loooooong table.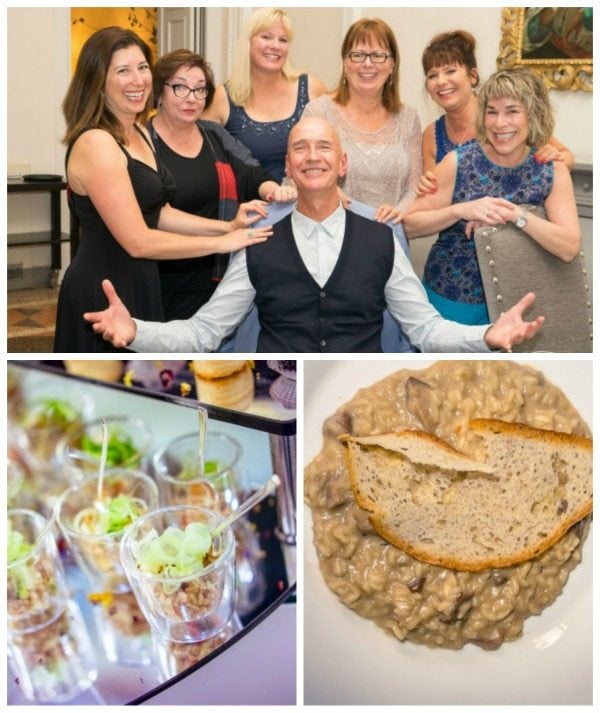 Dinner on this night was at the hotel.  The restaurant on site here is fabulous.  We dined with our tour group (so many new friends!)- pictured front and center is Insight Vacations CEO:  John Boulding– he was traveling with us too!  Insight hosted a nice reception for us with delightful appetizers… and my favorite at dinner was the mushroom risotto.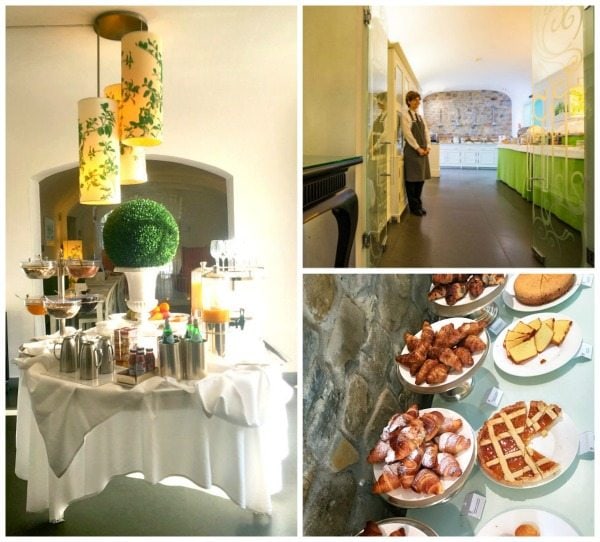 The next morning we were introduced to a generous breakfast buffet at the hotel.  They offer everything you can imagine- egg dishes, meats, cheeses, pastries, fruit, yogurt, coffee/espresso, juices, and champagne.  I love having access to a buffet like this where I can choose to make really healthy choices to start my day (knowing that a cup of gelato will be had later in the day!)
A DAY IN FLORENCE: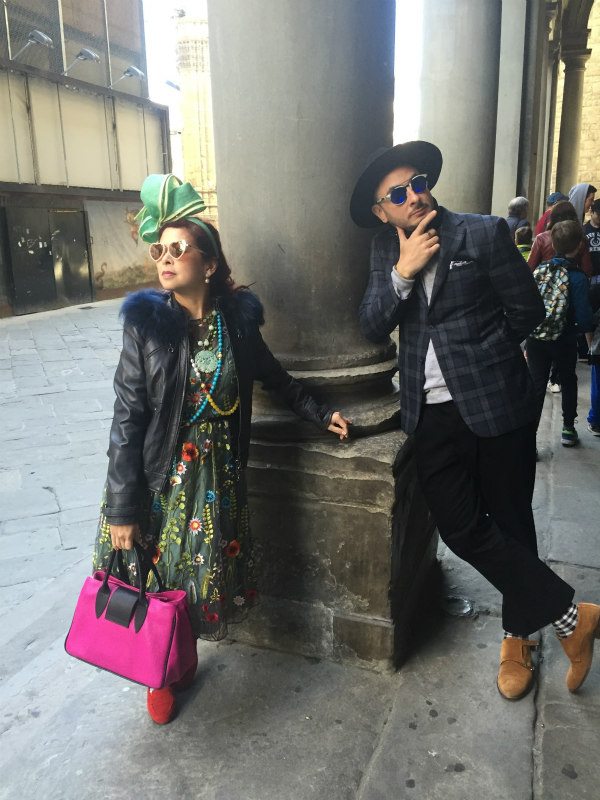 Our group headed into downtown Florence for the day.  Here are two very hip travelers who were on the tour with us.  Tessa is a travel writer from the Philippines (seaprincess888 on Instagram) and Anthony- from New York City- is a Luxury Gold Sales Manager from Insight (AntRichNY on Instagram).  Anthony also owns a bar in Soho- 142 Sullivan, which I'm dying to visit!  They were both so much fun to have on the trip.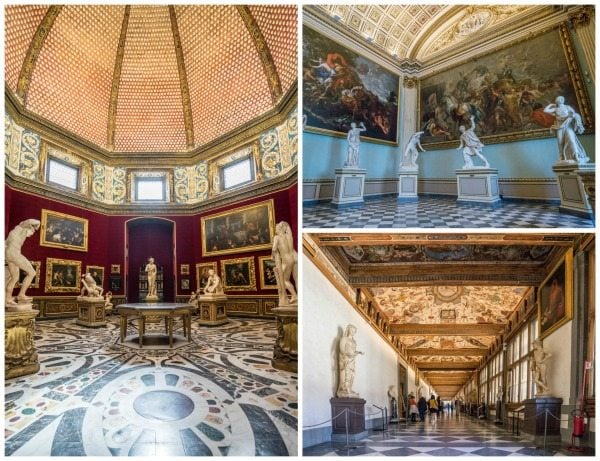 First stop was the Uffizi Gallery– and again… we did not have to wait in line (an Insight Vacations Luxury Gold Tour perk!)  This is a very famous museum in Italy- the majority of the collections within being from the Renaissance period.  You'll see works of art by great Italian artists such as Botticelli, Giotto, Michelangelo, Leonardo da Vinci and Raffaello.  Uffizi has works from all centuries but a large part dates back to the periods between the 12th and 17th centuries.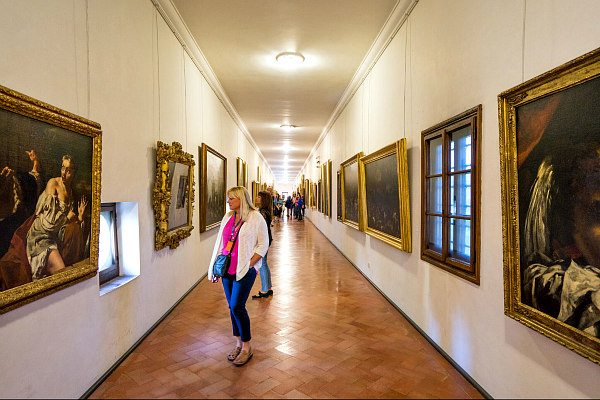 Next was a private tour through the Vasari Corridor (not open to the general public, but accessible to us!)- through the Ponte Vecchio- a medieval stone closed bridge over the Arno River.  The Vasari Corridor is a passageway that contains over 1000 paintings, all dating from the 17th and 18th centuries, as well as the important collection of Self-portraits by some of the most famous masters of painting of the 16th to the 20th century.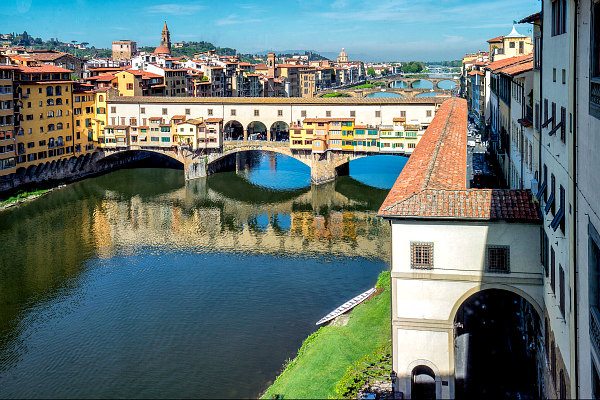 Beautiful view from that private hallway looking down the Arno River.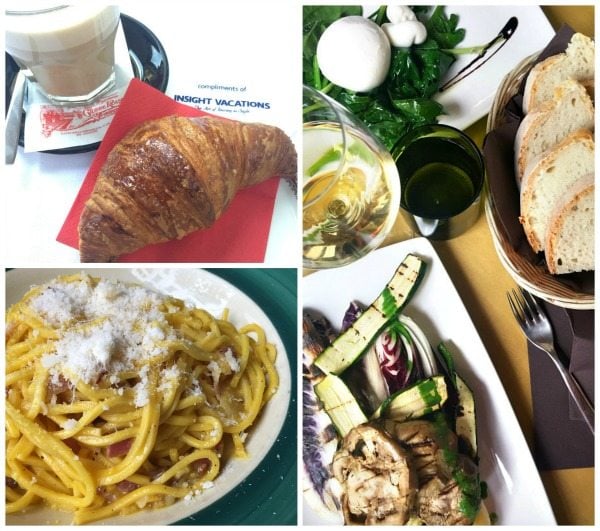 Here is some of the fabulous food we enjoyed in Florence:  coffee and croissants at Caffe Giubbe Rosse (another Insight tour special surprise for our group– I seriously love that they do these surprises for their tour groups!), and the most fabulous lunch ever at Osteria Ganino.  Three of us found this quaint restaurant with long, shared, outdoor tables that seemed to have only Italians eating there.  We took a chance, and we're glad we did.  We ordered about 6 items on the menu because we wanted to sample so many things, and you should have seen the looks on the faces around us.  I'm sure they thought we were crazy.  We explained to the nice, Italian couple sitting next to us that we were just excited to try so many things.  They kept looking at us and smiling… and quietly whispering in Italian to each other!!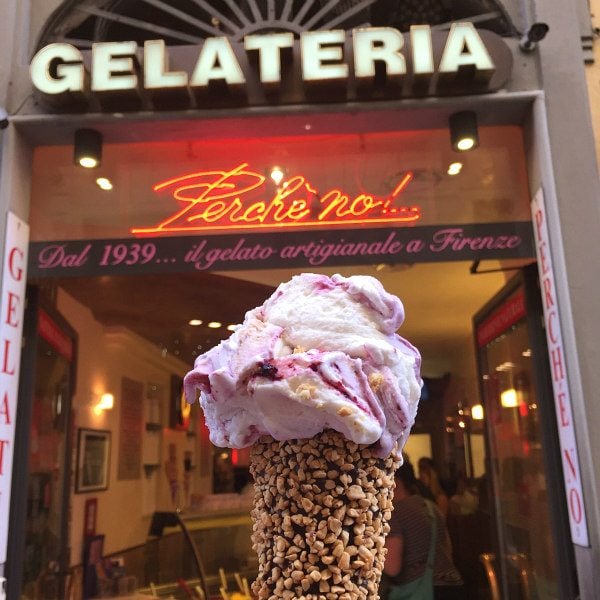 If that wasn't enough, we had to grab our daily gelato:  I chose Blackberry Cheesecake in a chocolate-pecan covered sugar cone.  And guess what?  Yes, we ran into the Italian couple who was sitting next to us in the restaurant while walking down the street chowing down on our gelato.  More smiles and probably some giggles ensued as they observed us crazy Americans who seemingly couldn't get enough to eat in Florence!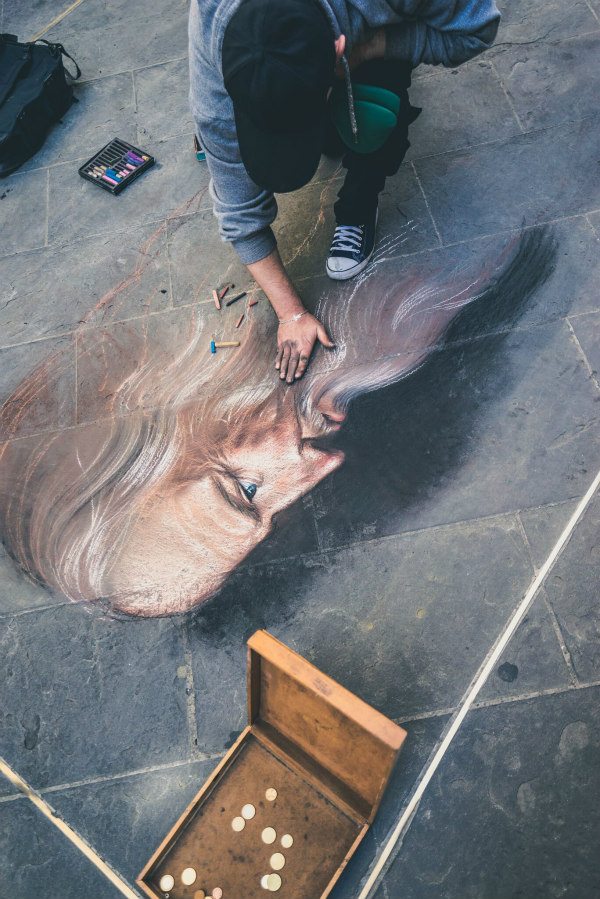 There are SO MANY shops in Florence.  I loved walking around (it's a bit easy to get lost), and I could have easily spent three days shopping here.  Watching this street artist was a lovely sight- he was sketching with chalk directly onto the street.  I'm sure he does this every day. It's sad to think it gets erased every day and he must begin again!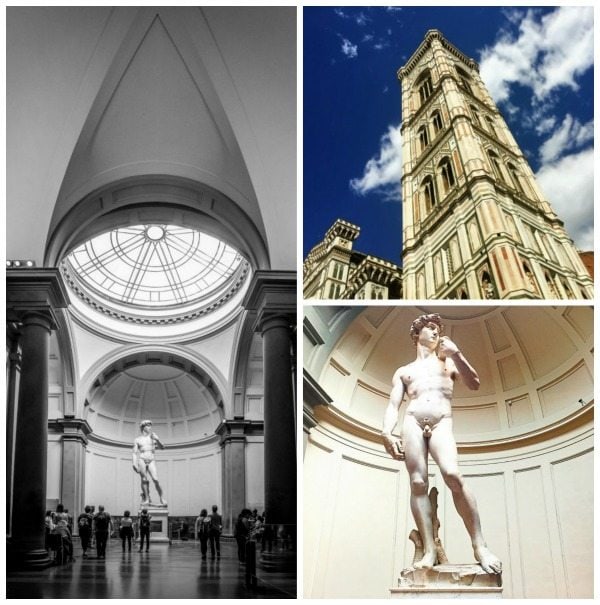 Walking through the streets of Florence, we gazed at the exterior of Florence's famous cathedral: known as Il Duomo di Firenze.  Construction began on the Duomo in 1296, and it was completed in 1436– so gorgeous… a huge, tall building with a beautiful dome.  Entrance to the cathedral is free, so the line for entry is long at times.
We did have easy access to enter the Accadamia Museum to see Michelangelo's David– a masterpiece of Renaissance sculpture created between 1501 and 1504.  The statue represents the Biblical hero David, a favored subject in the art of Florence. The picture above shows how it is displayed in the museum.  It's remarkable.
DINNER WITH OUR TOUR GROUP: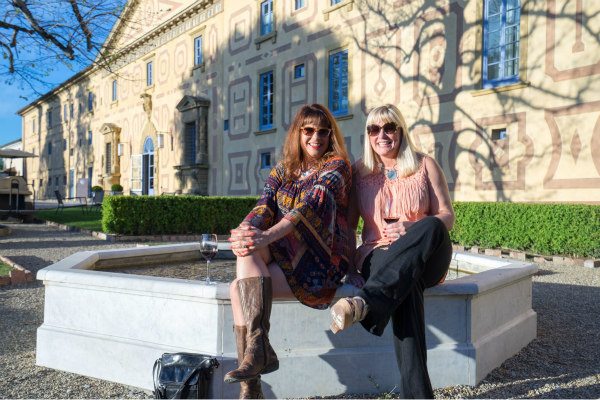 Back at the hotel, Sandy and I got ready for dinner and enjoyed a glass of wine in the front courtyard of our Villa.  We were so lucky- the weather was absolutely gorgeous the whole time we were there!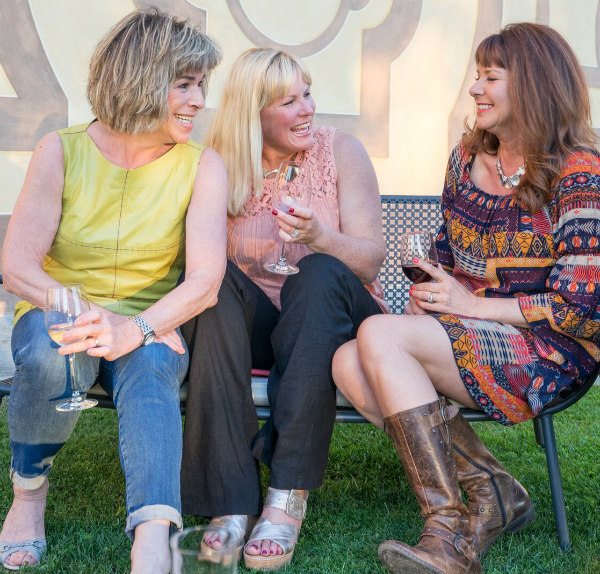 And here is a very lovely new friend we met on the tour:  Judi Cuervo- who writes about travel for Porthole Cruise Magazine.  Judi lives in New York City.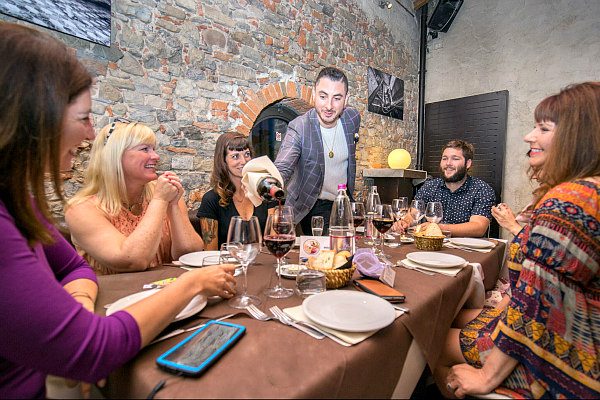 I hope you can tell from our smiles that this tour with Insight Vacations is a really fun way to tour Italy.  They think of every detail to make sure it's a great experience for everyone!  This night's dinner was in Barberino di Mugello in the province of Florence. Rivasud is one of those darling restaurants in a rustic, old building that you'd never find on your own because it's off in the countryside somewhere.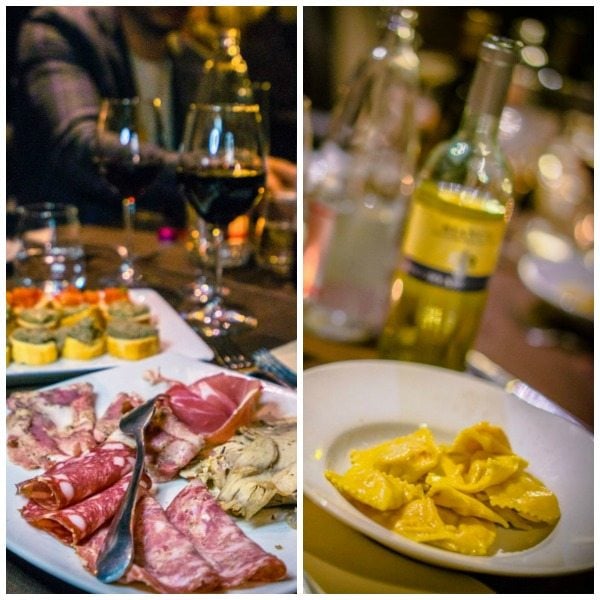 Again, it was another amazing night of eating.  Several courses… lots of wine… and lots of laughter.
OUR FINAL DAY IN TUSCANY: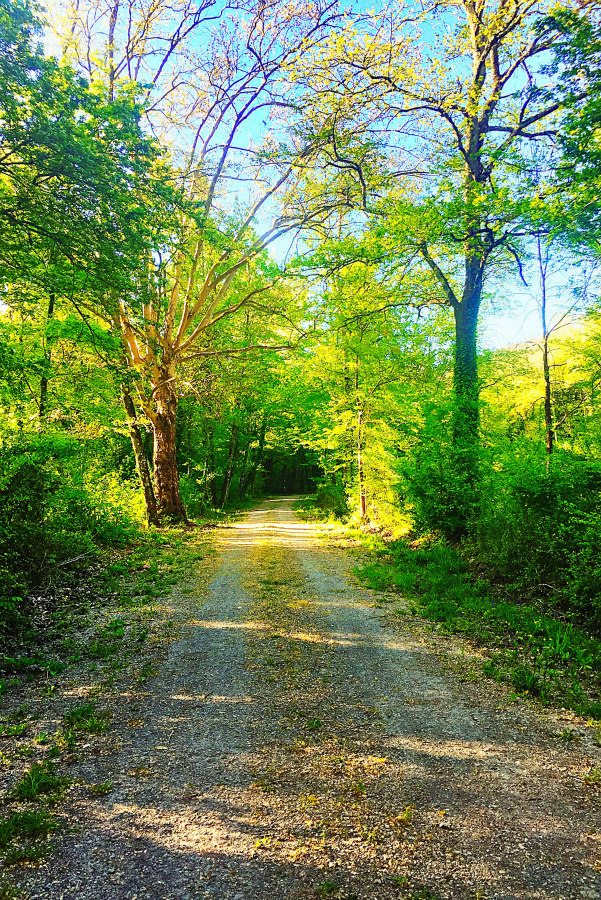 The next morning, we woke up and decided to get some exercise.  A brisk walk down this road through the trees in the Tuscan countryside was in order (this was right behind our hotel).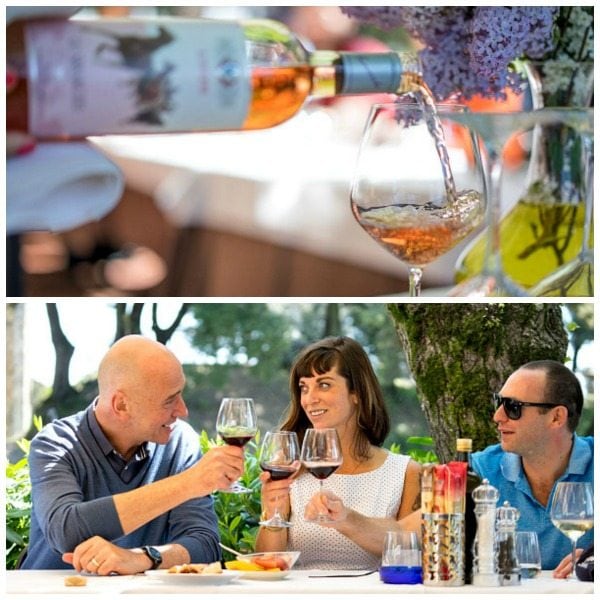 At lunch, there was a wine tasting event for our tour group that was just down the road from our hotel at Ristorante le Maschere Enoteca.  I'm sorry I missed it because the photos that followed it looked amazing, but Sandy and I were a little tired so we opted out. Insight Vacations plans the whole tour for the group… with generous pockets of free time too- but it's important to note that the planned events are always optional.  You can often opt to relax instead or do your own thing.  One of the gals in our group chose to skip wine tasting and take a cab to the fashion outlets nearby to shop.  I was tempted to do the same!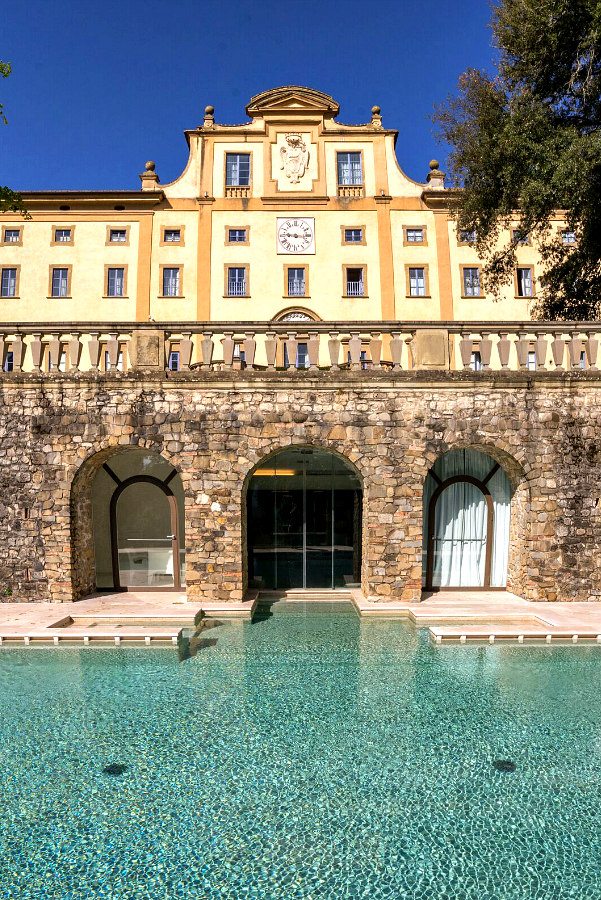 Our "own thing" on this day was spending time at the hotel spa instead… getting a massage and enjoying the gorgeous pool area.  It was just the refresher we needed to continue on with this amazing tour!  Next week I'll be sharing the next part of our tour… a bit more of Tuscany with a recipe to share too!
Disclosure:  Insight Vacations invited me on their Ultimate Italy tour to experience the tour and share my travels with RecipeGirl readers.  Photos shared are a mix of my own photos… and some from professional photographer Simon Boucher-Harris from Insight Vacations.