You absolutely must try Candied Bacon. It's bacon that is caramelized and crispy and sweet. And it's my newest obsession. Watch the video showing you how to make Candied Bacon, then scroll to the bottom of this post and print out the full recipe to make at home.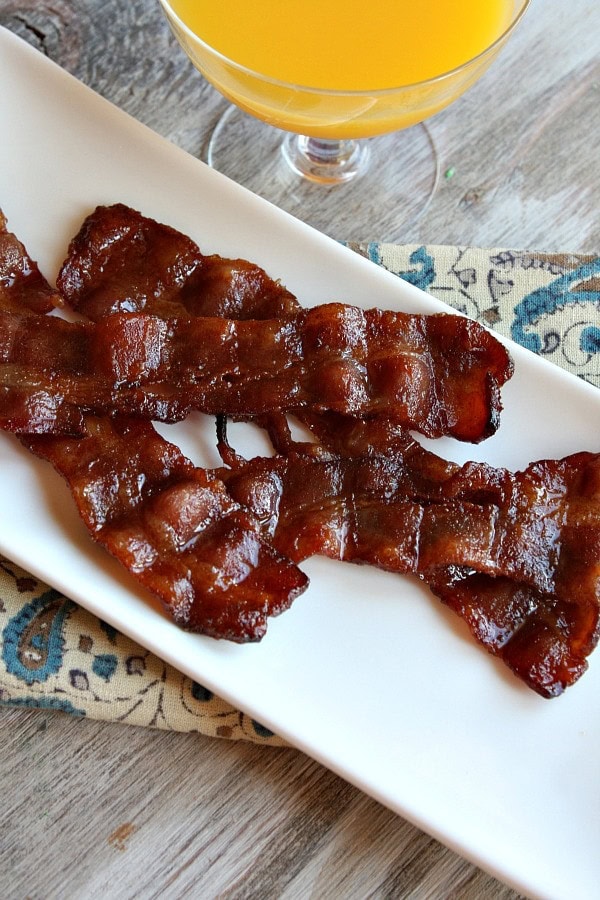 What I'm about to share with you today is so incredible that I'm just going to go ahead and apologize in advance for the massive cravings that might ensue after reading this post. I made this bacon as a snack, you see… an after-school snack. My son had asked me if I could whip up a little something for him to nibble on while tackling his math homework, and I brought him this Candied Bacon.
He looked at me all wide eyed and surprised, took a bite, and then he delivered a very enthusiastic, "THANK YOU!" I understood his enthusiasm. I had already sampled my slice of bacon, and I was definitely wishing I'd made more! This stuff is good. SOOOOO good. Really good. Like, you'll be craving-it-in-your-sleep good!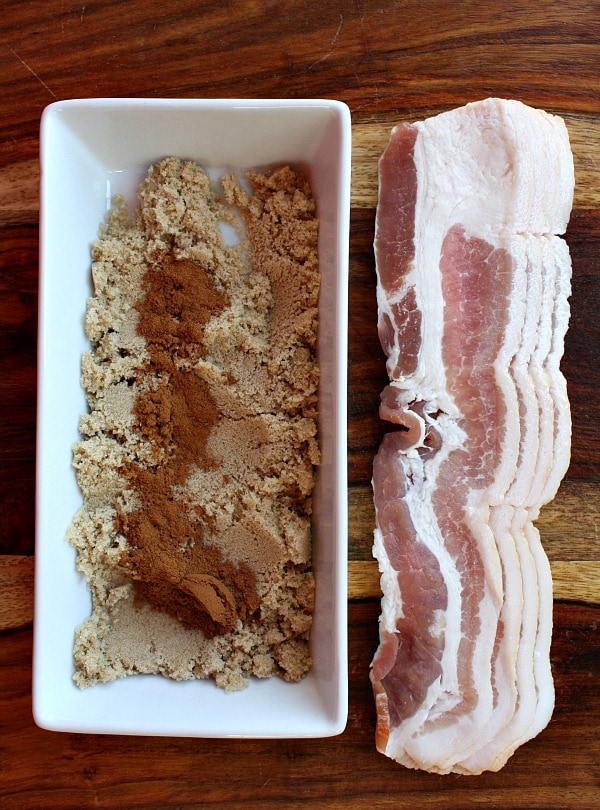 How do you make Candied Bacon?
It's super easy to make candied bacon, actually. You'll need just three ingredients- bacon, brown sugar and cinnamon. That's it.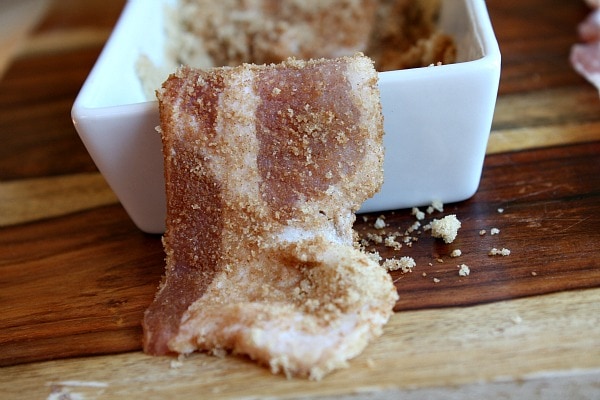 Mix the sugar and cinnamon, then coat the bacon slices generously with it. Since all of the sugar does not end up sticking to the bacon, you'll end up with about half of it left over that you can just toss. But you do need to make more than needed so you have a proper amount in the bowl to slather it onto the bacon.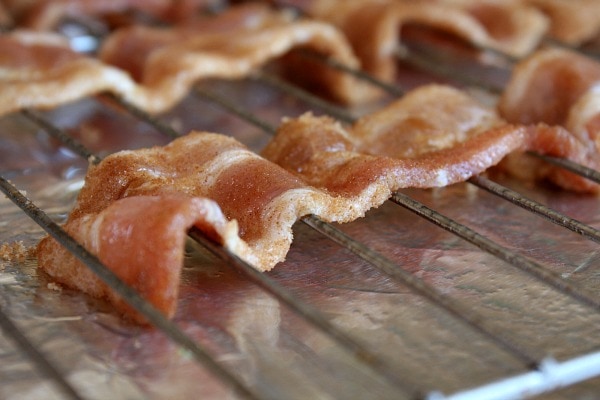 You'll be baking this bacon, so place it on a rack that has been set on a foil- lined, rimmed pan. I like to poke the bacon down through the rack in a few places so it gets that wavy look when it's done.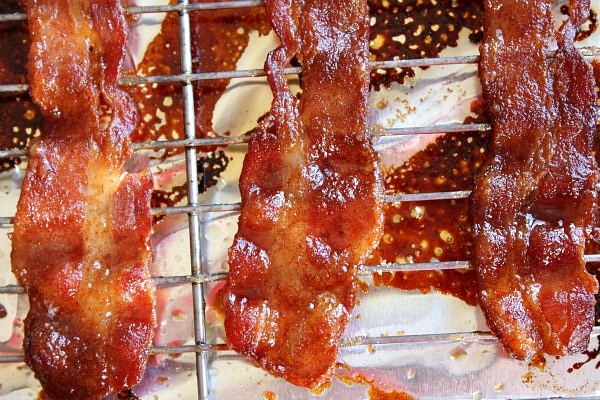 And then let the oven do its magic. The bacon gets all caramelized and candied and wonderful. And it only takes about 15 minutes.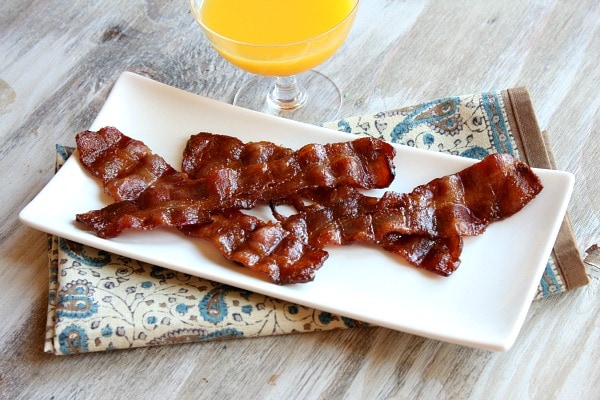 What can you use Candied Bacon for?
If you can manage to get the bacon to a plate without eating it all first, you can serve it up for breakfast. But I'm envisioning much more than breakfast for this bacon! I see it in chocolate chip cookies. I see it sprinkled on top of maple cupcakes. I see it in my dinner salad. And I see it crunched into pancakes too. Are you craving it with me now?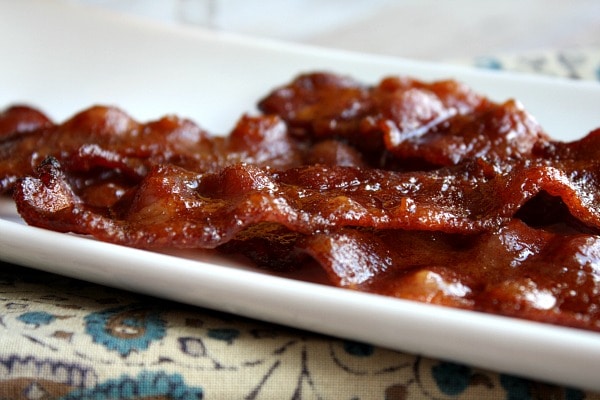 If you have a package of bacon sitting in your refrigerator right now, give it a boost and make candied bacon instead. And because you make it in the oven, there is very little clean up involved too!
Lovers of bacon might also enjoy Bacon Wrapped Tater Tots or Bacon Cheeseburger Soup. Hot Bacon Vinaigrette Dressing is a great idea too. Macaroni and Cheese with Bacon is my favorite!
Candied Bacon
This super simple recipe transports bacon to a new level!
Recipe Details
Ingredients
1/2

cup

packed light brown sugar

1

teaspoon

ground cinnamon

12

slices

center cut bacon

(don't use extra thick bacon)
Instructions
Preheat the oven to 350 degrees F. Line a rimmed baking sheet with foil and set a rack on top (like a cookie cooling rack). Spray the rack with nonstick spray.

Mix the sugar and cinnamon in a bowl. Dip bacon slices in the cinnamon-sugar, coating both sides, and place the coated bacon strips on the rack. I like to poke the bacon into the grooves of the rack in a few places so your bacon will come out looking a little wavy.

Bake 15 to 20 minutes, or until the bacon appears to be caramelized and somewhat crispy. Watch closely after 15 minutes since the sugar can begin to burn when left in too long. Serve immediately.
Notes
*Note that nutritional information was figured using just 1/4 cup brown sugar since only about 1/2 of the sugar in the recipe will actually stick to the bacon.
*If you are preparing this recipe as gluten-free, just be sure to use a brand of bacon that is known to be GF.
Nutrition
Serving:
1
slice
,
Calories:
47
kcal
,
Carbohydrates:
4
g
,
Fat:
2
g
,
Cholesterol:
4
mg
,
Sodium:
48
mg
,
Potassium:
20
mg
,
Sugar:
4
g
,
Calcium:
5
mg
,
Iron:
0.1
mg