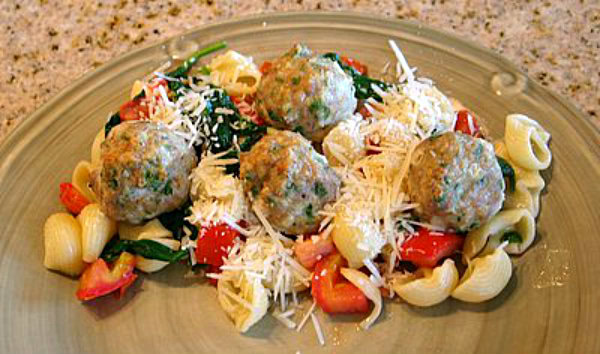 Cavatelli with Meatballs and Spinach in Fresh Tomato Sauce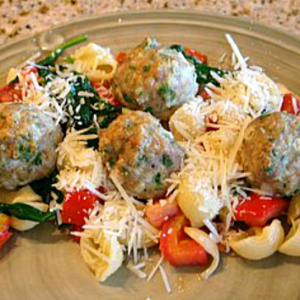 Yield:
4 servings
Prep Time: 30 min
Cook Time: 15 min
Ingredients:
1/2 pound cavatelli (or shells)
1/4 cup chopped parsley
3 tablespoons seasoned breadcrumbs
2 tablespoons grated Romano cheese
2 tablespoons milk
1 large egg, beaten
1 tablespoon grated onion
2 cloves garlic, minced
1 teaspoon salt
1/8 teaspoon pepper
1/2 pound ground turkey
1 tablespoon olive oil
1 bunch spinach, cleaned, trimmed and chopped
6 plum tomatoes, diced
Directions:
1. Preheat oven to 450 degrees F. Spray jelly-roll pan with nonstick spray.
2. Cook cavatelli according to package directions. Reserve 1/4 cup liquid of the pasta cooking liquid.
3. While pasta is cooking, in large bowl combine parsley, crumbs, cheese, milk, egg, onion, 1 garlic clove, 1/2 teaspoon salt and pepper. Gently mix in turkey. Form into 20 balls. Place onto prepared pan and bake 9 to 10 minutes, until cooked through.
4. Heat oil in large skillet. Add spinach, remaining garlic, and remaining salt. Cook 2 minutes until wilted. Add tomatoes and cook 1 minute. Add pasta, meatballs and pasta cooking liquid; cook 1 minute.
5. Serve with grated cheese.
Tips:
*Cavatelli is short, narrow, ripple-edged shell pasta. If you are unable to find cavatelli, look for another small shaped pasta to use in its place.