These Cheddar Stuffed Chicken Breasts with Apple Bacon Pan Sauce are one of my family's favorite things to eat for dinner.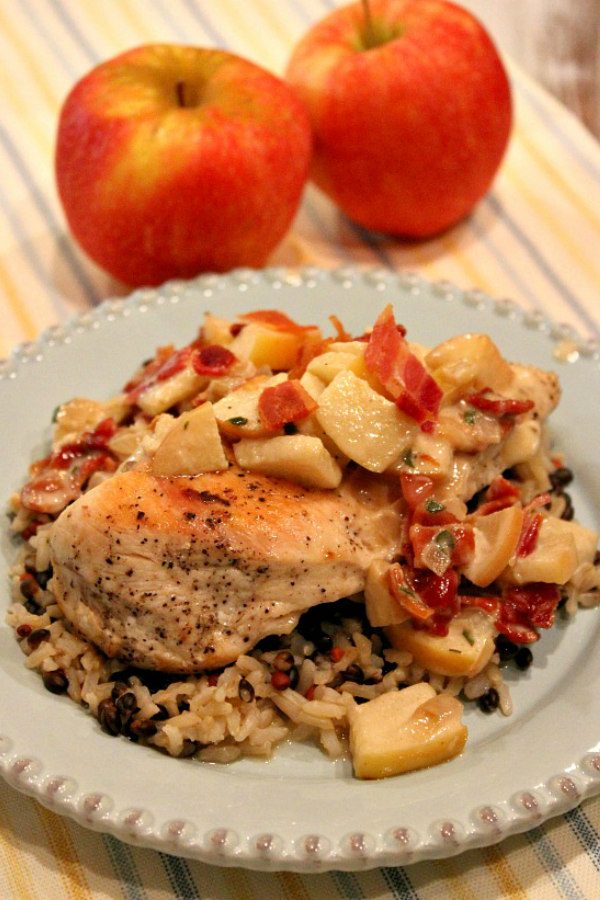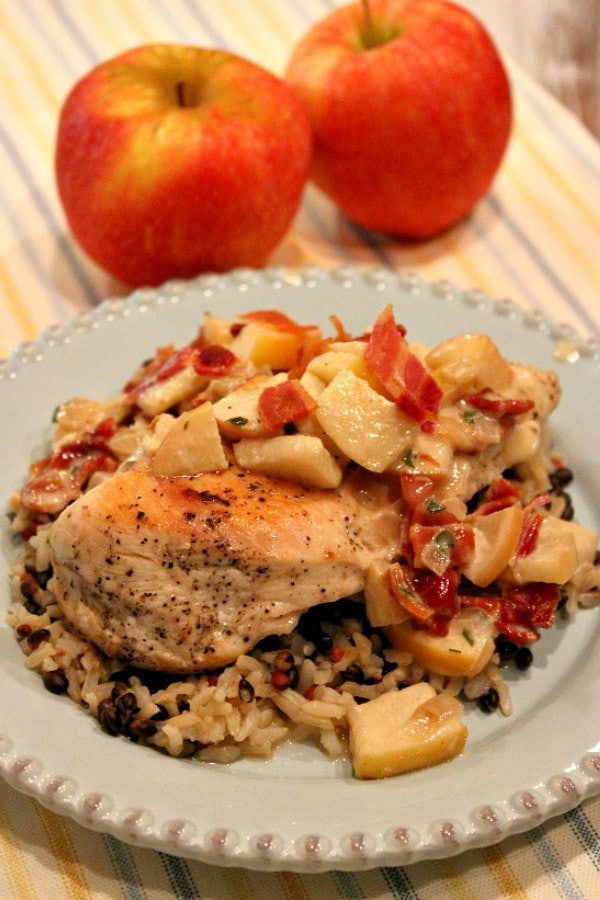 These days I have to keep in mind things my family would like to eat.  Chicken?  yep, they request chicken more often than not.  Cheddar Cheese? yep, they're into cheese of any kind.  Apples? I don't believe there's a person on this planet who doesn't like a good apple.  Bacon? um, duh!  Bacon makes everything more appealing, doesn't it?  This recipe has all of that!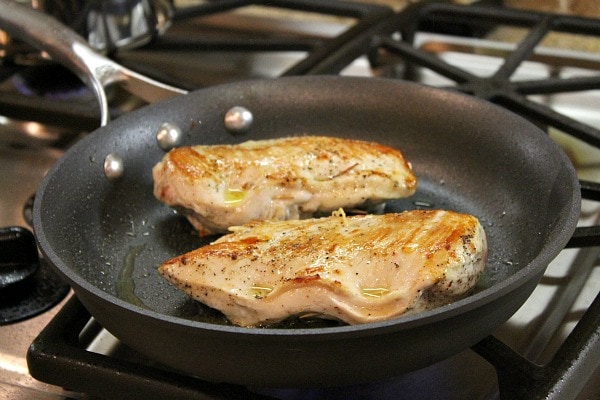 How to Make Cheddar Stuffed Chicken Breasts
The chicken breasts just get opened up a little bit with a knife, a few slices of cheese stuffed inside and then use toothpicks to secure the breast back together.  It takes 5 minutes.  Or if you're not into cheese (I don't know if we can still be friends…), you can certainly leave out the cheese and just saute the breasts and serve them with the sauce.  You'll still love it.
I don't like the cheese to melt and burn on a stainless steel pan, so I opt to pan-fry my chicken breasts on a nonstick skillet.  It works perfectly and you only have to use a small amount of oil.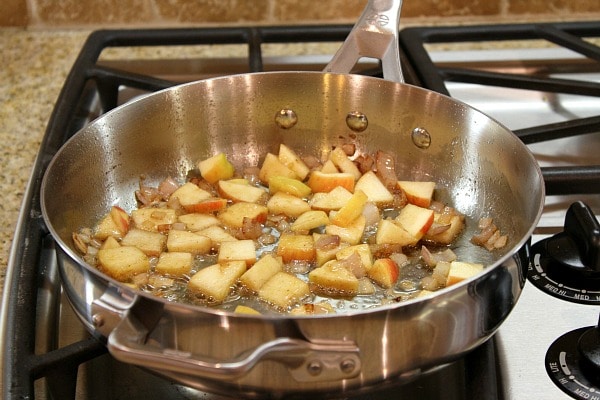 For the sauce, I'm more interested in getting my shallots nice and browned, and I want to be able to scrape up bits from the bottom of the pan.  That's where a stainless steel skillet comes in handy.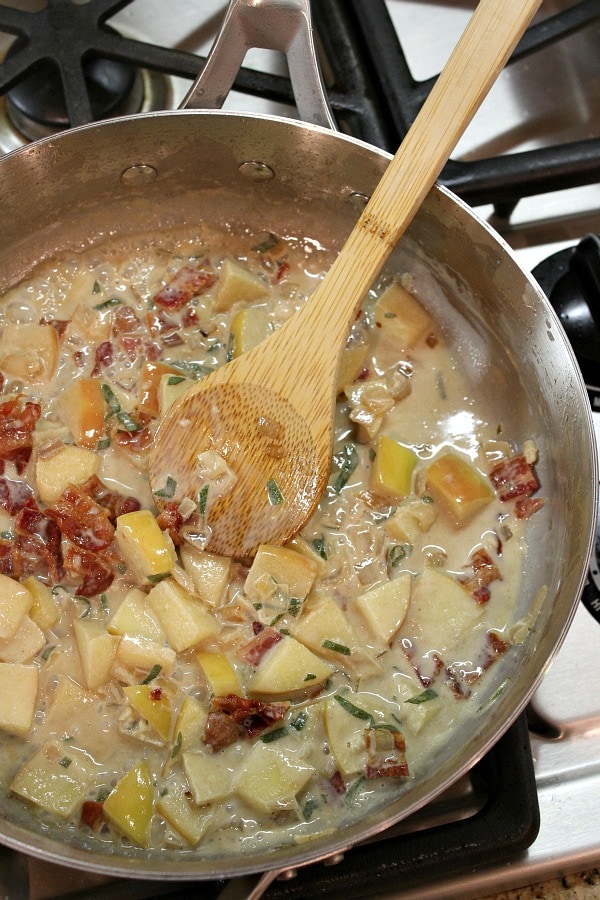 Ohhhh, that creamy apple and bacon sauce.  I just want to smush my face in it again, it's that good.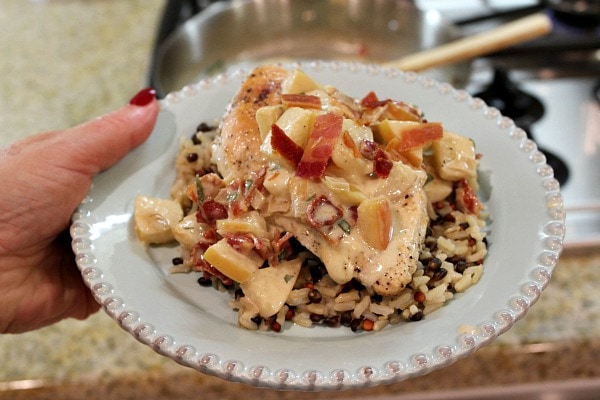 This recipe is a hit-out-of-the-park.  "Restaurant Quality," my husband dubs it (which is the highest honor he bestows upon a recipe).  One slice into that chicken and the cheddar that is tucked inside there before cooking comes seeping out in a melted waterfall.  Cheddar cheese and apples are such a good combination, so the chicken scooped up with some cheese and apple-bacon sauce is just perfect.  Your family will love it.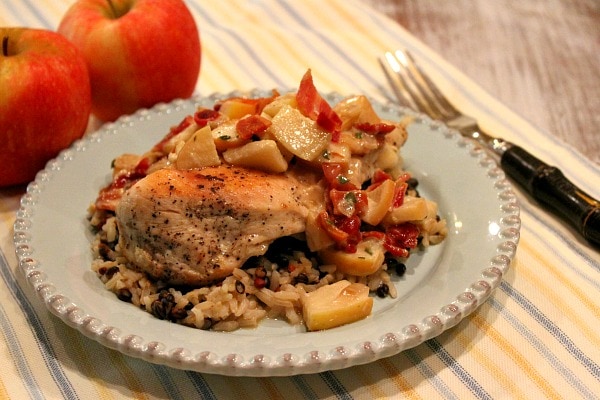 Here are a few more excellent chicken recipes you will surely enjoy:
Cheddar Stuffed Chicken Breasts with Apple Bacon Pan Sauce
Recipe Details
Ingredients
CHICKEN:
2

boneless, skinless

chicken breasts

(12 ounces)

2

slices

cheddar cheese

(2 ounces)

salt and pepper

1

tablespoon

olive oil
SAUCE:
2

tablespoons

salted butter

1

large

shallot, chopped

(about 1/3 cup)

1

medium

red apple,

cored and chopped

1

tablespoon

chopped fresh sage

1/2

teaspoon

minced garlic

1/3

cup

fat free chicken broth

1/3

cup

heavy whipping cream

3

slices

bacon,

cooked and crumbled
Instructions
PREPARE THE CHICKEN BREASTS:
Use a knife to make a pocket inside each chicken breast, making sure that you just open one long edge of the breast and don't cut through to the other side. Tuck a few pieces of cheese into each pocket. Secure closed again with toothpicks. Sprinkle each chicken breast generously with salt and pepper. Heat a medium nonstick skillet to medium-high heat. Add 1 to 2 tablespoons olive oil. Add the chicken breasts to the pan. Reduce the heat to medium. Cook the breasts 4 to 5 minutes on each side, or until cooked through. I like to cook the first side, then flip over and add a lid for the remainder of the cooking time. Make the sauce while the chicken is cooking.
PREPARE THE SAUCE:
Heat the butter in a medium stainless steel skillet over medium-high heat. Add the shallots and saute in the butter until they begin to turn golden brown, 4 to 5 minutes (turning down heat, if necessary). Add the apples, sage and garlic and continue to cook 2 to 3 minutes. Pour in the chicken broth and let it bubble for a few minutes, naturally reducing. Stir in the cream and bacon and heat until creamy and heated through.

Place each chicken breast on a serving plate, pull out the toothpicks, and top each with a generous scoop of the apple- bacon pan sauce. It's especially good over rice.
Notes
*If you are preparing this recipe as gluten-free, just be sure to use a brand of broth that is know to be GF.

*For easy clean-up, cook your bacon in the oven. Preheat the oven to 400 degrees F. Line a large, rimmed baking sheet with foil and place a rack on top. Spray the rack with nonstick spray. Lay the bacon slices on the rack. Bake it for 15 to 20 minutes, or until the bacon is crisp. Timing will vary depending on the thickness of your bacon. Alternately, you can fry it in a skillet over medium heat until crisp.
Nutrition
Serving:
1
serving
,
Calories:
798
kcal
,
Carbohydrates:
15
g
,
Protein:
48
g
,
Fat:
60
g
,
Saturated Fat:
28
g
,
Cholesterol:
244
mg
,
Sodium:
862
mg
,
Potassium:
849
mg
,
Fiber:
2
g
,
Sugar:
9
g
,
Vitamin A:
1375
IU
,
Vitamin C:
6.3
mg
,
Calcium:
261
mg
,
Iron:
1.4
mg