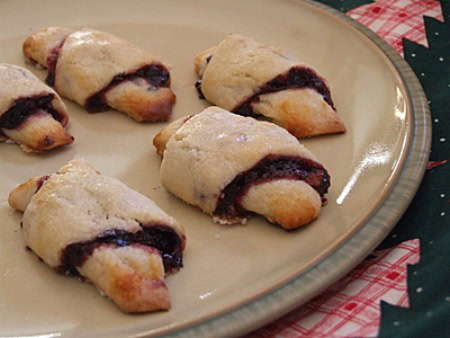 Cherry Rugelach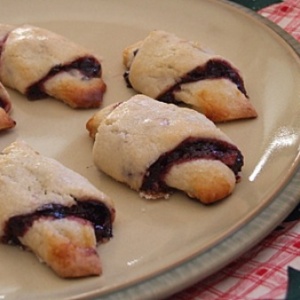 Yield:
24 cookies
Prep Time: 40 min + chill time
Cook Time: 15 min
Ingredients:
PASTRY:
1 cup salted butter, softened
1/3 cup cream cheese, softened
2 cups all-purpose flour, plus more for work surface
1/4 cup granulated white sugar, plus more for sprinkling
FILLING:
12 ounces (about 1 3/4 cups) frozen sweet cherries
1/2 cup granulated white sugar
1 tablespoon cornstarch
1/2 cup chopped walnuts
EGG WASH:
1 large egg
2 tablespoons cold milk or water
Directions:
1. Prepare pastry: Beat butter and cream cheese using an electric mixer until smooth. Add flour and sugar; beat on low speed until crumbly. Turn mixture onto floured surface; knead until dough forms. Cover and set aside while preparing filling.
2. Prepare filling: Coarsely chop frozen cherries. Combine sugar and cornstarch; mix well. Combine chopped cherries and sugar mixture in a medium saucepan. Bring to a boil, stirring constantly. Reduce heat; simmer, uncovered, for 5 minutes, or until thickened, stirring occasionally. Remove from heat; stir in walnuts. Let cool in refrigerator for 30 minutes.
3. Prepare rugelach: Preheat oven to 350°F. On a lightly floured surface, roll one-third of dough into a 10-inch circle. Spread dough with about 1/2 cup cherry filling, leaving a 1/2-inch border. Cut circle into 8 wedge-shaped pieces. Roll up dough, beginning at wide end of each wedge. Place cookies, tip side down, about 2 inches apart on lightly greased cookie sheet (or one lined with parchment paper). Repeat with remaining dough and filling. Brush each cookie lightly with egg wash and sprinkle with granulated sugar.
4. Bake 15 to 20 minutes or until golden brown. Transfer to wire racks to cool.
Tips:
*To make these delicious pastries more "sparkly," use bright white Sparkling Sugar (found in kitchen supply stores) for the sprinkle on top.