These Easy Coconut Macaroons are the perfect dessert recipe for your Easter or Passover celebration! Macaroons are a popular Passover dessert as they don't contain flour, which is forbidden during the Jewish holiday.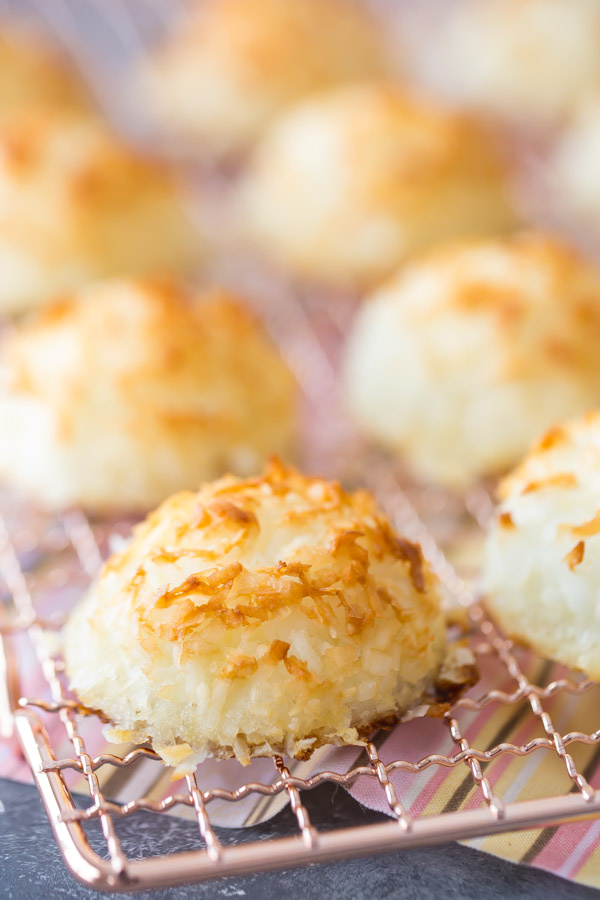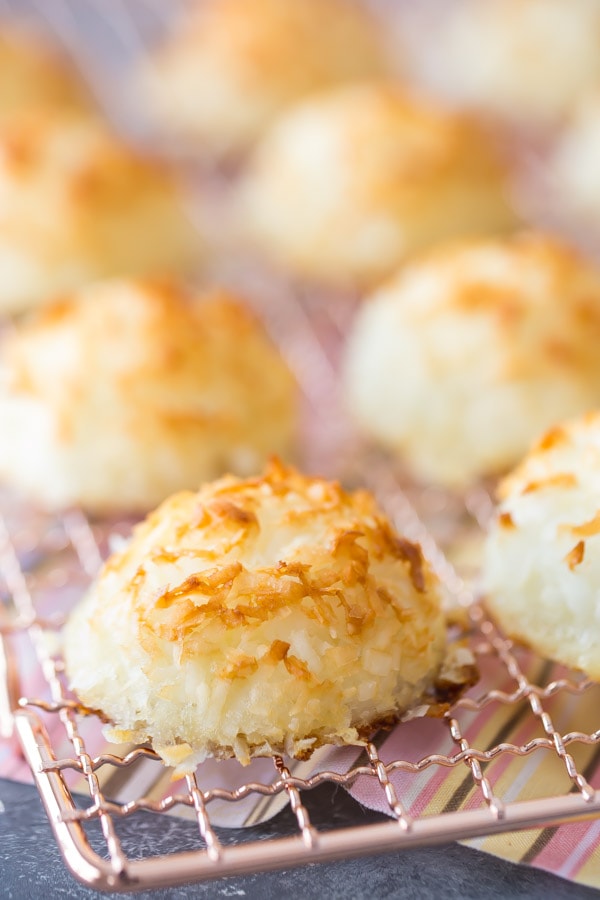 What is a Macaroon?
Macaroons are small bite-sized cakes made of egg white, coconut, and almond flavoring.
Macaroons are always a classic treat around this time of year. Those perfectly sweet and coconutty cookies are just so irresistible! I love the crunchy, toasty, outside edges, and the marshmallow-y interior just makes me weak in the knees. But did you know these cookies were super-simple to make? With just a handful of basic ingredients and a few quick stirs, you'll have yourself a big batch of A-plus easy coconut macaroons!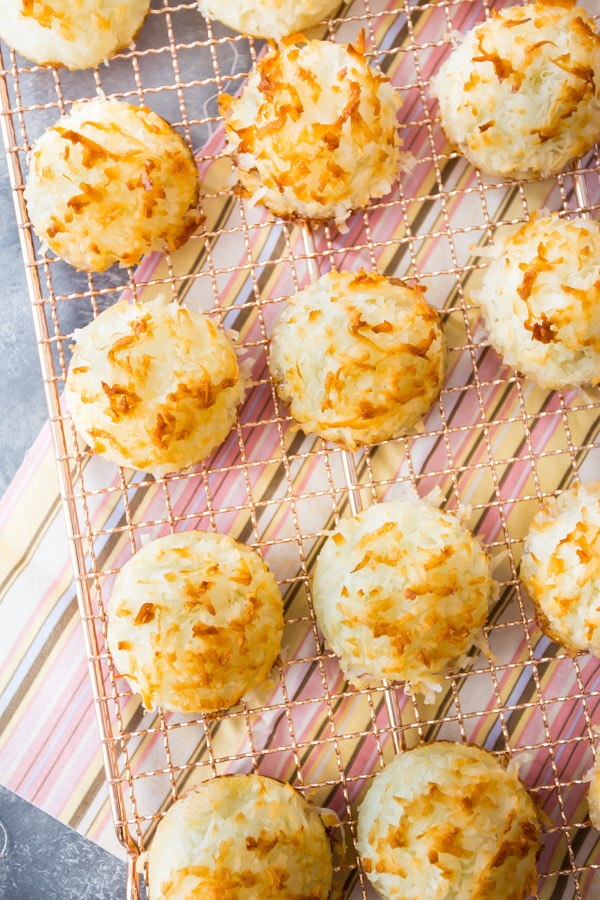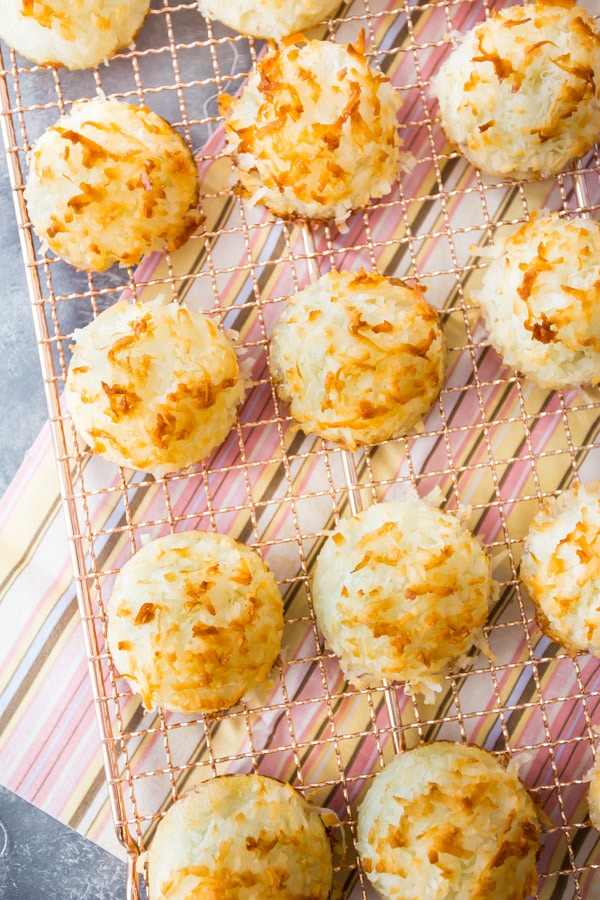 How Do You Make Easy Coconut Macaroons?
It all starts with egg whites. Just place them in a large bowl and whisk them together with sugar, corn syrup, almond extract, coconut extract, and a little bit of salt (to balance the flavors). Give this mixture a quick whisk, just until everything is combined and it looks a little frothy.
Then, in goes the coconut. Fold it in until every flake is coated with the sweet and egg-y liquid.
Now, I like my macaroons big. Where I live, you can get macaroons at the Jewish deli, or at some of the salt water taffy shops at the shore towns. They are always big and chubby, so to me, that's just how they ought to be. I recommend using a 1/4-cup sized ice cream scoop to portion them out. This will make it really easy to form your macaroons, as well as making sure that they're all about the same size.
If you prefer a smaller cookie, you can use a 2-tablespoon scoop instead. You'll get about twice as many cookies in a batch, and you'll want to cut the bake time down by about 10 minutes.
Just scoop the mixture onto parchment-lined baking sheets, and bake them at 350 degrees F until they're golden brown.
They will come out a little crisp on the outside, with a soft, gooey interior, and plenty of tropical coconut flavor!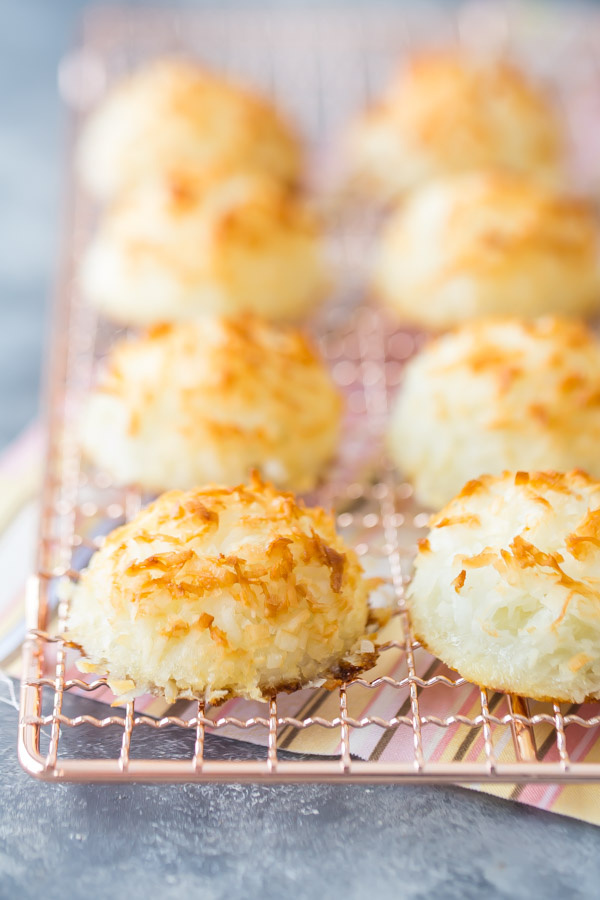 These Easy Coconut Macaroons are sure to be a big hit at your Easter or Passover celebration!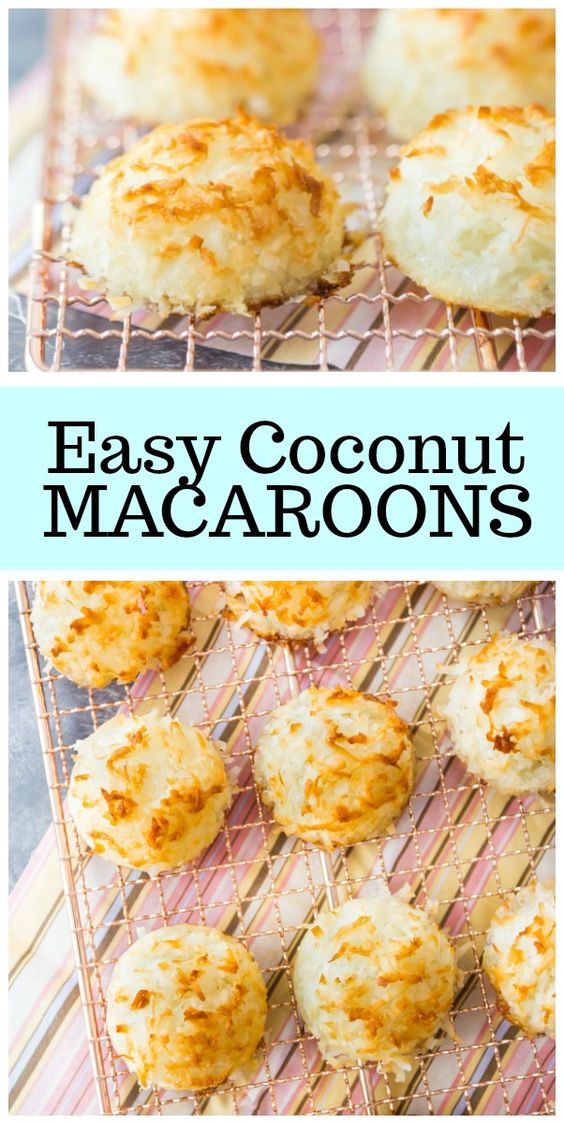 Here are a few more springtime recipes you might enjoy:
Easy Coconut Macaroons
These macaroons are perfect for your Easter or Passover celebration!
Recipe Details
Ingredients
8

large

egg whites

2/3

cup

granulated white sugar

1/4

cup

light corn syrup

1

teaspoon

almond extract

1/2

teaspoon

coconut extract

1/2

teaspoon

kosher salt

6

cups

sweetened coconut flakes
Instructions
Preheat the oven to 350 degrees F, and line baking sheets with parchment paper.

Place the egg whites, sugar, corn syrup, almond extract, coconut extract and salt in a large bowl and whisk to combine.

Stir in the coconut, and scoop 1/4-cup sized balls onto the prepared baking sheets.

Bake for 25 minutes, or until the tops are beginning to turn golden.
Nutrition
Serving:
1
cookie
,
Calories:
179
kcal
,
Carbohydrates:
25
g
,
Protein:
2
g
,
Fat:
7
g
,
Saturated Fat:
7
g
,
Sodium:
172
mg
,
Potassium:
126
mg
,
Fiber:
2
g
,
Sugar:
21
g
,
Calcium:
5
mg
,
Iron:
0.4
mg