Hot Cross Buns are traditionally served on Good Friday. This Hot Cross Buns recipe is made of sweet yeast dough and spiced with cinnamon and raisins.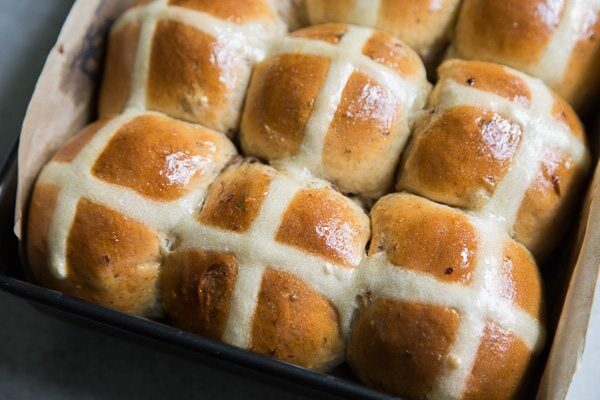 What are Hot Cross Buns?
Hot cross buns are an Easter staple in many parts of the world, especially in Australia and the United Kingdom. The crosses on the bread are in honor of Good Friday, marking the end of Lent.
There are numerous variations of this popular Springtime bread. We're sticking with the classic version in this recipe. Once you've mastered the original, free feel to start experimenting with chocolate, orange-cranberry, and caramel varieties.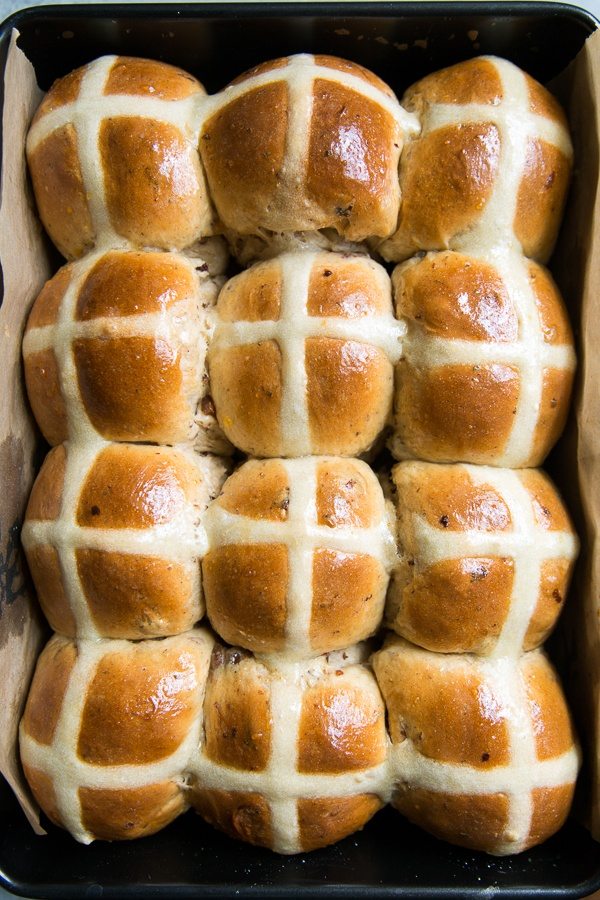 These buns are best enjoyed warm, fresh from the oven. That's when they're at the peak in terms of softness. As the bread cools down, its texture will change. At room temperature, the texture of the hot cross buns are similar to that of a bagel and pretzel. It has a tight and dense crumb.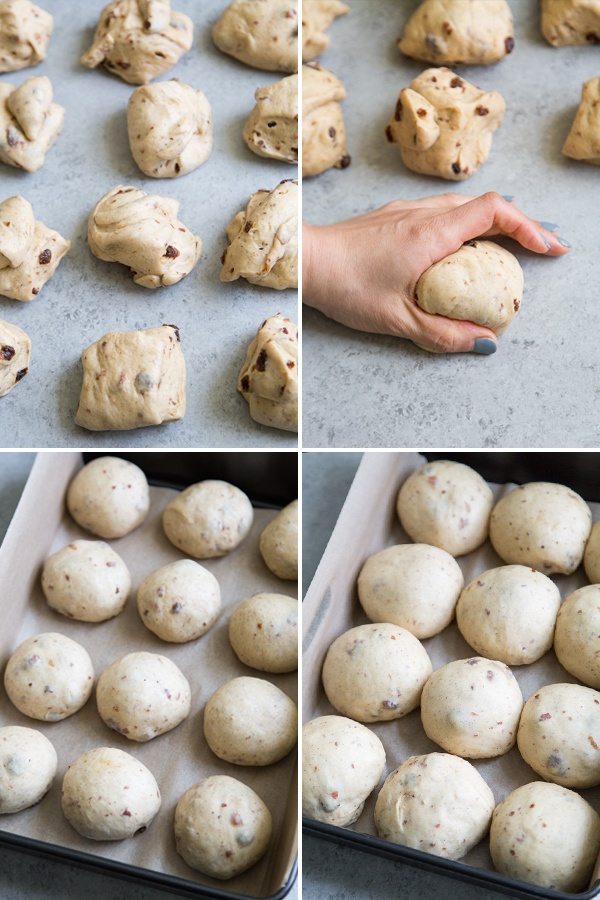 How to Make Hot Cross Buns
The dough for these hot cross buns is easy and straightforward. While it's easiest to use a stand mixer, you can mix and knead this dough by hand. After the dough is formed and has had enough time to double in volume, the dough is divided into 12 equal parts. (For exact measurements, I suggest using a kitchen scale to equally portion out the dough.) The dough is rolled into round balls and placed on a parchment lined baking sheet. The shaped dough is covered with a kitchen towel and allowed to rise a second time. It's time to bake once the balls of dough have risen enough to touch each other.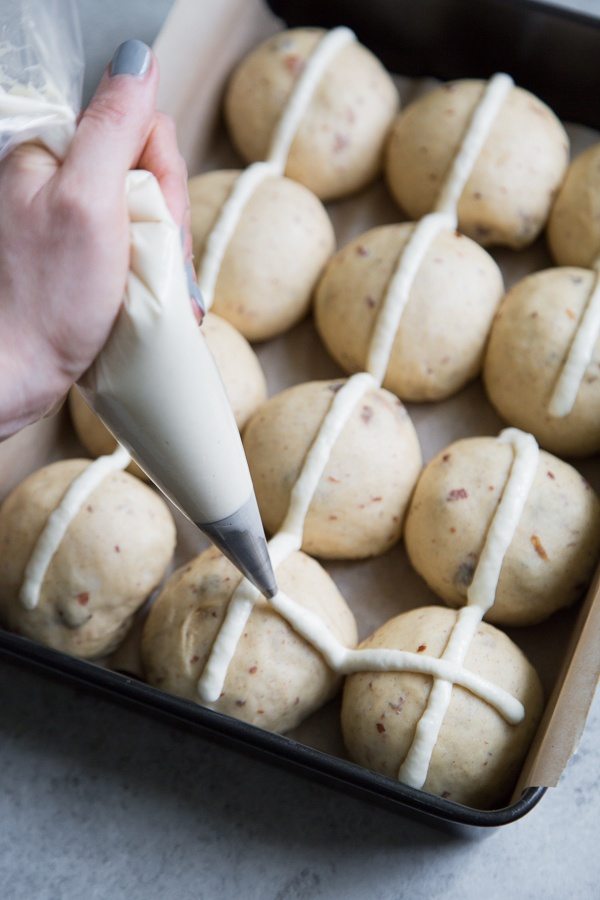 What is the Cross Made of on a Hot Cross Bun?
There are a few variations on how the cross is produced. Some recipes call for a shortbread or cookie dough that is cut into stripes and placed on top. Others use a sugar icing mixture that is piped on top after the bread is baked.
For this recipe, I use a mixture of flour, sugar, and milk to create a piping paste. The paste is piped on the risen bread prior to baking.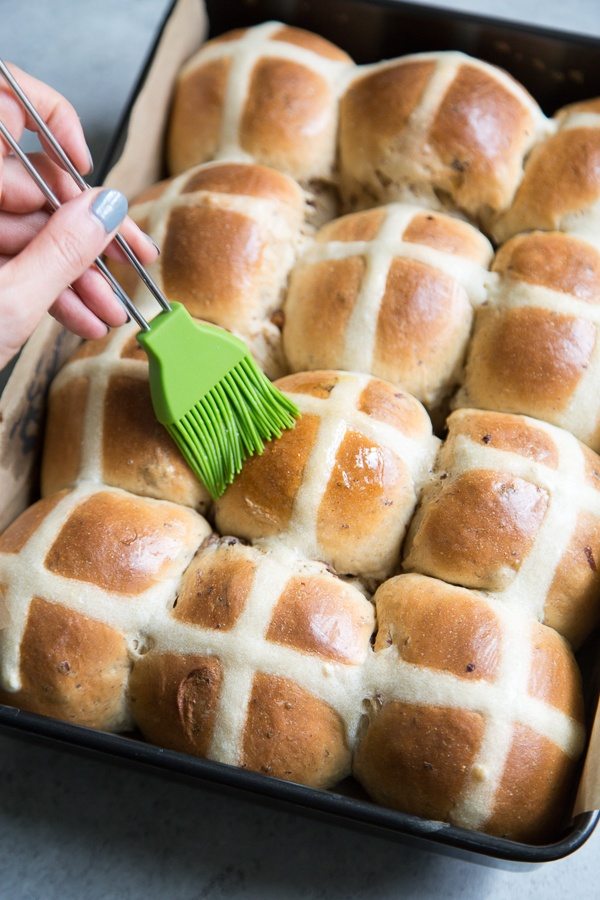 After baking, the warm buns get brushed with a sweet syrup to give the bread that nice shiny, attractive crust. The syrup is a simple mixture of apricot preserves thinned out with some water. It adds a pleasant sweetness to the finished baked good.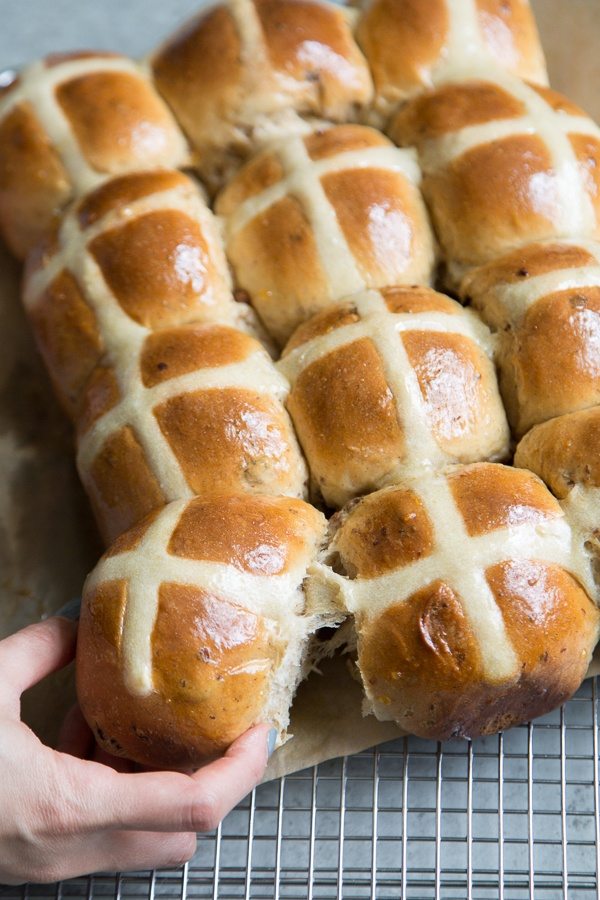 It's best to eat hot cross buns while they're warm. I suggest you slice the bun half, lightly toast it, and then slather on some salted butter or whipped cream cheese on top. It's absolutely delightful!
Hot Cross Buns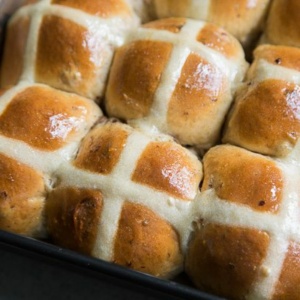 Yield:
12 rolls
Prep Time:20 minutes + resting time
Cook Time:30 minutes
Ingredients:
Dough:
1 cup whole milk, warmed to 110 degrees F
1 tablespoon active dry yeast
1/3 cup + 1 tablespoon granulated sugar
1 cup raisins (plus boiling water soaking liquid)*
2 large eggs, room temperature
3 tablespoons unsalted butter, melted, slightly cooled
4 cups + 3 tablespoons all-purpose flour
1/2 teaspoon kosher salt
1 teaspoon ground cinnamon
1/4 teaspoon ground nutmeg
1 tablespoon half and half or heavy cream, for brushing
Paste:
1 cup all-purpose flour
2 tablespoons granulated white sugar
2 tablespoon whole milk
6 tablespoons water
Glaze:
2 tablespoons apricot jam, or preserves
1 tablespoon water
Directions:
DOUGH: In the bowl of a stand mixer, combine warm milk, yeast, and 1 tablespoon of sugar. Allow mixture to sit for 5 to 7 minutes until yeast is activated and mixture is fragrant and foamy.
Add raisins to a heatproof bowl. Add enough boiling water to cover raisins. Allow raisins to soak for 5 minutes. Drain well and set aside plump raisins.
Add remaining sugar, eggs, and melted butter to stand mixer bowl. Whisk to combine until well incorporated. Attach dough hook to stand mixer.
In a large bowl, whisk together flour, salt, cinnamon and nutmeg. With the mixer running on low speed, add about 1/3 of flour mixture. Once incorporated, add remaining 1/3 of flour mixture. Add drained raisins, followed with remaining flour mixture. Once dough has formed, increase speed to medium-high and knead dough for 3 to 5 minutes until dough no longer sticks to the sides of the bowl.
Transfer dough to a greased bowl. Cover with a kitchen towel or plastic wrap. Allow dough to sit covered at room temperature for 60 to 70 minutes until dough has doubled in volume.
Remove cover and gently delate risen dough. Divide dough into 12 equal portions. Working with one piece of dough at a time, roll into round balls. Place on a parchment lined 9 x 13-inch baking pan. Repeat with remaining dough. Cover with kitchen towel or plastic wrap. Let dough rest at room temperature for 30 to 40 minutes until the balls of dough are touching each other.
Preheat oven to 350 degrees F.
PASTE: In a small bowl, mix together flour, sugar, milk, and water until wet paste forms. Transfer runny mixture to a piping bag with a small round tip, or a small zip top plastic bag with a corner snipped off.
Pipe straight lines vertically and horizontally across risen buns to create crosses.
BAKE: Bake in preheated oven for 15 minutes. Remove from oven and brush half & half over buns. Return to oven and bake for another 15 minutes until the bread is golden brown on top and the internal temperature of bread registers at least 185 degrees F on a kitchen thermometer.

GLAZE:

Mix together apricot jam and water until smooth. Use a pastry brush to lightly coat warm buns with glaze.
Enjoy hot cross buns warm, fresh from the oven. Alternatively, warm up and toast room temperature buns. Bread will keep covered at room temperature for up to 3 days.
SOURCE: RecipeGirl.com
For more yeast bread recipes, check out these favorites: