These Chewy Chocolate Gingerbread Cookies are a delicious cookie recipe for everyone!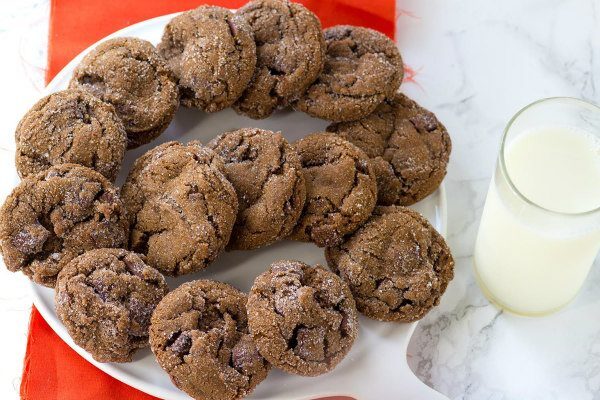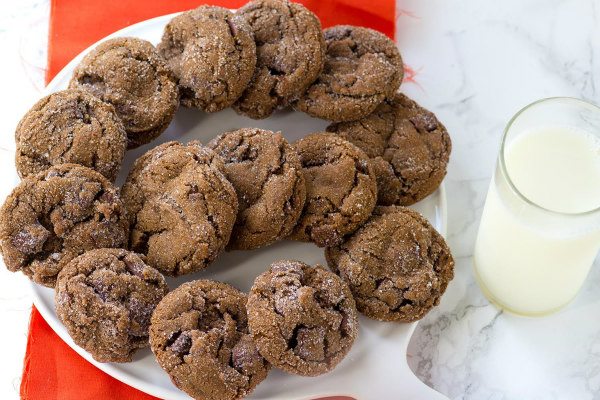 There is a bit of chocolate mixed into the gingerbread cookie dough, and there are chunks of chocolate in the actual baked cookies too!  The recipe calls for Dutch cocoa powder.  Use it if you have it, otherwise… don't fret!  You can sub regular cocoa powder if need be.
You know what makes these cookies really amazing?  Fresh ginger.  Gingerbread cookies typically have molasses and spices to give them that wonderful gingerbread aroma and flavor.  Fresh ginger added to these cookies gives them an extra flavor boost.
They're wonderful!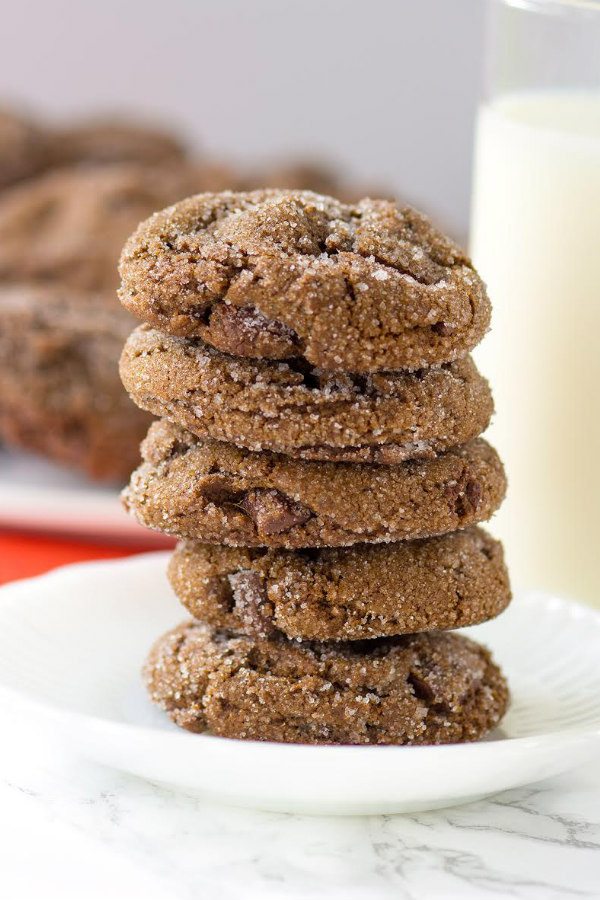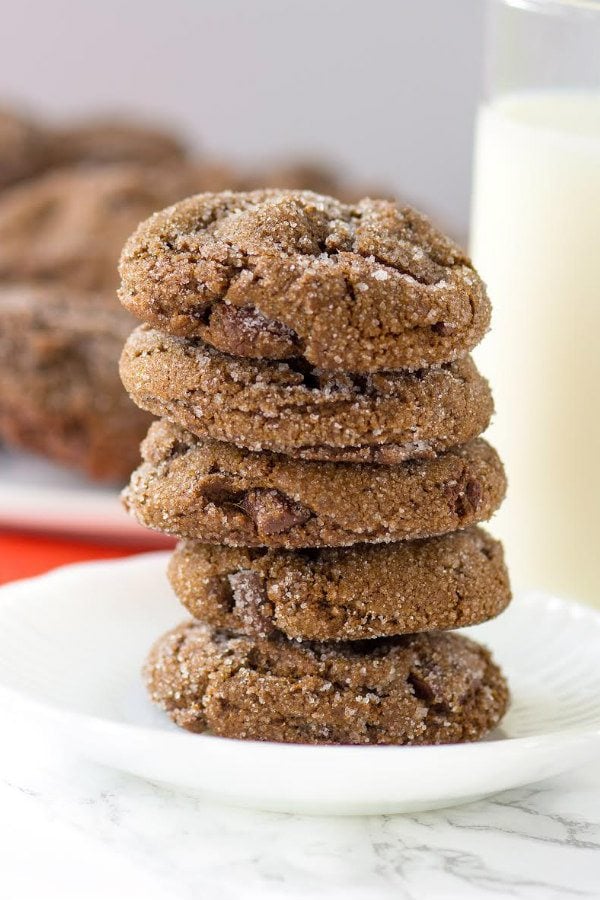 This recipe is originally from Martha Stewart.  She has always been good at cookie creations, and this recipe is no exception.
It's a great cookie to add to holiday cookie platters, but truthfully… you can make these all year long and enjoy them.
I baked them for the first time years ago to send on a camping trip with the guys. They absolutely loved them! They're chocolatey with that hint of ginger. It's a really unique cookie recipe.
Chewy Chocolate Gingerbread Cookies
Yield:
2 dozen cookies
Prep Time: 20 minutes + chill time
Cook Time: 10 minutes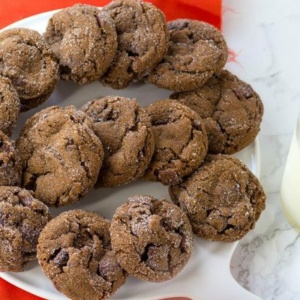 Ingredients:

1 1/2 cups + 1 tablespoons all-purpose flour
1 tablespoon unsweetened Dutch-process cocoa powder
1 1/4 teaspoons ground ginger
1 teaspoon ground cinnamon
1/4 teaspoon ground cloves
1/4 teaspoon ground nutmeg
1/2 cup (1 stick) unsalted butter, softened
1 tablespoon grated peeled fresh ginger
1/2 cup packed dark brown sugar
1/4 cup molasses
1 teaspoon baking soda dissolved in 1 1/2 teaspoons boiling water
7 ounces best-quality semi-sweet chocolate, cut into 1/4-inch pieces
1/4 cup granulated white sugar

Instructions:

Sift the flour, cocoa powder, ground ginger, cinnamon, cloves and nutmeg into a medium bowl; set aside.
Put butter and grated ginger into the bowl of an electric mixer fitted with the paddle attachment. Mix on medium speed until lightened, about 4 minutes. Add brown sugar; mix until combined. Add molasses; mix until combined.
Mix in flour mixture in 2 batches, alternating with the baking soda mixture. Mix in chocolate. Transfer dough to a piece of plastic wrap. Pat dough to about 1-inch thick; wrap in plastic. Refrigerate until firm, about 2 hours (or overnight).
Preheat oven to 325°F. Line 2 baking sheets with parchment paper. Roll dough into 1 1/2-inch balls; space 2 inches apart on baking sheets. Refrigerate 20 minutes.
Roll balls in granulated sugar. Bake until surfaces crack slightly, 10-12 minutes. Let cool on sheets 5 minutes. Transfer to wire rack, and let cool completely.

Tips:

Cookies are best the day they are made, but can be stored in airtight containers at room temperature up to 5 days.  You can also freeze these- just store in a tightly covered container and defrost when ready for munching.
SOURCE: RecipeGirl.com (via Martha Stewart Living)
Here are a few more gingerbread cookie recipes you might enjoy: